The World Olympians Association [WOA] General Assembly was held, with Bermuda's Patrick Singleton re-elected as the WOA Treasurer.
The General Assembly and election took place online due to Covid-19 and associated travel restrictions and social distancing measures.
National Olympians Associations [NOAs] joined the assembly from all five continents around the world to vote on the WOA leadership and set a course for the future strategic direction of the organization.
Singleton, who represented Bermuda at three Winter Olympics, carrying the 2018 Winter Olympic torch in South Korea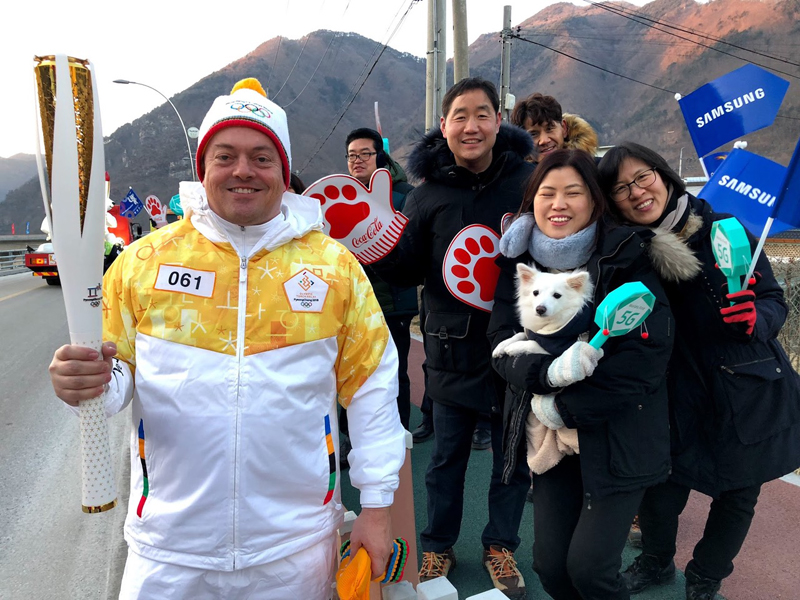 International Olympic Committee [IOC] President and WOA Honorary President Thomas Bach, said to the meeting, "In these difficult times, we need our shared values of excellence, friendship, respect, and solidarity. As Olympians, you personify these Olympic values in the best possible way. This gives me the opportunity to express my admiration for the way that Olympians around the world have responded to this crisis.
"With your support and inspiring messages, you have demonstrated that solidarity runs strong in our Olympic community. This General Assembly is sending an important message: sport, athletes, and importantly Olympians are ready to contribute to the rebuild of a more human society, a more inclusive society."
New members:
Executive Committee Member Americas–Salvador Enrique Salguero Goodall OLY [El Salvador]
Executive Committee Member Americas –Aliann Pompey OLY [Guyana]
Executive Committee Member Africa –Abeer Essawy OLY [Egypt]
Executive Committee Member Europe –Igor Boraska OLY [Croatia]
Existing Members, who retained their positions following the elections:
WOA President –Joël Bouzou OLY [France]
WOA Secretary-General –Anthony Ledgard Grimm OLY [Peru]
WOA Treasurer –Patrick Singleton OLY [Bermuda]
Executive Committee Member Asia –Mikako Kotani OLY [Japan]
Executive Committee Member Asia –Malav Shroff OLY [India]
Executive Committee Member Africa –El Hadji Amadou Dia Ba OLY [Senegal]
Executive Committee Member Europe –Pernilla Wiberg Bjerke OLY [Sweden]
Executive Committee Member Oceania –Natalie Cook OLY [Australia]
Executive Committee Member Oceania –Carl Probert OLY [Fiji]
Read More About