Age Concern has appointed five new members to its Board of Directors, including George Ratteray, Cain Kunze, Betty Dale, Michelle Jackson, and Richard James.
A spokesperson said, "Age Concern announces today the appointment of five new board members to its Board of Directors; George Ratteray, Cain Kunze, Betty Dale, Michelle Jackson and Richard James.
"They will be joining current board members, Chairperson Linda Smith, retired Senior Vice President at the Ascendant Group and Director of Linda Smith Associates Limited; Treasurer Tracey Pitt CPA, Assistant Auditor General; Secretary Tina Martin, Private Client & Estates Attorney at Trott & Duncan; Director Heather Whalen, former Senior Community and Cultural Affairs Officer for the Government of Bermuda; and Executive Director, Claudette Fleming, PhD.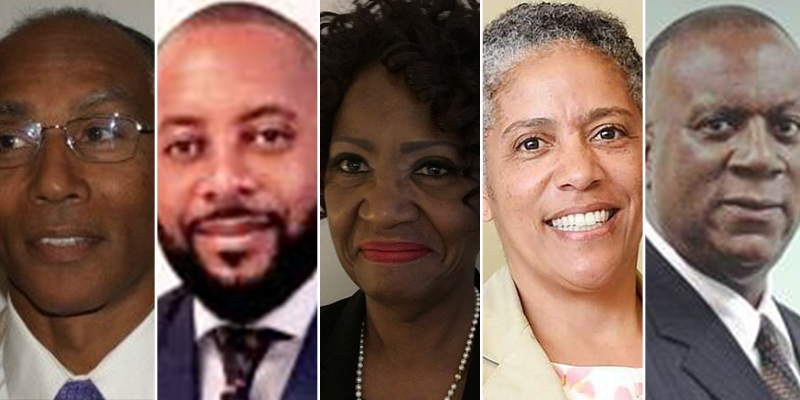 "New board members George Ratteray and Cain Kunze bring with them a deep knowledge in operations and executive management. George Ratteray offers ten years of executive experience, as former CEO of GAR Tours & GAR Bermuda Ltd and as the current owner of Falcon Bermuda Ltd.
"Additionally, Cain Kunze has ten years of both operations and executive experience, as former Director of Operations at the Treadhill Group, former CEO of Smart Express Trading and as the current CEO of the Bermuda Paper Company.
"New board members Betty Dale and Michelle Jackson have extensive history in corporate administration and compliance. Betty Dale brings 17 years of experience in the regulatory industry, including as former Principal at the Bermuda Monetary Authority as well as former Head of Compliance at the Hamilton Trust Company Ltd.
"Michelle Jackson brings a long history of corporate administration experience, as current Senior Vice President of Life and Group Health at BF&M Insurance.
"The final addition to Age Concern's board is Richard James, who brings ten years of experience running leadership workshops at FranklinCovey Bermuda, as well as a 25 year career in various roles in the Bermuda Government, including Development Manager at the Bermuda Housing Corporation."
Linda Smith, Age Concern Chairperson, said, "These new board members bring a wealth of experience useful to Age Concern and we welcome their direction in furthering our mission to serve Bermuda's older adults."
The spokesperson said, "Additionally, Age Concern has brought on two new executives to its managerial team; Mercedes Pringle, as Program Coordinator and Callan Bassett, as Business Development Manager."
Executive Claudette Fleming, PhD, said, "I am proud to welcome these two bright and capable professionals to our executive team. I have no doubt then their skills and hard work will allow Age Concern to further address the needs of our ageing population at a time when it's needed most."
The spokesperson said, "Mercedes Pringle, promoted internally, started as an Age Concern volunteer in 2019 and was soon added to the staff team as Development Associate. Mercedes has now been promoted to Program Coordinator in charge of oversight and management of program delivery systems, including client services, education and volunteer programs."
Mercedes Pringle, Program Coordinator, said, "I am excited to continue working at Age Concern in my new capacity as Program Coordinator. I look forward to being a bigger part of the third sector and the impact it brings to our local community."
The spokesperson said, "Callan Bassett brings with him ten years of experience in marketing, public relations and business development, including as former Creative Director at CB Market Solutions, Public Relations Manager at the IMS Property Group, Marketing and Sales Manager at Burrows Lightbourn and Membership Department Manager at the Rosewood Tucker's Point Resort.
"Callan will be responsible for the management of Age Concern's membership program, as well as all marketing and public relations initiatives."
Callan Bassett, Age Concern Business Development Manager, said, "I am thrilled to join Age Concern, and more specifically, their efforts in combating the issues arising from our island's older population. Every Bermudian has the right to age with social and financial dignity and I am proud to do my part for this worthy cause."
"For further information on Age Concern, its services, and how you can donate and/or volunteer, visit ageconcern.bm or call 238-7525."
Read More About
Category: All