[Updated] There were 593 test results received yesterday and one was positive for Covid-19, which was a "symptomatic resident with no history of travel and remains under investigation."
A Government spokesperson said, "Yesterday, there were 593 test results received by the Ministry of Health, and one was positive for COVID-19.
"The Ministry of Health can confirm that the most recent case is in a symptomatic resident with no history of travel and remains under investigation by the Epidemiology and Surveillance Unit.
"Case isolation and contact tracing is already underway and it has been determined that the newly identified positive case has a close contact that is associated with a school, who has now become symptomatic.
"Therefore, the relevant businesses visited by the case and the school of the close contact have been notified – with relevant persons instructed to quarantine – as a pre-emptive measure."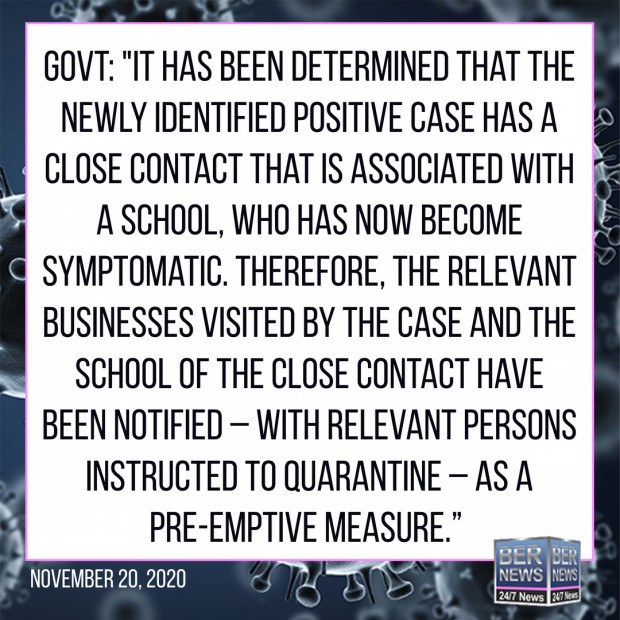 Minister of Health Kim Wilson stated: "The Ministry of Health has taken these actions out of an abundance of caution in this instance. My team continues to work diligently with the case and we will provide further updates once there is new information.
"I would like to take this opportunity to once again remind the public that the Ministry of Health will contact you only if you have been identified as a close contact and need further instructions to quarantine or get tested. Otherwise, I continue to urge everyone to wear their masks, wash their hands, avoid closed spaces, crowded spaces and close contact settings."
"Bermuda now has 227 total confirmed positive cases. Their status is as follows:
there are 18 active cases, who are
all under public health monitoring, and
none are hospitalized or in critical care;
a total of 200 have recovered, and
the total deceased remains 9.
"The average age of all of our confirmed positive cases is 53 and the age range of all of our positive cases is from 7 to 101 years.
"The average age of all deceased cases is 74 and the age range is 57 to 91 years.
"The source of all local cases is as follows:
113 are Imported
92 are Local transmission, with known contact
21 are Local transmission with an unknown contact, and
1 is under investigation
"Bermuda's country status is 'Sporadic Cases.' The seven-day average of our real time reproduction number is less than 1."
Update 3.14pm: A Saltus spokesperson said, "Saltus has been advised by the Department of Health that there is a possible Covid case in Bermuda connected with a student who attends our Lower Primary school at the Cavendish Road campus in Devonshire.
"Out of an abundance of caution, the school has contacted affected families and requested that they stay home for 14 days while the Health authorities conduct contract tracing and testing.
"The Saltus team is confident that based on school protocols and Government advice, exposure has been limited and the affected classroom and learning area will be sanitized over the weekend. The school is committed to sharing information with the Saltus Community that is accurate and based upon advice from Health authorities."

As the island and world deals with the Covid-19 pandemic, we are doing our best to provide timely and accurate information, and you can find more information on the links below.
Read More About