Corporate partners of SailGP's Bermuda Grand Prix presented by Hamilton Princess have expressed their support for next year's championship, and excitement about "both the economic and community benefits it will bring. "
The global league today announced it will stage a four-week training camp and two-day, live-televised kick-off event on the Great Sound in April 2021.
Poster via SailGP: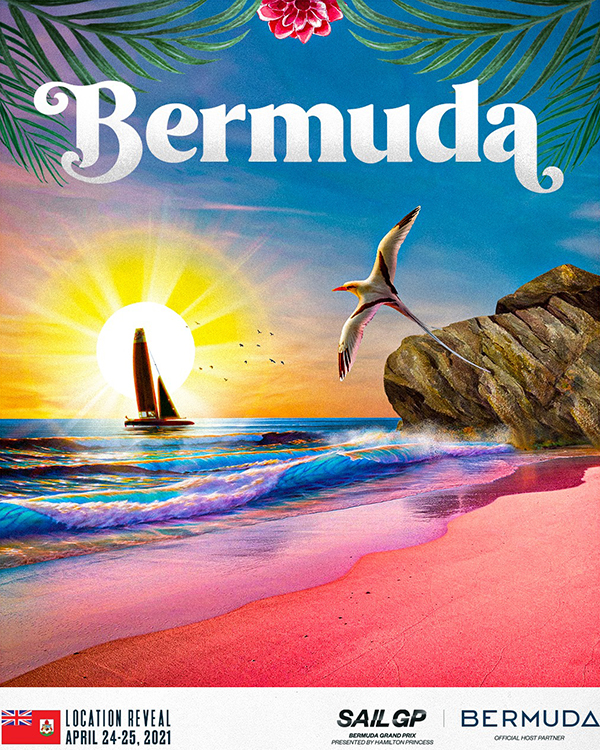 Tim Morrison, General Manager of Hamilton Princess & Beach Club said, "We are delighted to be the Title Partner for SailGP's second season kick-off event next year and proud to continue our tradition of supporting international sporting competitions.
"We believe the Bermuda Grand Prix presented by Hamilton Princess will offer locals an incredible opportunity to witness world-class sport up close and inspire a generation of young Bermudian sailors. We hope to host many more such events in the years to come, and we look forward to seeing the public at the Bermuda Grand Prix presented by Hamilton Princess in April."
Andrew Dias, General Manager, West End Development Corporation [WEDCO] added, "We are thrilled to announce the Royal Naval Dockyard's partnership with SailGP as the Host Venue for the global racing championships' second-season-opening event, the Bermuda Grand Prix presented by Hamilton Princess, along with pre-season training in 2021.
"Not only does the Royal Naval Dockyard's deep-rooted maritime history and culture make this event an obvious fit, but the values of the SailGP organisation—gender equity, inclusion, meaningful social impact and engagement, complemented by the founding belief in honest competition based on hard work and personal development—make it a natural partnership the entire Dockyard community welcomes.
"After a year plagued with uncertainty, this opportunity presents a beacon of hope which was afforded to us due to the diligence, cooperation and collaboration demonstrated by the entire Bermudian community. The Royal Naval Dockyard is proud to play such an integral role in this prestigious event and will rise to the occasion, showcasing Bermuda well on the world stage once again."
John Wight, Chairman & CEO, BF&M also said, "For BF&M, being an Official Sponsor of SailGP's Bermuda Grand Prix is a natural fit. We were a main sponsor of the 35th America's Cup and are an ongoing main sponsor of its legacy Endeavour programme, which continues to introduce the sport of sailing, for free, to thousands of middle-school students of all backgrounds. Importantly, Endeavour connects students to an activity which is deeply ingrained in Bermuda's maritime history and heritage.
"In 2017, BF&M founded the No Limits sailing programme in partnership with Endeavour and BASE, for children living with autism spectrum disorders, and we continue to be the sole sponsor of what in 2021 will be the fifth year of this popular and very successful initiative. For all these reasons, we are excited to support the return of a world-calibre sailing event like SailGP. Once again, there will be a community engagement piece associated with the event, which we value. And once again, the event will shine a light on Bermuda as a safe, world-class venue."
Michael Collins, Butterfield Group Chairman & CEO said, "Butterfield is proud to be an Official Sponsor of the SailGP Bermuda Grand Prix and we look forward to joining the community in welcoming the racing teams, support staff and visitors to our island home. Hosting this world-class sail racing championship will accelerate Bermuda's tourism recovery and create employment and other income-generating opportunities for some of those who need them most. We're pleased to be able to do our part to help bring the Grand Prix to Bermuda and support our community."
Keil Gunther, Head of Global Marketing & Client Communications, RenaissanceRe said, "RenaissanceRe's sponsorship of SailGP allows us to offer a unique, world-class experience for our clients right here in our home of Bermuda. After a year of virtual meetings and cancelled global events, we are looking forward to entertaining our international partners safely, which Bermuda's excellent COVID-19 measures make possible.
"We believe the SailGP event will bolster the Island's economy with opportunities for local businesses and entrepreneurs in service of the teams and spectators, and inspire our young people to take part in the sport of sailing. As a Bermudian, I'm always excited when we are able to showcase to new audiences the beauty, culture and hospitality of our island, which has long made us a special place to visit."

Read More About