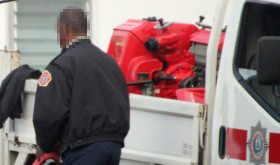 Police and firefighters conducted a search operation as part of the continued effort to locate Chavelle Dillon-Burgess.
Police officers and firefighters were seen at a building in the western area of the island, with a number of personnel on scene for hours.
There were multiple vehicles, including at least two fire trucks, and they were seen bringing equipment and machinery onto the scene.
Detective Sergeant Jason Smith told Bernews, "The BPS with assistance from our colleagues in the Bermuda Fire and Rescue Service, partnered in a search for the body of Chavelle Dillon-Burgess
"The search was a as a direct result of information received from a member of the public. The search was negative and the Bermuda Police Service encourages members of our community to come forward with any information.
"Information provided will be assessed and acted upon with urgency until we find Chavelle and bring closure to her family and friends."
The police have previously said that the disappearance of Ms. Dillon Burgess — a mother of one who has been missing since April 2020 — "is being treated as a suspected case of murder."
Detective Sergeant Smith has previously said, "What may be small, what you may think is not relevant, can be very, very relevant to the investigation and actually just puts together that missing piece of the puzzle that will solve it.
"So again, we implore and encourage members of the community that if you see something, if you know something, come and say something to us, because that can make a big difference in solving this case."
Anyone with any information is strongly urged to call Detective Sergeant Jason Smith on 717-0864, the police call centre on 211, or Crimestoppers on 800-8477. There is a reward of $50,000 available for information that directly links to finding Ms. Dillon Burgess.
Read More About