[Written by Mikaela Ian Pearman]
When restaurants step outside the box and offer an interesting dining concept, I must find my way there and write about it.
In a time where most people aren't travelling and we can't open our palettes to new and innovative restaurants across the globe, the local restaurants who are offering something new are appreciated.
Crown & Anchor at the Hamilton Princess is always offering something new – a Thai pop up, Island Nights, Southern BBQ and now, Dhaba Nights – a family-style Indian BBQ held on Saturday nights.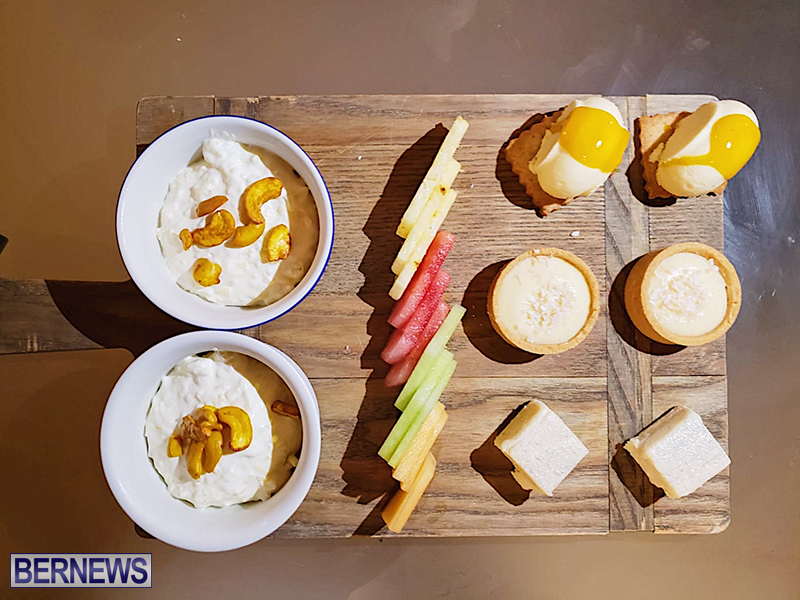 Being that my hubby and I love Indian food, I had to go try it out but having never had Indian barbecue, I was intrigued as to what we would be enjoying.
For the first course, we enjoyed Mixed Vegetable Bhajiya, which was similar to tempura, Tandoori Broccoli with mango chutney, Aloo Chat [potato salad] and Punjab Cornbread.
Everything was delicious but the favourites for sure were the Tandoor Broccoli and the Vegetable Bhajiya. The broccoli had that great tandoori flavour and the chutney went perfectly with it. The veggies were crisp and so well-seasoned – addictive to stay the least.
The cornbread had toasted coconut on top, which I wouldn't have thought worked well with cornbread but it was delicious. Our least favourite was the Aloo Chat simply because we thought it would've been better warm.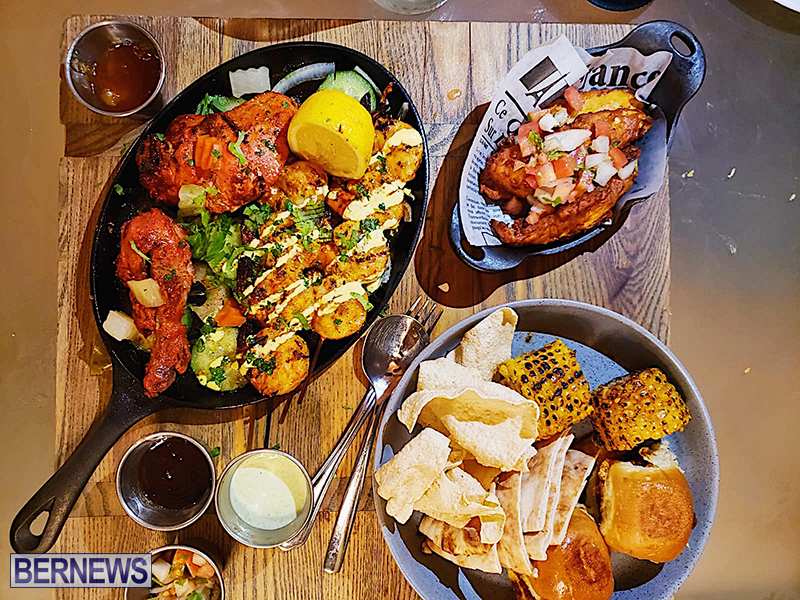 For the mains, we enjoyed a platter of Amritsari Fish, Tandoori Roasted Chicken, Masala Bhutta [grilled corn], Grilled Shrimp and Poppadum. The menu normally comes with Seekh Lamb Kebabs, but since we don't eat lamb, they gave us the shrimp.
So I have to say the tandoori chicken was the best tandoori chicken I have ever had! It was exactly what I want tandoori chicken to taste like – spicy, acidic, slightly creamy from the yogurt – but even better. It was perfection.
The fish was also delicious and very different to any preparation of fish I've had. I enjoyed it with some of the mango chutney and the poppadum. I didn't try the shrimp, but my husband inhaled both skewers and gave it a 10 out of 10. The corn was also smoky and delicious, but I would've liked more spice on it.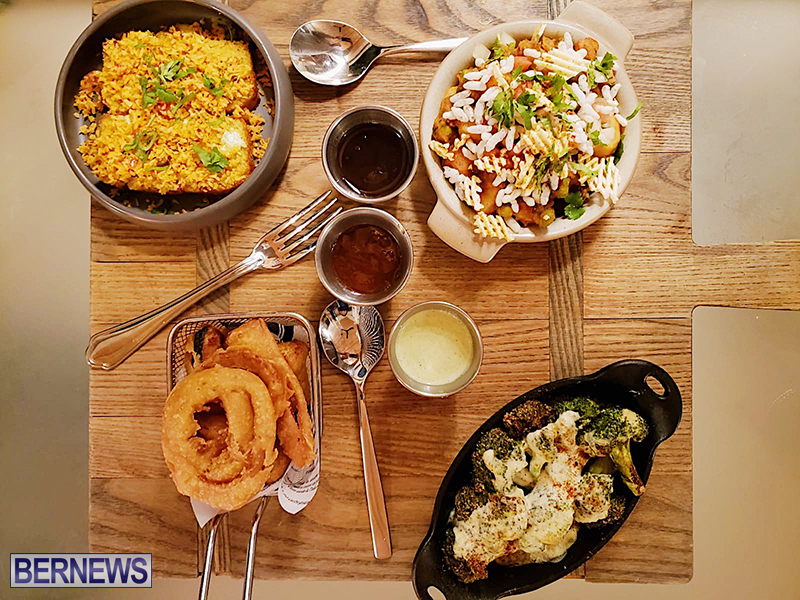 For desserts, we enjoyed small Indian-style bites including a milk cake, rice pudding, coconut tart and a mango cheesecake. I didn't cake for the milk cake or the rice pudding, but that mango cheesecake bite was heaven – creamy, decadent and a bit tangy from the mango. The coconut tart was also a delicious bite.
Overall, this was a wonderful meal and I would happily eat everything again, especially the tandoori broccoli and tandoori chicken. I highly recommend checking out Crown & Anchor for Dhaba Nights if you enjoy Indian Food. It's held every Saturday through March for $54 per person plus grats.

Read More About
Category: All, Entertainment, News