[Written by Mikaela Ian Pearman]
1609 at the fabulous Hamilton Princess & Beach Club has finally reopened for the summer and judging by how busy it was over the weekend, I'm not the only one who missed it.
The open air restaurant has been a favorite at the hotel since it opened a few years ago. Now that it has opened after a delay due to Covid-19, both locals and tourists can enjoy the food and the incredible view.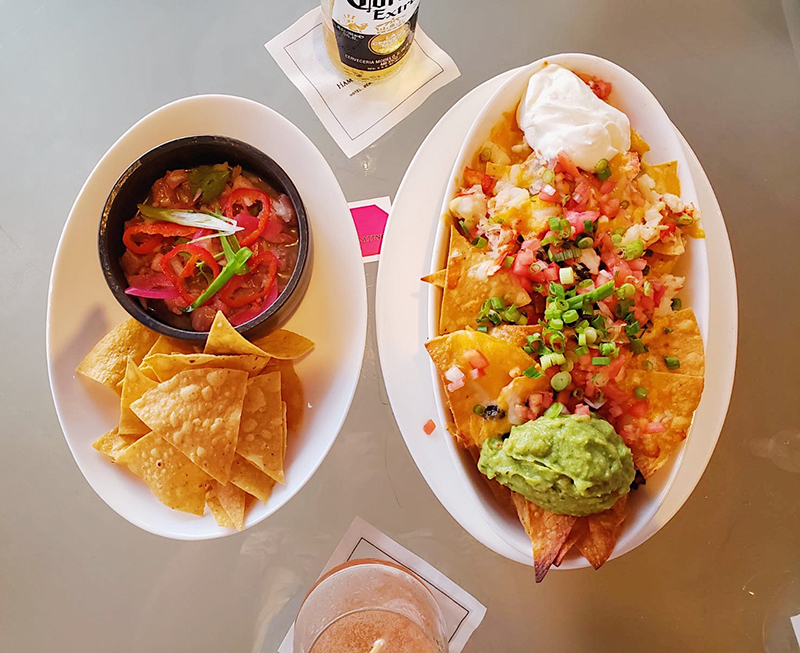 I dined at 1609 with my husband on Saturday night and it was incredible from start to finish.
When we entered the restaurant, we were ushered to a table where we could watch the sunset. Our server Ram came and quickly took our drink orders – Corona for the hubby, frosé with Grey Goose for me.
While we waited for our drinks, we perused the menu and noticed a few new items – Seafood Boil, Lettuce Wraps, BBQ Pork Chops, Jerk Cauliflower Bites and new tequila cocktails.
I tried the Picante cocktail [ghost tequila, grapefruit soda, lime and jalapeño] and it was excellent – smoky, spicy and still refreshing.
We started with the Three Cheese Nachos [a big fave] with lobster and Peruvian Style Ceviche. The nachos were as great as I remember with black beans, pick de Gallo, guac and sour cream and the addition of lobster took them to the next level.
The ceviche was super fresh and the house made chips paired perfectly.
For mains, we shared the Florentine Flatbread and the Kale and Ricotta Ravioli. The flatbread was better than I remembered with roasted artichoke, spinach mozzarella and shaved Parmesan.
The ravioli was definitely the star for me. It was served with in a Cacio e Pepe sauce with pine nuts and basil oil. It was super savoury and the sauce was excellent. Honestly, anytime there's fresh pasta on the menu, I'm going to order it and this was a big win.
For dessert, I ordered the Chocolate and Caramel Gateau, which was incredibly rich but weirdly not heavy. It was served with Caramel sauce on the side which added more flavour. I only had a couple bites because it was a big piece of cake, but it was absolutely delicious.
If you're looking for wonderful food, incredible service and a fantastic setting, check out 1609. They are open from Thursdays to Sundays.

Read More About
Category: All, Entertainment, News