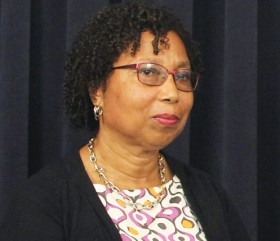 The Head of the Public Service Dr. Derrick Binns announced the appointment of Cheryl-Ann Lister as the Acting Financial Secretary for the Ministry of Finance.
A Government spokesperson said, "Mrs. Lister will assume the post effective Monday, March 8, 2021. Her appointment is made following the recent passing of the former Financial Secretary, the late Anthony Manders.
"Mrs. Lister will work under the policy direction of the Minister of Finance, the Hon. Curtis Dickinson.
"Cheryl-Ann Lister is currently the Chairperson of Bermuda's National Anti-Money Laundering Committee [NAMLC] [from 2008 to date], a role from which she will take a temporary leave of absence in order to focus on the responsibilities of the Financial Secretary.
"In this role, she serves as consultant to the Minister of Finance, on anti-money laundering/combatting the financing of terrorism matters.
"NAMLC is the body responsible for providing recommendations and coordinating activities in relation to the development and implementation of an effective and compliant AML/CTF framework in Bermuda.
"Mrs. Lister was previously the Chairman and Chief Executive Officer of the Bermuda Monetary Authority [BMA], Bermuda's integrated financial services regulator. Prior to that she spent more than 15 years in the financial services sector here in Bermuda.
"Mrs. Lister attended Central School, Warwick Academy and Bermuda College [Department of Academic Studies]. She then pursued higher education in Canada, and completed a Bachelor of Science [Honours] degree in Probability and Statistics at Queen's University and a Master in Business Administration [Finance] degree at University of Toronto.
"She is a Chartered Financial Analyst [CFA]; and for her contributions to sound and effective regulation, Mrs. Lister was appointed as an Officer of the Order of the British Empire [OBE] by Her Majesty Queen Elizabeth in 2008.
"Mrs. Lister was a founding member and President of the Bermuda Society of Financial Analysts and served as a Governor for the Association of Investment Management and Research [now the CFA Institute], a global body that promotes ethics and excellence in the investment profession. She also served as President of the International Society of Financial Analysts."
Read More About