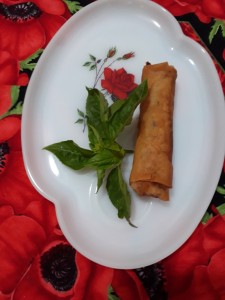 The DJ Flava National Fishcake Festival will take place on Saturday, March 27th, with an extra day on Sunday, March 28th.
A spokesperson said, "The DJ Flava National Fishcake Festival" will take place on Saturday, March 27, 2021, with an extra day on Sunday, March 28, 2021—both from 9:00 a.m. to 3:00 p.m.
"Organizers have stated firmly that this is a "drop in and get out event," where you can buy their new Fishcake Roll, Bermuda Books and Bermuda Roses. The event will be shut down if Covid rules of social distancing and wearing mask are violated.
"After some 30 years of promoting Bermuda Fishcakes, Rodney Smith and Dale Butler are pleased to continue the tradition with a few significant changes—inspired after they had to cancel the 2020 event.
"March 27th will be under the distinguished patronage of DJ. Flava [Malik Tuzo of Hott 1075] and March 28th it will be under the patronage of Mr. Rodney Smith.
"New this year, and going forward, will be the designation of the last Saturday of March as "National Fishcake Day".
"On "National Fishcake Day," this year, four new fishcake recipes will be released. After extensive recipe trials and consumer taste testing, they have been receiving rave reviews and are sure to be a sell-out. They are:
The DJ Flavour Mint Flavoured Sweet HOTT Fishcake Roll
The Kevin Watson "Ginger Chilli Honey" Fishcake Roll
The Rodney Smith Fishcake Roll [Plain with no condiments]
The Ras Mykkal "Rude Boy Inna De House" Fishcake Roll [A Sweet Chili Bermuda Fennel/Loquat Flavoured Fishcake Roll]
"The launch of these new products will take place on Saturday and Sunday, March 27th and 28th. at the award winning "Rosalie Gardens" on 35 Angle Street, directly opposite the former Hubie's Jazz Club. Only 5 people, at a time, will be allowed into the gardens to purchase.
"The event will also signify the Annual Bermuda Roses and book sale held by Atlantic Publishing House.
"In order to avoid large crowds, it is highly recommended that the new fishcake rolls be pre-ordered by calling 595-9841.
"In just one year, DJ Flava has made a tremendous impact on HOTT 107.5 radio. He jokingly remarked, on his first anniversary—March 9th, that he only had 73 fans which is a far cry from the numerous people who love him and call in and tell him so. DJ Flavour will cut the ribbon on Saturday at 12 noon. Entertainment, behind a special social distancing wall, will be by international performer Ras Mykkal and Wendy Flood, who lead the band Paradise with much success for 35 years .
"Orders may be sent to daledbutler@gmail.com or by calling 595-9841 before Wednesday, March 24th.
"Strict Covid rules will be reinforced by 'the Covid Marshall' or the event will be shut down immediately."

Read More About
Category: All, Entertainment, News