[Updating] Police, and crime scene tape, can be seen in St George's this afternoon [March 30] with unofficial reports indicating they are responding to a firearms incident. Further confirmed details are limited at this time, however we will update as able.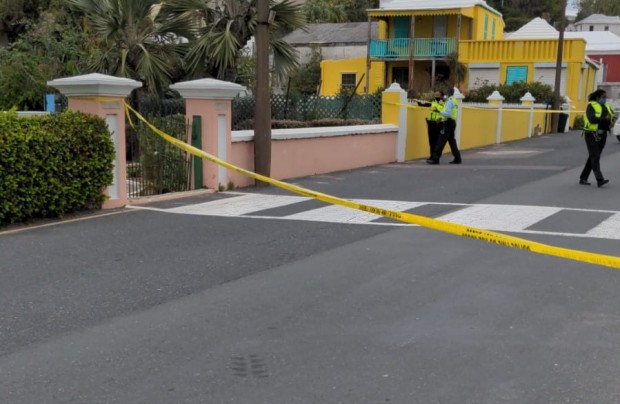 Update 5.14pm: A spokesperson said, "The Corporation of St. George [CSG] is aware of a shooting incident that occurred today near Somers Gardens on York Street.
"The incident is disheartening and the Mayor calls for calm during this time.
"The incident is unfortunate as the community is dealing with the effects of the COVID-19 pandemic. This adds an unnecessary negative aspect to life in the community.
"The public is urged to contact the Bermuda Police Service or Crime Stoppers with any information they may have regarding the incident.
"The Corporation and St. George's businesses is striving to revitalize the Town and incidents of this nature puts a blemish on all the hard work being done."
Update 7.08pm: A police spokesperson said, "Around 2:45pm today [Tuesday, March 30th] a firearm incident occurred near Somers Garden in St. George's.
"A 22-year-old Pembroke man was shot multiple times about his body. Apparently he was working in the area at the time he was shot.
"The 22-year-old man was transported by private vehicle to King Edward VII Memorial Hospital where he is receiving treatment for his injuries, which at this time are not believed to be life threatening.
"The suspects are described as two men on a dark coloured motorcycle without a licence plate. The rider was wearing a white helmet, while the pillion passenger was described as light brown complexioned with a thick moustache, wearing a black helmet and colourful jacket.
"Individuals fitting the description of the two suspects were seen leaving St. George's on a motorcycle and pursued by police. However, officers lost sight of them in the Paynters Road, Harrington Sound area. Efforts to locate the two suspects continue.
"The Bermuda Police Service [BPS] is treating this shooting as a gang related incident."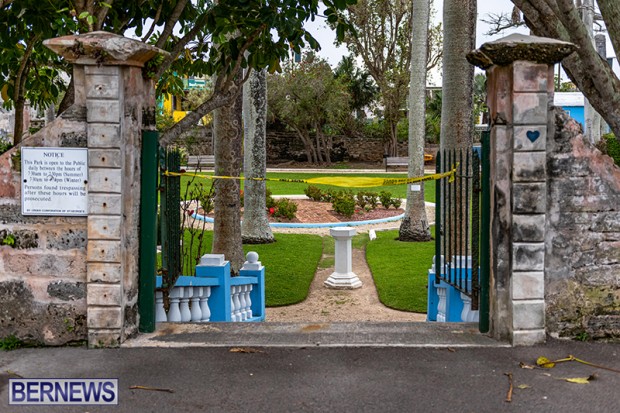 Assistant Commissioner of Police Antoine Daniels [Crime] said at the scene: "Even though at this stage the 22-year-old man's injuries are not believed to be life threatening, that does not take away the callous nature of this incident. It is unfortunate that this happened in broad daylight, openly on a street – which shows the length these young men will go to get at each other."
Commissioner of Police Stephen Corbishley added: "The BPS is taking this incident seriously and continues to monitor current gang tensions. Someone knows who the perpetrators are. I urge those that can assist in bringing the offenders to justice to come forward and assure that any information provided will be treated in the strictest confidence."
"Any witnesses or members of the public with relevant details are urged to call the Serious Crime Unit on 247-1739, or the independent and confidential Crime Stoppers hotline, 800-8477."
Update 8.11pm: The Minister of National Security, Renee Ming expressed concern about today's shooting incident in St. George's saying, "Regrettably we had a firearms incident in the midst of our Country's fight against the latest Covid-19 outbreak.
"My thoughts are with the victim, his family and everyone who has been impacted by this act of anti-social behaviour. Gun violence has no place in our neighbourhoods, and this incident is extremely concerning, particularly because our people are already weary and anxious at having to deal with the current pandemic challenges we face."
Minister Ming continued, "I have been updated about the shooting by the Bermuda Police Service, and I am encouraging anyone who has any information about this incident to please share what you know with the police.
"The public can be reassured that the Gang Violence Reduction Team is available to offer assistance.
"As a community cannot allow senseless acts of violence to become our norm; we are better together."
Read More About