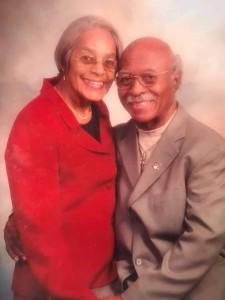 The Bermuda Entertainment Union [BEU] has extended its condolences to the family of Clarence 'Tootsie' Bean.
A spokesperson said, "It is with profound sadness that we, the Executive Committee, Trustees, and Members of the BEU, extend our deepest condolences to our Bro. Shelton Bean and his entire siblings for the loss of their father, the legendary drummer extraordinaire, Bro. Clarence 'Tootsie' Bean and their mother, Mrs. Stella Bean.
"Bro. 'Tootsie' and his beloved wife, Stella, were both in their 90s. They were married for 69 years.
"Mrs. Bean was a very well-known Dental Assistant, having worked for Dentist Rattery for many years before her retirement.
"She was a very active longtime member of Herard Chapel AME Church, where she was a missionary and sang in the choir. She and Uncle 'Tootsie' were so beloved and revered by their church family.
"Mrs. Bean was also involved in track and field. Her daughter, Donna, started the Bermuda Flyers Track Club, which she was a part of. She was the team manager for Bermuda when they went to the 1976 Olympic Games in Montreal.
"Our Bro. Kim Swan, JP, MP, contributed the following information regarding our beloved Bro.'Tootsie': 'Clarence 'Tootsie' Bean is among the awesome collection of legendary Bermudian musicians who not only plied their trade internationally, but also contributed to the social transformation of Bermuda through sport – in Tootsie's case it was his love of golf and for his membership with the Ocean View Golf Club.
"Golf was rigidly segregated prior to 1967 when the first integrated golf tournament was staged outside of the Ocean View Golf Club in Devonshire.
"It is important to note that the Ocean View Golf Club leased and took over the Devonshire Golf Links from Government in 1950. Most importantly, is that it was open to all in Bermuda, in spite of the rigid segregation overtly practiced by whites in Bermuda at that time.
"The list of iconic musicians as golfers, and their role in the desegregation within Bermuda, is an important story I am telling – Clarence 'Tootsie' Bean is an integral part of that important story.
"Rhythm is an imperative fundamental in the development of all sporting disciplines- 'Tootsie,' the Drummer, truly set the beat.
"Rest in peace and rise in power, Clarence 'Tootsie' Bean – a bad cat.'
"The late Clarence "Tootsie" Bean was honoured and celebrated as a living legend by our Trustee, Bro. Wendell "Shine" Hayward, at his own International Jazz Day Celebration in 2015, at the famed Spinning Wheel Nightclub.
"Bro. 'Shine' contributed remarks, saying, 'There is so much to be said about Uncle 'Toot' and his music. You can read all about that in the book of his life, "Tootsie Never Missed a Beat," by Claudette Rogers.
"He was an exceptional percussionist in his early days in Bermuda, performing at the highest level whilst also teaching many young drummers, who today are a part of the legacy he leaves behind."
"Tootsie realized that Bermuda could only offer him so much; he left Bermuda to share his expertise with other internationally known musicians; traveling/performing and recording with them."
"In his advanced years, he returned home to Bermuda and allowed us to become reacquainted with him and his remarkable talent. This also allowed his family to spend quality time with him during the last years of his life. May his soul rest in eternal peace as he joins so many other great jazz musicians.'
"Again, the BEU extends our condolences to the family of the last of the super great legends of Bermuda, Bro. Clarence 'Tootsie' Bean and his beloved wife, Mrs. Stella Bean. May they both rest in peace and rise in power.
"They leave, to cherish their memories, their children, Janette Trott, Deborah Bean, Bro. Shelton Bean and Donna Raynor, along with their families, a host of other relatives, numerous friends and the BEU family."
Read More About