Anthony Swan is continuing his impressive transition, having recently completed his law degree at the University of Buckingham, with the Bermudian saying he hopes his "journey can inspire someone to pursue their dreams despite any obstacles that appear to be in their way."
The first time we ever reported on Mr Swan he was appearing in court, and in 2018 we reported on his transition to law school, and three years later, he continues to impress, having successfully completed the Bachelor of Laws, LLB [Hons] Law Degree at the University of Buckingham.
Before embarking on obtaining his law degree, Mr. Swan completed a Foundation Degree at The David Game College in London, and he is now aiming to complete a Master of Laws [LLM] and the Bar Training Course, before undergoing pupillage to qualify him for admission to practice in the England & Wales Bar and Bermuda Bar.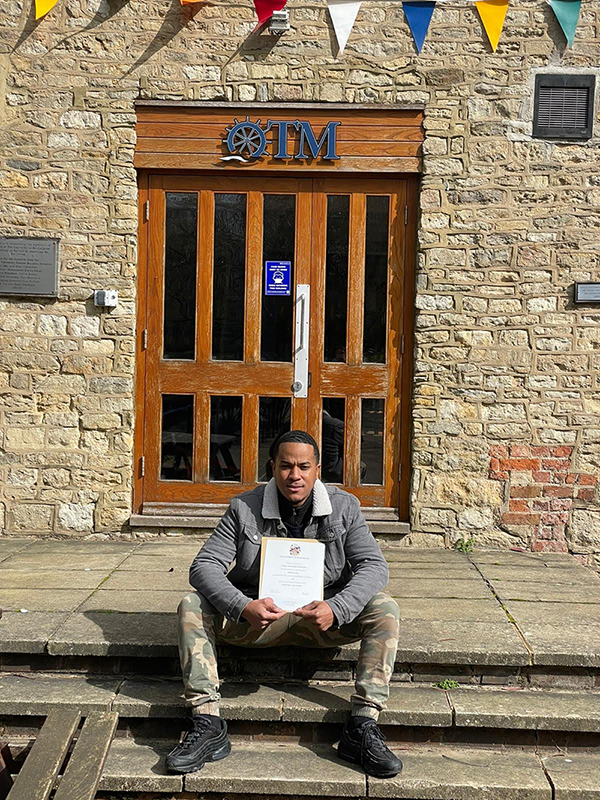 Speaking to Bernews recently from the UK, Mr Swan said, "Firstly, I am grateful for all who have assisted me in my journey. This journey and the most recent achievements are the cumulative result of a concerted effort of our age-old notion which says that it takes a village to raise a child.
"So, I would like to extend a heartfelt thank you to all who have assisted in any way, shape, or form – I am eternally grateful for all of you.
"It is my hope that my journey can inspire someone to pursue their dreams, despite any obstacles that appear to be in their way. If one looks within oneself long enough, they will discover a universe of pure unlimited potential which we call energy.
"You must take this energy and create your own drum and play your own music; find your unique self. Don't buy a drum from anyone, make your own unique instrument and play it like there's no tomorrow. I say this because I liken obtaining my law degree to my discovery of my unique groove in life.
"When one thinks in terms of alchemy, you take everything, the good, the bad and the ugly and make it all make sense. Your experiences come to ultimately serve you. See the oneness of things. Mark 9:23 says 'The Mashiach said, Everything is possible for one who believes.' Everything is possible. Think it, believe it, receive it.
"From this point, the vision continues to unfold, taking me to another point of beginning post graduate schooling. I will sit the Legum Magister [LL.M] which means Master of Laws, as well as the Bar Training Course. The sun does not shine for itself nor does the river drink its own water. This accomplishment is not me, it is we and so shall the future be."
Mr. Swan is currently working as a paralegal to save for his next courses, which begin in September 2021. Anyone wanting to assist Mr. Swan with his studies can contact anthonyspostgradfunding@outlook.com.
Read More About