McKenzie-Kohl Tuckett and Ryley Tannock earned legal scholarships from Walkers, while Padraic O'Shaughnessy and Caitlin Hyland will be interning with the firm.
A spokesperson said, "Four young Bermudians pursuing a future in the legal profession are being supported in their career aspirations by local law firm Walkers.
"McKenzie-Kohl Tuckett and Ryley Tannock have both successfully secured legal scholarships to pursue their studies in the fall, while Padraic O'Shaughnessy and Caitlin Hyland will be interning with Walkers over the summer where they will gain fundamental experience applying learned principles to practice.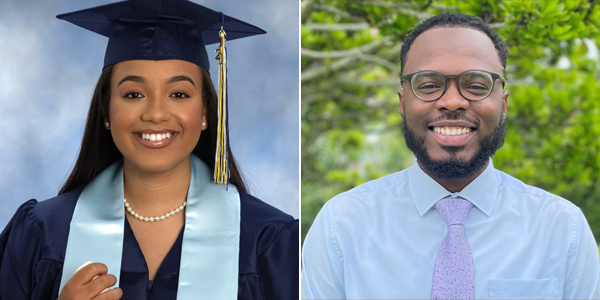 "McKenzie-Kohl Tuckett is a graduate of Warwick Academy, where she was elected Head Girl. She has displayed a deep desire to learn and grow and has participated in several noteworthy programmes, including taking up the position of Youth Premier at the Youth Parliament Bermuda and Youth Assistant Director at Future Leaders Bermuda, as well as participating in The Girl [Em]Power Project and the WeSpeak Teen Committee.
"McKenzie has secured a $25,000 scholarship to begin her LLB at the University of Bristol and will commence her first summer internship with Walkers in August.
"Ryley Tannock is well on his way to becoming a lawyer, with a Bachelor's in Criminology and Psychology already under his belt from Saint Mary's University in Halifax, Nova Scotia. He recently completed an apprenticeship programme with the Department of Public Prosecutions, where he shadowed various Crown Counsel and provided aid in case and trial development.
"He has also interned with the Cabinet Office, supporting the development of policy and strategy initiatives; and was a key member of the Criminology Society while studying at Saint Mary's University. Ryley has secured a $10,000 grant to commence his GDL at the University of Law in Birmingham and will also begin his first summer internship with Walkers in August."
Walkers partner and head of the Walkers Bermuda Legal Training Programme Nicole Tovey said, "McKenzie and Ryley both presented as well-rounded candidates who have impressive academic backgrounds, are passionate about personal development and have a strong community spirit. We are confident they will do exceptionally well in their studies and are proud to support them financially."
The spokesperson said, "Meanwhile this summer Padraic O'Shaughnessy and Caitlin Hyland will shadow a number of lawyers through the firm's summer internship programme.
"Padraic is currently a student at Maastricht University European Law School in the Netherlands, where he is completing a Bachelor Degree in European Law with a double minor in Human and Legal Decision-Making, and Business and Law. He was among the Top 3 Students in the second year of the ELSA Moot Court Competition, obtaining a near-perfect score of 99-percent.
"A former graduate of the Bermuda High School, Padraic is an avid humanitarian and took part in Habitat for Humanity in both Kerala and Bangalore, India, with the Bermuda Overseas Missions. He will be commencing his GDL at the BPP University in London in the fall.
"Caitlin recently completed her Bachelor of Arts Degree in Art History at the University of British Columbia in Vancouver, Canada. She has devoted her time to the study of art through various internships, including at the Masterworks Museum of Bermuda Art.
"Most recently, she was a Gallery Assistant at ArtStarts in Vancouver, a Canadian gallery dedicated to displaying artwork created by children. After her summer internship with Walkers, she will be heading to the University of York in England to begin her LLB."
Kevin Taylor, Office Managing Partner of Walkers, said, "Since Walkers opened its office in Bermuda six years ago, the firm has committed itself to supporting talented and emerging professionals pursuing legal careers.
"To-date, six Bermudians have received Walkers Legal Scholarships and participated in the firm's extensive training and development programme, and it's been a pleasure to give back to the Bermuda community in such a meaningful way.
"While on different paths in their young career journeys, McKenzie-Kohl, Ryley, Padraic and Caitlin will each have the benefit of being backed by Walkers."
The spokesperson said, "For more information on the Walkers Bermuda Pupillage Programme, legal scholarships and internship opportunities, please visit here."

Read More About