In recognition of its 50th anniversary, Port Royal Golf Course is set to restart the Port Royal Developmental Golf Tournaments, which were discontinued due to the Covid-19 pandemic.
A spokesperson said, "In recognition of Port Royal Golf Course's 50th anniversary year, the Port Royal Developmental Golf Program is to restart Port Royal Developmental Golf Tournaments with a renewed purpose.
"The tournaments, which were discontinued because of COVID, introduced many entry level golfers to the game and will be restarted with an enhanced mandate: to also honour past Port Royal Golf Course legends, educate the public about past achievements of Port Royal Golf Course legends, and donate funds to support the Port Royal Golf Youth Developmental Program.
"The Port Royal Developmental Golf Program was based around coaching and the tournaments developed many entry level adult and junior golfers, most notably junior golfers Kenny Leseur Jr, Cory DeSilva, Samson Douglas and Oliver Betschart.
Port Royal Golf Youth Development Program
"Under the leadership of former Bermuda Olympian Xavier James, the Bermuda Government Trustees have passed a resolution to mandate that the Port Royal Golf Developmental Program formerly construct a youth developmental program that organically incorporates principles and values that promotes inclusiveness, embraces diversity and removes all barriers by reaching out to all segments of society, especially those non-traditional future golfers.
"The Port Royal Developmental Golf Program has operated for 10 years under the direction of now Port Royal Chairman Kim Swan, a former PGA European Tour Golf Professional who fashioned his coaching techniques around the experiences he had in golfing as an amateur and professional in the USA, Canada, Europe, Africa, Asia, and the Pacific."
Mr. Swan said, "I fondly remember the encouragement and support given to me by the late Greg Maybury, General Manager of Port Royal Golf Course, when establishing the Port Royal Developmental Program.
"Since becoming Chairman of Bermuda Government Golf Courses in Port Royal's 50th year, it has proven prophetic and surreal for me to be in a position to direct the future of municipal golf in Bermuda.
"We have been provided with a unique opportunity to celebrate public golf and introduce golf to all persons with love of the game being the overriding principle.
"Our Youth Development [Xavier James, Team Leader] and Historical Subcommittees [Denton Oterbridge, Team Leader] are working feverishly with their mandates and are joining forces with a pilot program at Port Royal to celebrate, educate, and donate to the future of our great game that aims to celebrate and increase public access to golf.
"It has been a blessing joining forces with former Olympian and educator Xavier James with his burning passion for golf and his extensive knowledge in sports from his Olympic experience, enriching and uplifting."
The spokesperson said, "Part proceeds from the Port Royal Golf Developmental Tournaments will go to help fund the Port Royal Golf Youth Developmental Program under the leadership of Xavier James.
Ralph Fray Memorial – 50th Anniversary
"In June 1971 a young Ralph Fray was the Low Golf Professional of the Bermuda Open, which followed Walter King's triumph the previous year.
"A young talented and charismatic Ralph Fray took his winnings and purchased a motorcycle, but he loved travel fast, much to the delight of the young juniors who also admired his equally aggressive style of golf.
"Ralph Fray was a long hitting cross-handled golfer who had a magic touch with a wedge in his hand. Ralph Fray was Bermuda's Seve Ballesteros who held the Port Royal course record of 63 from 1970 for several decades.
"At his untimely death in October of 1971 Ralph Fray was hired as the Ranger at Port Royal. A promising career was abruptly ended but not before inspiring all those who witnessed his creative genius."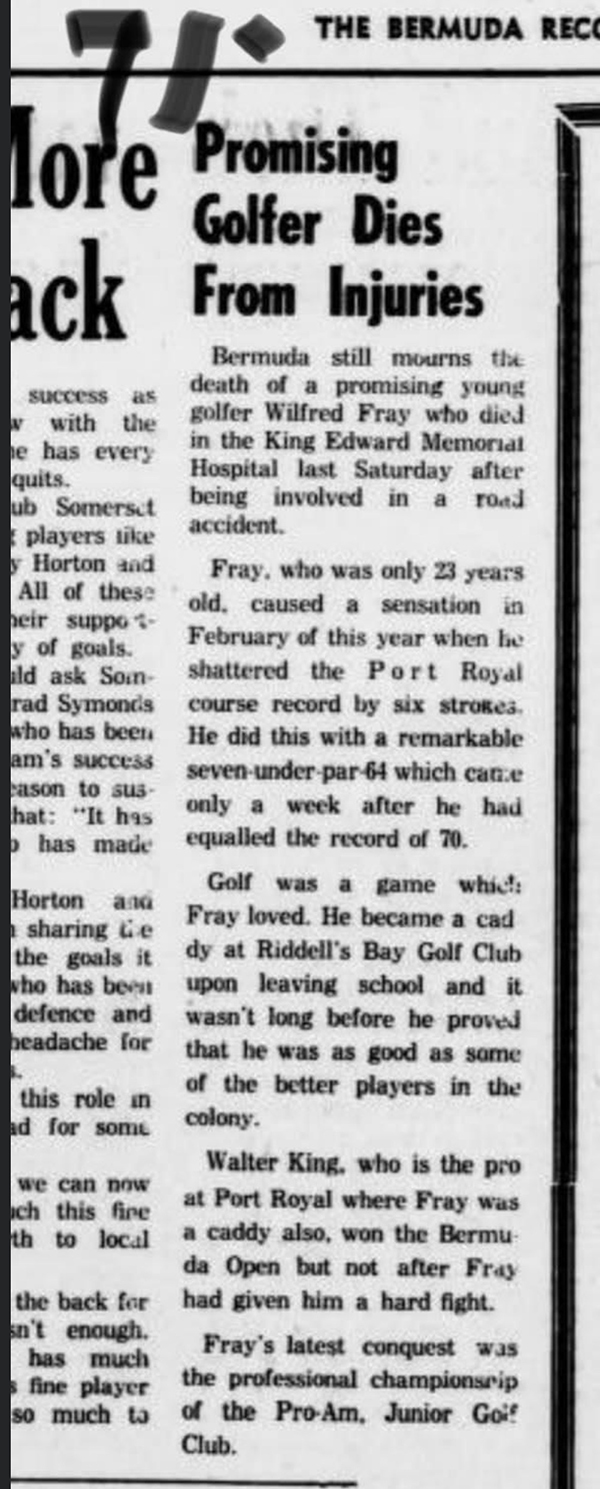 "Historical Team Leader, Trustee Denton Outerbrdge, said, "Wilfred 'Ralph' Fray and I use to caddy at MOC and Castle Harbour together with his brother 'To Jo,' where Walter King also worked – both Fray Brothers were exceptional players.
"But I really got to know Wilfred Fray through the late Golf Pro Danny Johnson at Belmont, who was taught by the legendary Herman 'Tucci' Bascome."
The spokesperson said, "Wilfred Fray never played safe, he played to win and he accepted any challenge and played boldly.
"He was special type of golfer – he was Bermuda's Tiger Woods before Tiger was born. He had tremendous self confidence. May he rest in peace."

Read More About