BE Solar partnered with Aeolus Capital Management to install a solar system for the Family Centre headquarters in Pembroke, and they noted that the solar system "will help the charity save over $4,800 each year by relying less on fossil fuel electricity."
A BE Solar spokesperson said, "Local solar company, BE Solar, has partnered with Family Centre and Aeolus Capital Management Ltd. to deploy a clean energy solution for the Family Centre headquarters in Pembroke.
"The solar system is able to harness the sun's energy and produce electricity for the entire facility. The BE Solar team successfully installed and commissioned the 10.2kW solar system at the Sunshine League House on King Street in early 2021.
Michele Rawlins [Aeolus Capital], Stratton Hatfield [BE Solar], Daina Casling [Aeolus Capital] and Dr. Sandy De Silva [Family Centre].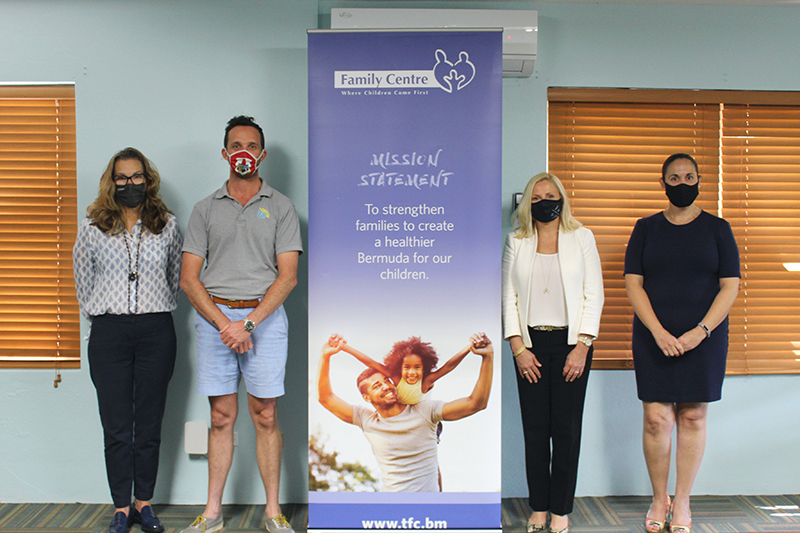 "In 2017, BE Solar approached Family Centre to propose a cash positive payment plan partnership to help reduce operational costs for the charity while helping to install a renewable energy system.
"Three years later, donations totaling $10,000 from Graham & Suzie Pewter and Robert & Susan Cawthorn for solar panels were the catalyst to press 'go' on the initiative. BE Solar donated all the solar panels and microinverters to the project and Aeolus Capital Management Ltd. [Aeolus] donated capital to fund the remaining amount of the payment plan.
"The partnership was another outstanding example of three like minded organisations coming together to help each other achieve their missions to ultimately help Bermuda and her people.
"The solar system, recently commissioned in March, will help the charity save over $4,800 each year by relying less on fossil fuel electricity and helping Family Centre to produce their own clean renewable energy from the sun.
"BE Solar has a vision of an efficient Bermuda powered by affordable renewable energy and the company is continuing to make solar more accessible by fostering partnerships with non-profit organisations that are helping people in Bermuda. The organization hopes to work with Aeolus again in future on other such projects."
Director of Development, Stratton Hatfield said "Our experienced team is honoured to have partnered with the Family Centre to deliver yet another high quality solar solution for such an impactful and important charity in Bermuda."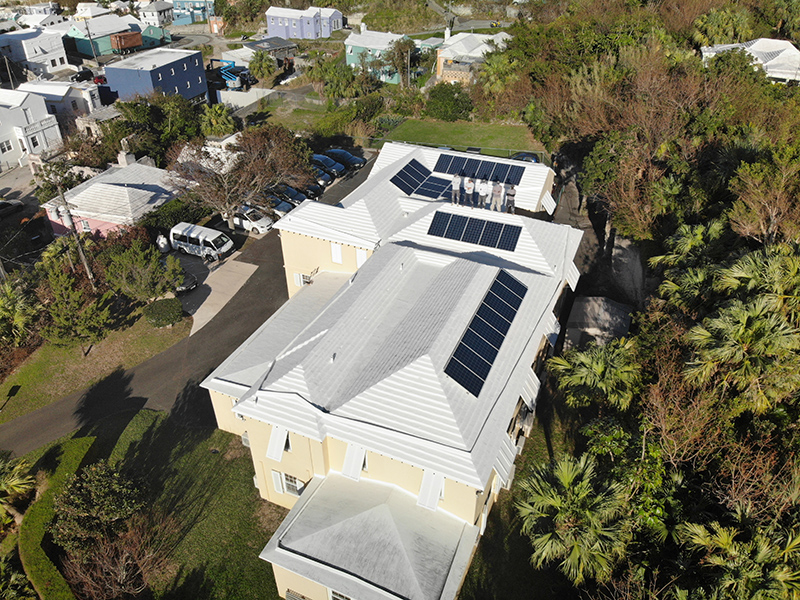 "The solar system was designed to allow for future expansion and the first phase is made up of 40 solar panels and 40 Enphase microinverters. The system is forecasted to save over 470 barrels of oil from being burnt at BELCO and will save Family Centre over $103,700 in the first 25 years of operation."
Bonnie Claggett, Chief Operations Officer, noted, "Environmentally friendly solutions are critical to the world's sustainability; hence, the project with BE Solar fits in perfectly with our green initiatives and commitment to financial sustainability."
"The project was led by solar installer, Tre Govia, alongside Joshun Stovell, Jordan Rowse, Anthony Butterfield, K-Ci Smith, Dalbert Hardy and Oral Daley. Each of the team members helped to install the solar system on time and on budget with minimal impact to the daily operations at Family Centre," the company said.
Solar installer Jordan Rowse, who is studying at the Bermuda College to become a certified electrician, stated, "It feels good to know we are giving back to the community in a direct way that helps now and will continue to help into the future. Knowing what Family Centres does for the community and for young people, I know our solar system will help the organisation save money so they can spend it on more important things."
Dr. Sandy De Silva, Executive Director, thanked BE Solar and Aeolus for helping the Family Centre to realize its aim to reduce its carbon footprint.
She noted that the savings from this significant green project will allow the organization to focus on financing programmes and services, and substantially decrease spending on the electricity bill.
Family Centre's Board Chairman, Justin Friesenbruch stated, "We are extremely grateful for this partnership and support in the mission to strengthen families to create a healthier Bermuda for our children."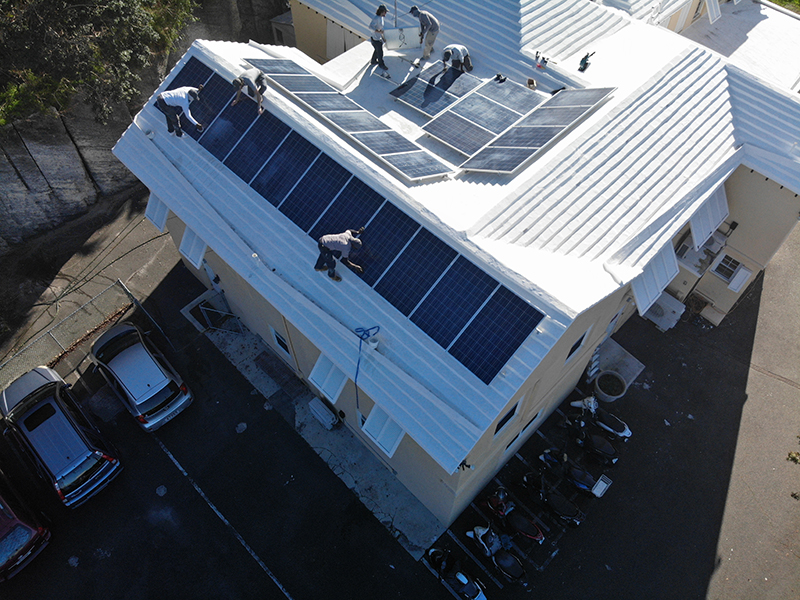 An Aeolus spokesperson also said, "Aeolus Capital Management Ltd. announces a joint initiative with BE Solar, the leading provider of solar power solutions in Bermuda, to finance the solar installation at Family Centre's headquarters.
The project was jointly sponsored by Aeolus' Environmental, Social and Governance [ESG] and Charitable Giving Committees.
Daina Casling, Partner, Head of the Charitable Giving Committee and member of the ESG committee commented, "Both charitable giving and ESG lie at the heart of our operations at Aeolus and we are proud to partner with BE Solar to support an impactful and important charity like Family Centre. We look forward to exploring additional projects with BE Solar and hope to play a role in the long-term transition from fossil fuels to renewable energy on the island."

Read More About
Category: All, Business, Environment, News