Noting the "growth in the renewable energy industry," BE Solar recently welcomed new staff, with Paul Gosling, Raphael Knight-Packwood, Jordan Rowse, and Aaron Hooper joining the team.
A spokesperson said, "BE Solar, Bermuda's most established solar energy company, has been focusing on how to achieve its vision of an efficient Bermuda powered by affordable renewable energy.
"Growth in the renewable energy industry has enabled the local company to focus on recruiting more young talented people to join the company and the company has recently increased its size by employing three more Bermudians and one spouse of a Bermudian.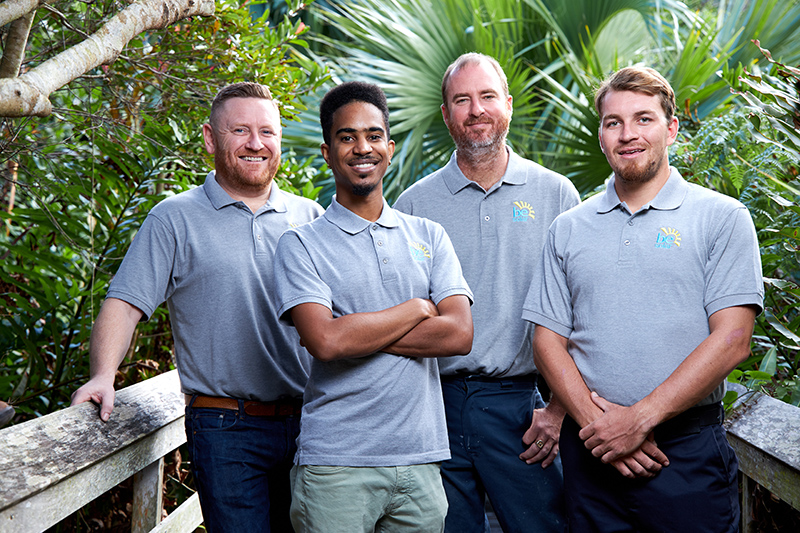 Paul Gosling 
"Paul Gosling was recruited as the new procurement manager. He is responsible for managing all procurement for BE Solar and ensuring inventory levels match the demands of the business by forecasting requirements in collaboration with the team.
"Paul brings a wealth of knowledge from the construction and telecoms industry, having worked across various multi-million dollar projects alongside clients such as London Underground, BT Openreach, Vodafone and Virgin Media.
"He relocated to Bermuda in August 2019 after working in the UK, the Channel Islands, The Netherlands and Italy. He plans to utilise his procurement experience to streamline BE Solar's purchasing and inventory control, and develop a Sustainable Procurement Policy to align with the vision and mission of BE Solar.
Raphael Knight-Packwood 
"Raphael Knight-Packwood was recruited as the new solar IT specialist. Raphael has a bachelor degree in Computer Science from Brock University.
"He is responsible for streamlining the solar monitoring program and responding to different issues that arise on the various solar systems that BE Solar maintains. He also provides the team with IT support and ensures that the office is well equipped with the necessary resources to function.
 Solar Site Technicians
"Jordan Rowse and Aaron Hooper have also been recruited as solar site technicians. The two young Bermudians will join the installation team to ensure that all the solar electricity systems installed by BE Solar consistently meet high levels of quality and are carried out in an efficient, timely and organised manner.
Aaron Hooper 
"Aaron Hooper is an experienced welder, bringing his skills of precision fabrication onto the roofs of Bermuda. Before his appointment to the team, Aaron most recently constructed the Tourism Authority Information Container Building on Front Street, the tourism hub for the City and home of The Birdcage.
"He has accumulated certifications from the Bermuda College, Huddersfield Technical College and St. Andrew's Community College, which has helped drive his career forward from his first apprenticeship at Works and Engineering to projects such as the airport and the American Consulate. Aaron's personable, warmhearted demeanor and international experience in Bristol and Zanzibar make him a welcome addition to the diverse team at BE Solar.
Jordan Rowse 
"Jordan Rowse graduated in 2013 from Saltus and is currently completing an electrical certification course at Bermuda College. He is 24 years old and has previously worked in the construction industry on both residential and commercial projects.
"He has also worked as a lifeguard with the Bermuda Lifeguard Association and his life saving skills will be leveraged in the health and safety component of the team's operations. When he's not up on a roof, you can also find Jordan working part time at Gulfstream restaurant on the weekends."
BE Solar 'Thrilled To Welcome' New Staff
Stuart Kriendler, Managing Director of BE Solar, stated, "We are thrilled to welcome these talented and passionate people to the BE Solar team.
"Our mission is to provide the highest quality energy solutions that are accessible to all and we look forward to training our new team members to achieve this mission. They are now part of an expanding team of people that are passionate about Bermuda and the future of sustainable energy production."
Read More About