The Department of Culture is reminding the public that registration is still open for this weekend's Bermuda Cultural Stakeholder Conference.
A spokesperson said, "Happening Sunday, May 16 at 11.00 am, the summit will be carried live via Zoom, and is free to the public. The event will discuss some of the challenges and opportunities emerging from the culture and heritage sectors, and will also serve as the official launch of Bermuda's National Cultural Heritage Policy.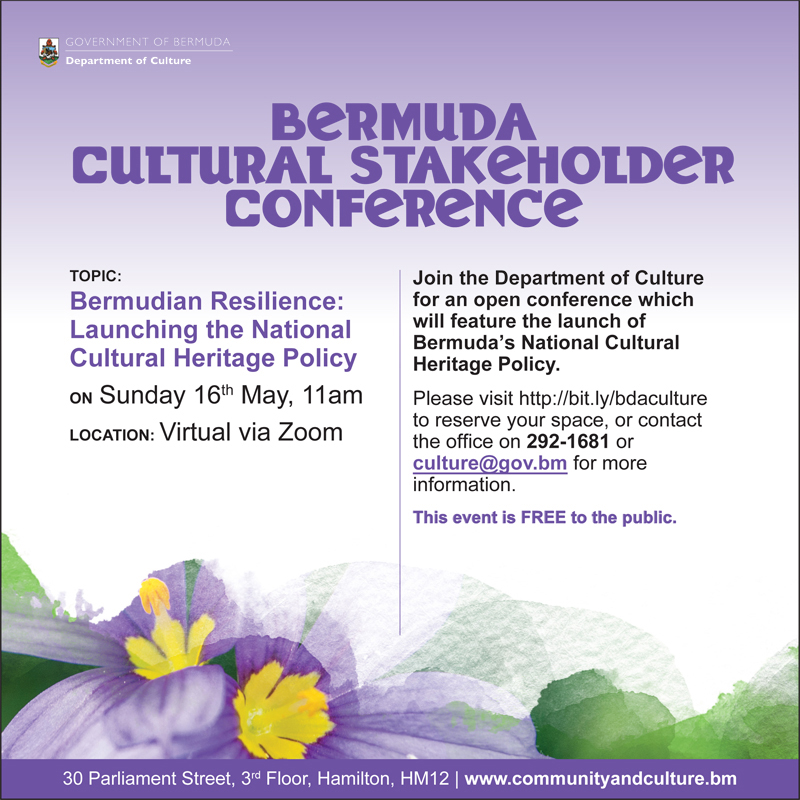 "The Bermuda Cultural Stakeholder Conference is a first of its kind, and will see a stellar line up of speakers which include:
The Minister of Youth, Culture and Sport, Dr. Ernest Peets, JP;
Charles Jeffers II, CEO, Bermuda Tourism Authority;
Henry Thomas, Jumuiya Ya Afrika;
Richard Lowry, Landmark Preservationist, Landmarks Preservation Commission of New York;
Dr. Rosemary Hall, Sociolinguist and Oral Historian;
Stephanie Gibson, Art Historian;
Richard Ambrosio, Portuguese Cultural Association and Vasco da Gama Club;
Elena Strong, Director, National Museum of Bermuda; and
Yesha Townsend, Writer and Educator.
"Interested persons can sign up for the conference here and participate in a discussion that will share information and plans regarding what the Ministry is doing to support Bermuda's creatives, heritage organisations, artists and cultural groups. For more info, email: culture@gov.bm.
"Lastly, each of us has a role to play in stopping the spread of the coronavirus. Follow Public Health guidelines, wear a mask, practice good hand hygiene, maintain physical distance and download the WeHealth Bermuda app. Do the research, talk with your doctor and make an informed decision about getting the COVID-19 vaccine."
Read More About