The Department of Culture will host the Bermuda Cultural Stakeholder Conference on Sunday, May 16, with the Department explaining that it "will be held via Zoom, is free to the public and will serve as the formal launch of Bermuda's National Cultural Heritage Policy."
A Government spokesperson said, "The forum will also provide an opportunity to engage with and hear from Bermuda's creatives, heritage organisations, artists and cultural groups.
"The discussion will not only focus on the critical need to preserve Bermuda's traditions and heritage, but also it will also highlight the importance of supporting Bermuda's artistic talent.
"The cultural summit is part of the Department's Heritage Month activities, which includes a series of online, virtual and physically distanced activities.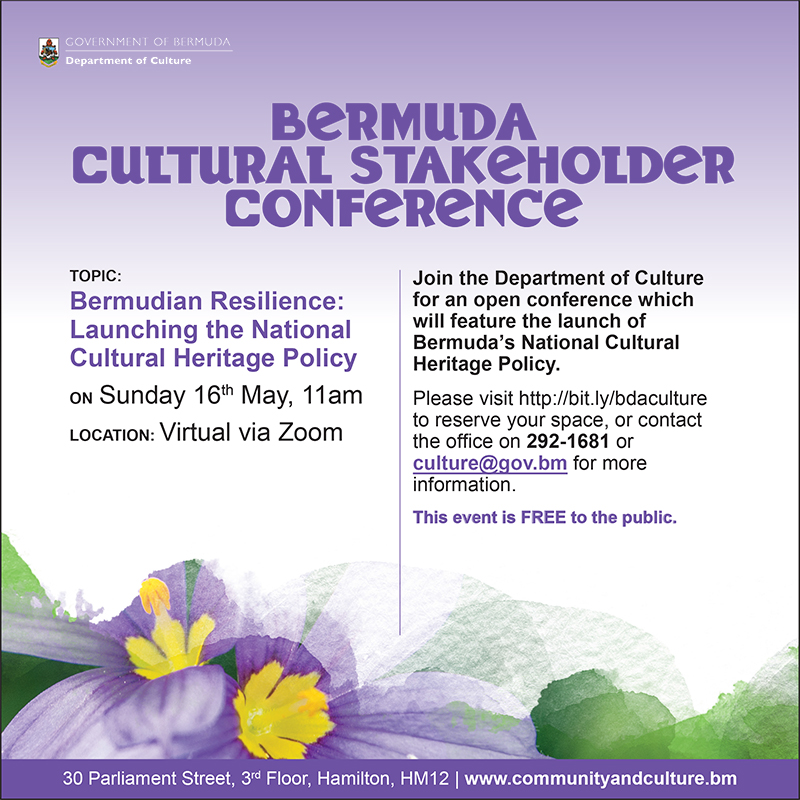 Today the Minister of Youth, Culture and Sport Dr. Ernest Peets said, "We are very excited about hosting the first ever Bermuda Cultural Stakeholder Conference. We want this to be an engaging experience and we welcome the views and feedback from our artists and creatives and interested members of the community. And we are pleased to inform the public that this event will occur yearly.
"This Government is committed to promoting culture and developing our creatives and a few weeks ago, I was pleased to table Bermuda's National Cultural Heritage Policy in the Senate."
"Accordingly, the policy speaks to the need to support, maintain and develop Bermuda's cultural institutions. In addition, the Ministry will create programmes and initiatives to assist the growth and employment of the island's artists and tradition-bearers. There are six primary goals of the policy:
To promote culture and develop our creatives;
To preserve and protect our cultural heritage;
To include culture in our national development plans;
To establish cultural connections;
To assist with cultural administration; and
To implement and review the policy.
The Minister concluded, "This comprehensive document is a critical roadmap to protecting, preserving and supporting Bermuda's traditions, culture and heritage and we look forward to having a robust discussion about the Policy during Bermuda Cultural Stakeholder Conference on May 16. Registration is free and is now open. Those interested can register here."
"Lastly, each of us has a role to play in stopping the spread of the coronavirus. Follow Public Health guidelines, wear a mask, practice good hand hygiene, maintain physical distance and download the WeHealth Bermuda app. Do the research, talk with your doctor and make an informed decision about getting the Covid-19 vaccine."
The National Cultural Heritage Policy for Bermuda follows below [PDF here]:
Read More About
Category: All, Entertainment, News