[Written by Kim Swan]
As Port Royal celebrates celebrates our 50th year, we have mandated a subcommittee headed by Trustee Denton Outerbidge, a former Bermuda International Golf Representative, to capture the history of government golf in Bermuda.
Denton Outerbrdge, who knew Ralph Fray as a young golfer, said, "Wilfred 'Ralph' Fray and I use to caddy at MOC and Castle Harbour together with his brother 'To Jo,' where Walter King also worked – both Fray brothers were exceptional players.
"But I really got to know Wilfred Fray through the late golf pro Danny Johnson at Belmont, who was taught by the legendary Herman 'Tucci' Bascome. 'Fray' never played safe, he played to win and he accepted any challenge and played boldly. He was a special type of golfer – he was Bermuda's Tiger Woods before Tiger was born. He had tremendous self confidence. May he rest in peace."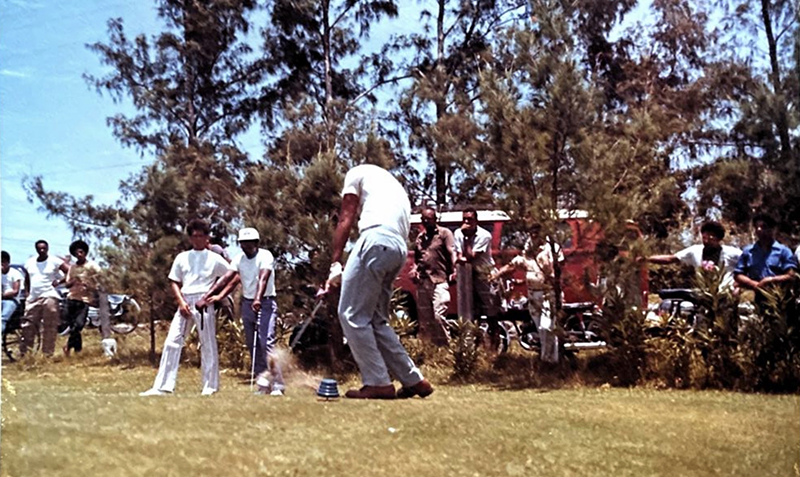 As we unearth the contributions of Reginald Tucker of St. George's, Walter King, George Wardman, Noel Van Putten, Alora Rabain and many others, we are beginning a journey to pay homage to a vision that gave birth to an iconic public golf course.
Undoubtedly, Port Royal's affordability and inclusive mantra gave rise to a spirit of inclusion that built on the example set by Ocean View Golf Course. Port Royal's model made it possible for unrivaled social interaction not practiced by other golf courses in Bermuda wedded to a legacy of segregationist tendencies.
As we celebrate our rich history, our story must start with the star of our first year the late Ralph Fray – the 1971 Low Pro in the Bermuda Open at Port Royal for the first time – who was tragically killed in a motorcycle accident.
Former Port Royal General Manager and Bermuda International Amateur Golfer, Noel Van Putten remembers playing golf with Fray at least three times a week. But they were together on the last day of his life. Noel Van Putten recalls, "On the day 'Fray' died, we had won a money match against two top Belmont players, golf pro Fraser Memmott and amateur David Ferriera."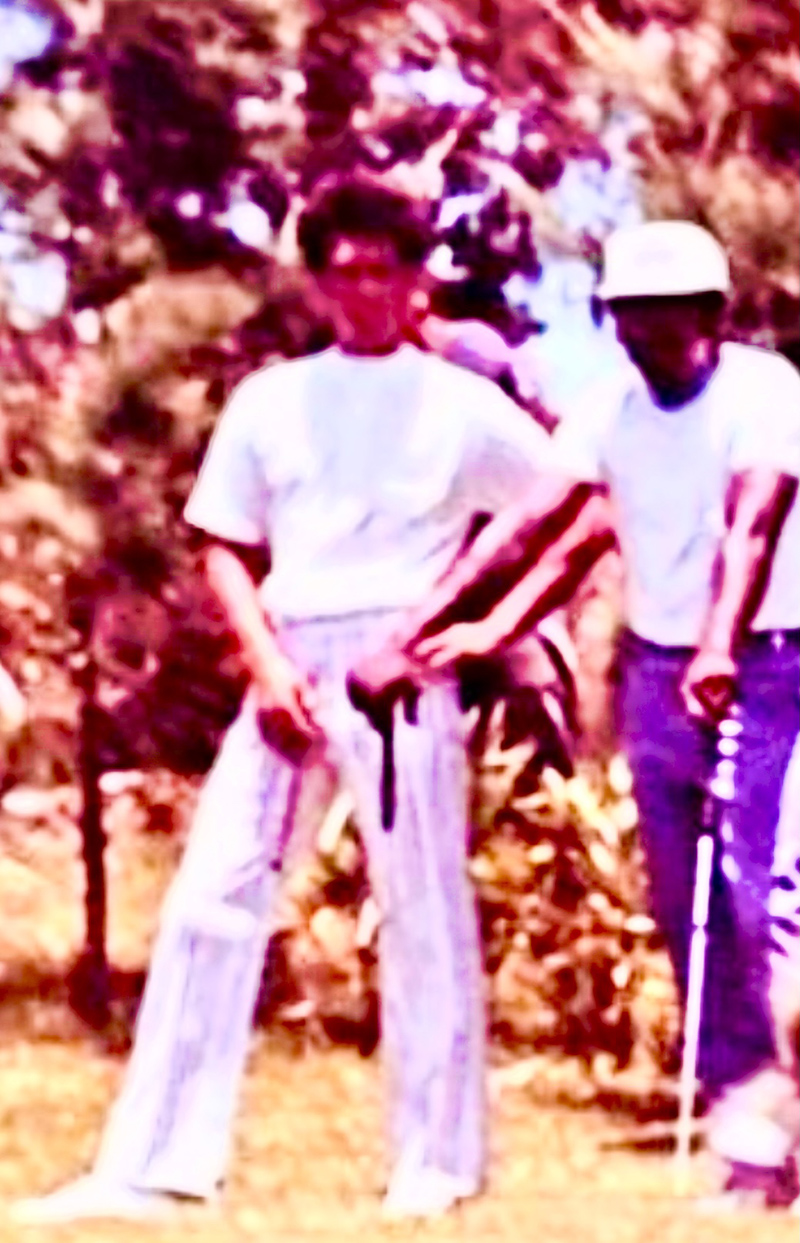 "It was the same year that Louis Moniz won the Bermuda Open and [Ralph] Fray was the low pro and won the first place money. He took the money and purchased a Yamaha motorcycle built for speed. Not long after leaving us following our match, word reached us that he was involved in a serious accident near Jews Bay, Southampton."
Port Royal Golf Course was opened on October 29th, 1970 by Lord Martonmere, Governor of Bermuda. Prior to 1967, golf was rigidly segregated, save and except for Ocean View Golf Course, on property leased from the Bermuda Government and operated by a predominantly Black membership who opened their doors to everyone.
Port Royal followed this example, but as an 18-Hole World Class Championship Golf Course open to the public and affordable, introduced a level of inclusion uncommon in Bermuda then and in many decades to follow.
On the day Ralph Fray died, a shock reverberated around the Bermuda community.
Marshall Minors, a top local junior golfer at that time, also remembers seeing 'Fray' moments before meeting his death.
"My father and I were at Port Royal in the parking lot when we saw Fray and had what was now our final conversation with him. He was so talented and I admired his ability and style of play."
It is important to put 1971 in context, as it was also the year Frank Rabain, Ocean View golf pro, would qualify for the British Open at Royal Birkdale, England and several Bermudians would travel to the UK to attempt to qualify.
Former Bermuda Open Champion and World Cup Representative Keith Smith shared, "We played and practiced a lot together in Tuckers Town at Castle Harbour and Mid Ocean. We were also part of Rogers Outerbrdge's organization 'Pro-Am & Juniors Golf Club' and Fray was our Club Champion at Rose Hill, St. George's and in 1971 won the Bermuda Open Professional Champion was reigning Champion at his death."
"When he was low pro in the Bermuda Open in 1971, we wanted him to go to the British Open with us – that was the year Frank Rabain successfully qualified. Unfortunately, he opted to use his winnings and purchase a high powered motorcycle."
Smith continued, "Fray and I had previously travelled overseas together when Rogers Outerbrdge took a group of us to play in North America. We were young guys then and I remember us playing River Vale in New York. Fray and I were partners and our American host made a few dollars betting on us.
"I also remember when Fray shot the course record [64] at Port Royal – although the course was not mature then – Fray was long and his aggressive play took advantage of the openness."
Formative Years Riddells Bay & Belmont
Ralph Fray and his brother 'To Jo' grew up in Southampton East with family connections in Hamilton Parish, where they would spend vacations. Coincidentally, both of those two communities had golf courses where he caddied and could play golf early mornings and evenings.
Former top amateur golfer Calvin 'Rocky' Hendickson Sr. with a chuckle recalled his fond memories with Ralph Fray, saying, "He was taught by Alex Crofton's father at Riddell's Bay and got good playing with the good group of caddies at Riddell's Bay before coming down to Belmont to fine tune his skills against the Belmont boys.
"My teacher Herman 'Tucci' influenced him – Fray was an exceptional snooker and billiard player also – he had a temper when shots didn't go right but he could truly play. I was blessed to get the better of him in a match Herman arranged between us at Belmont."
In 1970 when Port Royal Golf Course was opened, Wilfred Ralph Fray would be employed as the Course Ranger, which gave him unfettered access to the golf course as an employee of a world class public golf course. The year he spent at Port Royal before his death was a remarkable period that ushered in a new era of inclusiveness through golf in Bermuda.
Former Bermuda Junior Champion Craig Christensen remembers Fray challenging all the juniors [as many as seven at a time] to match.
"But I remember when Fray shot a remarkable round of 7 under 64 at Port Royal; it could have been lower as he 3 putted #17 for par and missed a 4 footer for birdie on #18.
Craig Christesen continued, "Nobody was a longer hitter than 'Fray ' – for example he would play hole #2 by deliberately going up #6. I even watched him drive #10 with a 4 iron
"He use to spin the ball tremendously – of course we young guys tried to copy his aggressive style. He had a magical short game – the greens were firmer back then but he could spin the ball."
On reflection it is important that we take this time to remember the journey of Wilfred 'Ralph' Fray that ended so abruptly in 1971.
On this the 50th anniversary year of Port Royal it is poignant that our first anniversary was marked with the tragic death of our beloved Wilfred 'Ralph' Fray.
Bermuda Government Golf Course Chairman Kim Swan concluded, "I felt a special connection to Ralph Fray, as he married into my Anderson family. I got to know him during my earliest years of golf – I like, the other juniors, was devastated by his tragic death. We idolized him, dapper dresser, curly afro, confident.
"I attended Fray's funeral at St. Mary's Church in 1971 and remember that he was buried alongside his infant twins.
"Ironically, in this moment by researching Fray's contribution, I not only feel especially emotional reliving this time, but feel grateful for the time I spent with Fray and how his life influenced me.
"I know now that when I qualified and played on the PGA European Tour – 10 years after Fray's death – his talent equaled that of which I encountered during my international journey.
"In June 2021 the Port Royal Developmental Program will hold a 9-Hole Ralph Fray Memorial Tournament to commemorate his contribution.
"Thank you God for sharing Ralph Fray with us – the first year of Port Royal Golf Course will forever be remembered as Ralph Fray's glorious year. We will remember him.

Read More About