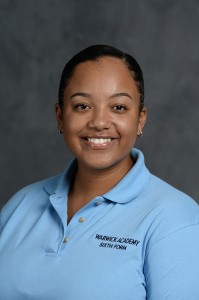 McKenzie-Kohl Tuckett competed in the 2021 World Individual Debate and Public Championships placing 16th overall, out of more than 120 competitors.
The Warwick Academy senior student took part on the event, which spanned a four day period, starting on Friday, April 23rd and finished on Monday, April 26th.
It was a virtual event, and was hosted by South Korea this year. Although the second round of competition took place on Friday night from 11pm till 5am local Bermuda time, as a result of time differences, McKenzie-Kohl indicated that she was really happy that the Championships were able to go on as planned, albeit virtually.
She made it to the finals in two categories, impromptu speaking and interpretative reading, and was named in the top twenty public speakers, having placed 16th overall, out of more than 120 competitors.
McKenzie-Kohl, a three time World Championship qualifier, qualified for this year's World Championships after competing in the International Independent Schools Public Speaking Championships [IISPSC] last October.
At IISPSC, she placed 3rdoverall in the dramatic interpretation category, 8th overall public speaker and won the Balmoral Hall Trophy, awarded to the top overseas individual public speaker.
Last month, Mckenzie-Kohl competed in the Bermuda Spring National Public Speaking and Debate Competition, where she won 1st place in dramatic interpretation, 1st place in persuasive speaking , Top Overall Public Speaker Award, Top Overall Debate Speaker Award , and Top Overall Inpromptu Speaker Award.
McKenzie-Kohl was very pleased with her performance at the 2021 World Championships and expressed her sincere gratitude and appreciation to all of those who've supported her passion for public speaking and debate over the last few years, including her coach, Mrs. Stefanie Sinclair.
She hopes to continue with public speaking and debate when she goes off to University this September.
Read More About