In collaboration with Performance Solutions Ltd., the Department of Workforce Development announced a series of upcoming free webinars this month.
A Government spokesperson said, "Amrita Bhalla, Senior Human Resources Consultant, Performance Solutions Ltd., will facilitate all the events.
"The first webinar, 'Reposition Your Resume and Identify Transferrable Skills', will be held on Thursday, 10 June, from 12:00 – 1:30 pm. The webinar will help participants understand and identify their transferable skills and learn how to highlight these skills on their resume.
"'The Power of Networking' webinar will be held on Thursday, 17 June 2021, from 12:00 pm – 1:30 pm. This webinar will provide tips on how to effectively network and follow up to make the most of your connections. The session will also provide guidance for opening lines, working a room, and using LinkedIn and other tools to follow up. Participants will learn the importance of a well-crafted elevator pitch for making a positive first impression.
"The final webinar, 'Interviewing for Success', will be held on Thursday, 24 June, 12:00 pm – 1:30 pm. It will examine the interview process, from the employer's initial contact to the job offer and explore strategies for responding to tough questions, tips for interview etiquette and following up after an interview.
"For more information or to register for these webinars, please email dwdlearning@gov.bm or call 297-7714."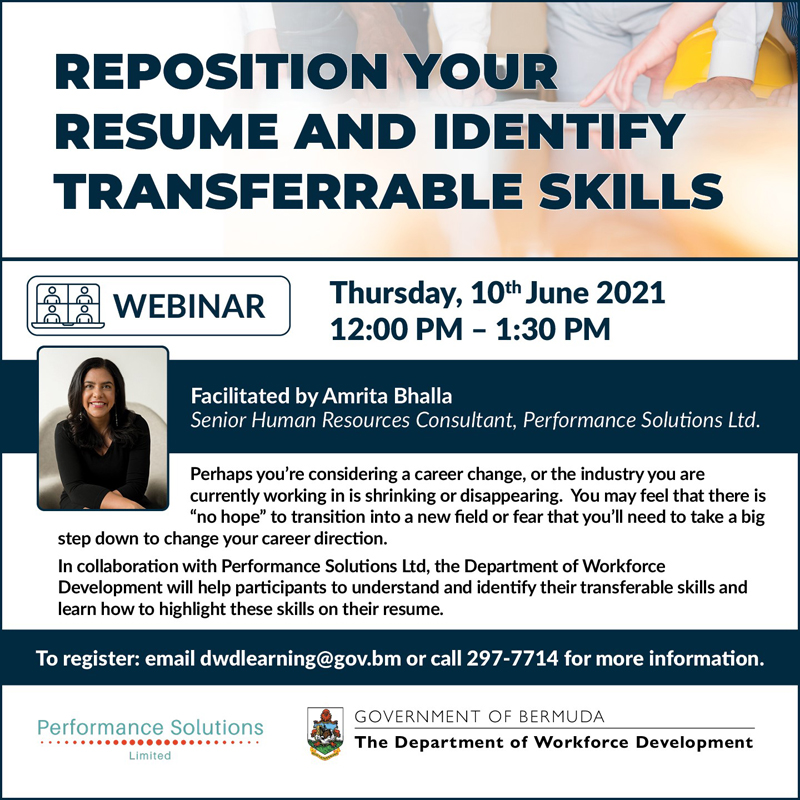 Read More About