The Department of Education has opened registration for a virtual STEAM Academy offering for this summer with the theme: 'Pandemic Vibes – Making the Shift'.
A Government spokesperson said, "This year's STEAM Academy will provide an amazing outlet for students who have been extremely resilient through this Covid-19 experience.
"The annual programme, operated by the Gifted and Talented Education [GATE] Programme, will be delivered remotely from July 5th to 28th at a cost of $65 per week.
"Using online tools, students will be engaged in remote learning classes from 10 a.m. until 2:15 p.m.
"Students will be engaged in project-based learning as they create a collaborative motion picture, from script to screen reflecting their Covid-19 experience. They will be writing scripts, composing music, creating visual animations in 2D and 3D, and, ultimately producing a collaborative motion picture
"The GATE programme will once again be partnering with AH! TEMPO and Digibotics to provide a comprehensive array of opportunities for students interested in STEAM. AH! TEMPO, under the directorship of local Music Director, Mrs. Malinda Jennings and a team of local experts in the Visual and Performing Arts will immerse P4 to M3 students in the multi-facets of dramatic and vocal performance and musical composition.
"Hosted by Mr. Neville Zuill and his team, DIGIBOTICS will immerse P5 to M3 students in 21st Century learning experiences that develop digital content creation skills. The team will work with students as they create 2D and 3D masterpieces while exploring the world of stop motion animation and digital effects.
"Student applications will be accepted on a first come first serve basis. Interested parents can register their children by completing the on-line registration form at: www.steamacademybermuda.com
"Parents are encouraged to register their children quickly as this is a great opportunity for students to demonstrate their skills, their talent and be creative while increasing their knowledge and learning to work together as a team."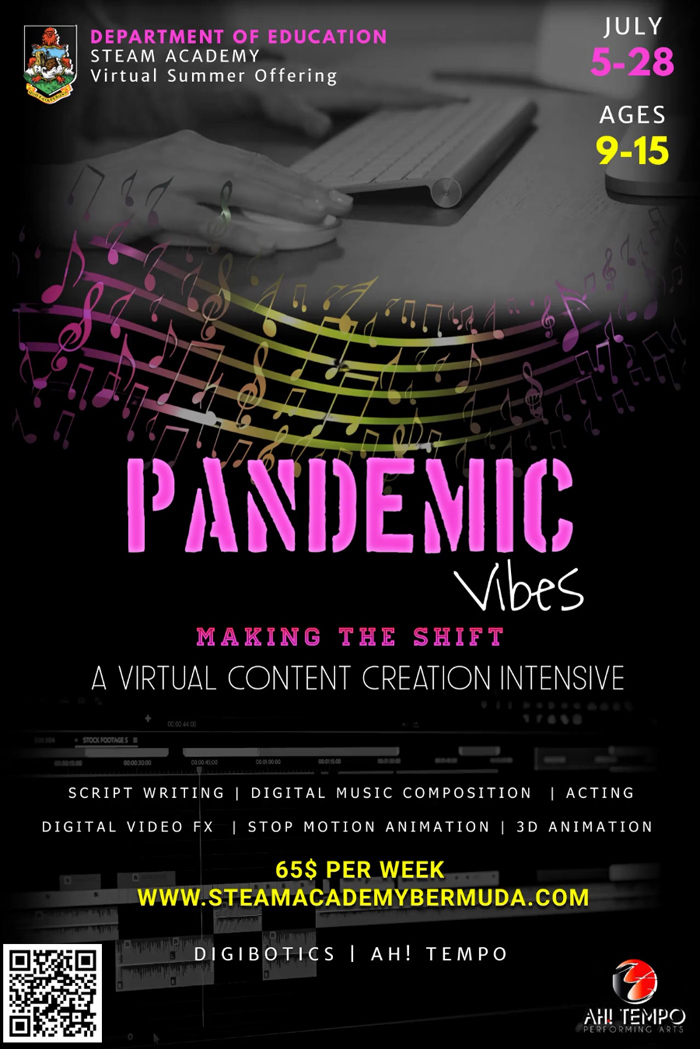 You can find more information on the links below and also on our dedicated website BermudaCovid.com, which is the most comprehensive resource and historic record available of Bermuda's handling of the pandemic.
Read More About
Category: All, Entertainment, Music, News, technology