As part of their 100th Anniversary commitment to give back to the community, the Garden Club of Bermuda donated to the Bermuda National Trust, with the funds to be used for the restoration of Verdmont.
Bermuda National Trust Executive Director Karen Border said, "The Bermuda National Trust thanks the Garden Club of Bermuda for their generous gift for enhancements to Verdmont.
"The historic home is a national treasure of Bermuda's built heritage. Like all old buildings, it costs a lot to maintain and keep open for the enjoyment and education of Bermuda residents and visitors, so we are deeply appreciative of their support.
Rosemary Holmes, GC 100th Anniversary Co-Chair – Jackie Robinson, BNT Gardens Manager – Karen Border, BNT Executive Director – Randolph Joynes, BNT Property Manager and Jan Macdonald, GC President. [Photograph courtesy of Dexter Flood]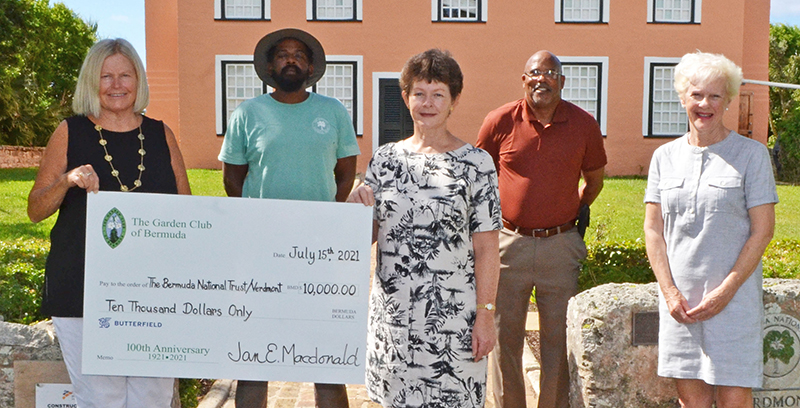 "On behalf of the Trust, I offer warm congratulations to the Garden Club on their 100th anniversary and look forward to continuing the excellent relationship between our two organisations."
Jan Macdonald, President of The Garden Club of Bermuda said "We feel it is an extremely worthwhile project and we are delighted to support it with a gift of $10,000."
Missing from the photograph is Denise Ribaroff, the Garden Club representative, who has been very involved in the restoration of Verdmont.

Read More About