Six outstanding high school students are competing in the 20th annual Alpha Beautillion, presented by the Alpha Phi Alpha Fraternity, Incorporated, Epsilon Theta Lambda Chapter, and you can tune in and watch live below.
The students taking part include CedarBridge Academy's Dequan Trott, Chatmore British International School's Keiano Rawlins, Saltus Grammar School's Vincent Darrell, Warwick Academy's Xavier Ramsey, Bermuda Institute's Jayden Coleman and The Berkeley Institute's Seth Hardtman.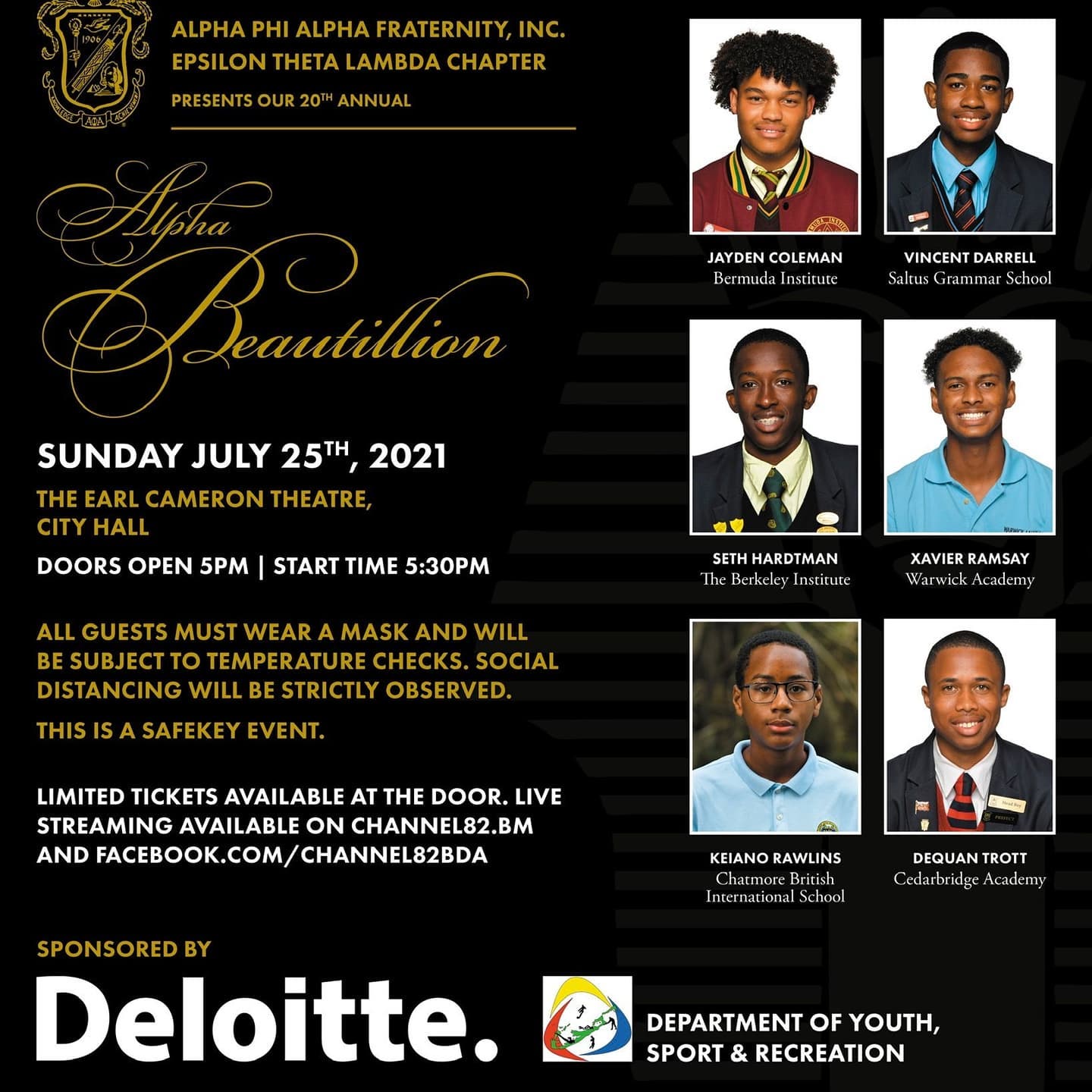 The stream is via Channel 82, and you can also read bios of the six young men below, courtesy of the organisers.
CedarBridge Academy – Dequan Trott
Dequan Detray Trott was born on November 26th, 2003 to Thelma Trott and Dion Trott. He has one sibling, Angelika Marshall, who also acts as one of his daily role models.

From young, Dequan has always been drawn to the world of creativity; doing anything that would peak his interest. This inspired him to become Bermuda's first Junior Town Crier, a role that was out of the ordinary but was different and unique; and that's what Dequan loved about it. With a passion for drama, he performed in his first original play called 'What Happened to Sydney?', then performing in the Gilbert and Sullivan Society of Bermuda's production of 'Annie'.

Dequan is a dedicated leader. From being head boy in middle school and now head boy at CedarBridge Academy, developing his leadership skills has been a fundamental goal in his high school career.

He has devoted his time to Word of Life Bermuda and his church, Christ Anglican Church Devonshire, on numerous occasions. Even being an Assistant Sunday School teacher at his church and involved in the puppet ministry as well.
Academics has always been one of his top priorities. At CedarBridge he has consistently achieved Principal Honors, High Honors, as well as being a top ten student for most of his high school career. Dequan has also received the Principal's Cup and numerous Arts awards. One of his favorite quotes being, "Success is a journey not a destination ".

Dequan aspires to be a film actor. He will pursue an education in acting at Howard University, to achieve a Bachelor of Fine Arts in the not so distant future. He plans to one day own his own film company and have it based right here in Bermuda. Dequan is a role model, friend, team worker and leader who believes his destiny will be fulfilled, with the support of his friends and family and the grace of his Lord above.
Chatmore British International School – Keiano Rawlins
Keiano Rawlins was born on January 16, 2006, to Crystal Hall and Jay Rawlins on the island of Bermuda.Keiano has a younger brother, Kaze Rawlins.

Keiano Rawlins began his education at West Pembroke Primary School then attended Dellwood for middle school and how has begun his first year at Chatmore British International School.

Keiano friends and family would describe him as respectful, humble, and family oriented. His hobbies are watching and playing football, playing video games, and reading investment books.

Keiano has a passion for coding and has attended multiple coding camps in both Bermuda and American. After Keiano graduates he would go to college to study computer science to become a software engineer, and he would like to start his own IT company someday.
Saltus Grammar School – Vincent Darrell
Vincent Darrell is sixteen years old and is the second youngest of his three brothers on his mother's side. He will be completing his final year at Saltus Grammar School next year as the newly elected Head Prefect, Senior Sports Captain for Darrell House, Duke of Edinburgh Bronze awardee and a Saltus Gold Key Ambassador. Growing up Vincent felt he didn't know what he wanted for himself, he faced insecurity and a lack of self-confidence. Without a father in his life he felt he had no role model and saw no further than becoming accustomed to the" street life". However, being presented with an opportunity to not only change his life but the life of his loved ones and break the cycle of seeking financial assistance and not going to college. Vincent's life became a testimony — It is not where you start, but where you finish.

As his family were continuously moving residence, the Department of Child and Family Services deemed his situation unfit for children and threatened to take him and his brothers into custody if his mother and grandmother did not find a stable home. This resulted in his older brother and him relocating and living with their aunt where he realized that life with her provided him more opportunities. At her home, he grew to understand the importance of one's financial wellbeing and family structure. While living with his aunt he grasped how much she valued education, as she stressed to us "work first play later".

At Saltus Grammar School Vincent travelled with the public speaking team to the International Independent Schools Public Speaking Competition in Boston. In 2019, Vincent became a member of the Bermuda Youth Parliament and was appointed as Minister of Education and Public Relations Officer. Later that year, his team won the Bermuda Principles Debate Competition.
Vincent says, "This journey has showed me that despite your darkest and lowest moments, they do not define who you will become."
Warwick Academy – Xavier Ramsey
Xavier Levi Timothy Ramsay is a 17-year-old student who attends Warwick Academy. He is the 2021-22 Head Boy of Warwick Academy, achieving multiple academic accomplishments such as the Molly Godet Award. He was also named as one of two recipients of the Warwick Academy's Principal's Scholarship in 2020 which is given to Sixth Form Students.

Xavier can be described as a responsible, attentive young man who is passionate about personal growth and the well-being of others. He loves to interact with and encourage others, with the hope of positively impacting everyone around him. This is fueled by his walk with God, which encourages him to "do unto others as you would have them do unto you." Because of this after high school, he is planning to study and obtain a Degree in Biology at university. He hopes to expand his studies afterwards by obtaining a Medical Degree and going into the medical field, possibly becoming a paediatrician, cardiologist, or ophthalmologist.
Even though he has had a large amount of success in school, he understands that his academics are not everything. Because of this, he has always tried to find a balance outside of the classroom by participating in sports and programs which will develop him into the young man that he wants to become. This is why he was honoured to be nominated by his school for the Alpha Phi Alpha Beautillion.

He also enjoys volunteering his services to the Word of Life Bermuda organization by assisting them in running their fall and summer camps as a junior counsellor for three consecutive years. This summer he will be taking part in the Future Leaders Bermuda program, which he feels will help him to network with like-minded people and create projects to positively impact the Bermudian community. Xavier loves to exercise and participate in activities such as football, long-distance running, and biking.
Bermuda Institute – Jayden Coleman
Jayden Coleman, the oldest son of Michelle Felician and Shomari Coleman, is a 2021 graduate from the illustrious Bermuda Institute of Seventh-Day Adventists, (SDA). During his final year, he was voted Head Boy and operated as the Student Association Treasurer. Additionally, he was the senior yearbook graphics editor, a National Honor Society Member, Student Association Public Relations Officer, and an organizer/co-ordinator and Digital Leader at the annual "Cybertips" Digital Leadership Conference. His most memorable leadership experience was attending a ten-day Global Young Leaders Conference (GYLC) in Washington, DC and New York City.

Jayden is passionate about music and from an early age has been an avid singer. He was a member of Precious Melodies, Hamilton SDA Church's youth choir, and was a member of En Harmony, an all-boys a cappella group. During his time with En Harmony,

Jayden has won singing competitions and has sung for both the US Consulate and Cabinet Office. To this day, Jayden can be found regularly leading the school assembly, singing solos, or directing the Bermuda Institute choir and Restoration Ministries praise team. Jayden is a talented graphic artist with a love for videography, film editing, and photography.

It is very important to give back to the community. He has volunteered time to Westmeath Nursing Home, tagged for the Occupational Therapy Association and the Multiple Sclerosis Society, and assisted with the Hamilton Church feeding program. However, Jayden takes the greatest pride in his involvement with #PainIntoPurpose, a global movement he co-created with his classmates to memorialize the life of Kijani Burgess. Through this organization he aims to promote road safety awareness and provide support for families who have experienced loss due to a road fatality.

One of Jayden's favorite authors, Orson Scott Card said, "The wise are not wise because they make no mistakes, they are wise because they correct their mistakes as soon as they recognize them."
The Berkeley Institute - Seth Hardtman
Seth Hardtman was born August 29th, 2003, to mother, Rosina Hardtman and father Twilton Hardtman.

Growing up Seth participated in many sports including basketball, football, track and field, cross country, cricket, tennis and even dance. With Seth being known to be so competitive, he wanted to be the best at everything he did, so he made it his business to collect all the trophies and medals that were available. So much so that he and his brothers began to run out of places to put them.

You may think that as an athlete, sports are really what gets Seth going but you would be wrong as what makes him tick day after day is music. He grew up and still remains in the church and used to take many music classes as a child, so music is the basis of everything he does. He says "music is like therapy for me". Whenever he finds himself stressed about an assignment at school, or he is training in the gym, music has always helped him through whatever he is going through and it will help him for as long as he needs it.

Seth has been an active member of the church for as long as he could remember. He began this journey as a member of St. Paul A.M.E. Church. His family then moved to Marsden Methodist Church for a short period of time before moving back to St. Paul. There he is a member of the Young People's Department, former kingdom kid dancer and junior choir singer, youth usher and occasional worship leader.

With his academics Seth has always excelled. He has been a part of either High or Principal's Honors for his entire academic years.
In his future Seth holds hopes of becoming a Civil Engineer. He is known to be very fidgety and inquisitive. He either wants to fiddle with something or he wants to build (or destroy) something. That urge to build was fulfilled by watching things like HGTV and helped him and his mother figure out that the career meant for him was Engineering. He plans to continue his academic journey at Morgan State University in September.

A quote that Seth holds deep in his heart is "hard work beats talent when talent fails to work hard".
Read More About