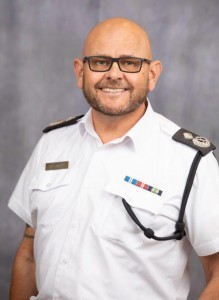 Assistant Police Commissioner Martin Weekes has been accepted to join this year's Police Strategic Command Course [SCC] facilitated by the UK's College of Policing.
A police spokesperson said, "The SCC is policing's most senior leadership development programme and brings together senior leaders from the UK and other overseas territories for learning and leadership development at the highest level.
"With high demand to attend this internationally recognised course, Mr Weekes was interviewed by two Chief Constables on Friday 16th July. That resulted in an invitation to attend the course which begins in September this year."
Commissioner Stephen Corbishley said today, "I am delighted with ACOP Weekes' acceptance to this year's SCC, not least as there is extremely tough competition to join the course.
"One of the commitments I have given in my role is to invest in Bermudian colleagues to take the BPS forward on behalf of communities and Mr Weekes will be the 4th member of the BPS to attend the SCC following in the footsteps of Deputy Commissioner Darrin Simons, Assistant Commissioner Antoine Daniels and Superintendent Na'imah Astwood.
"The SCC provides exceptional opportunity to develop as a leader and previous BPS attendees have impressed course coordinators with their contribution and skills, which is testament to the BPS as being world class.
"Equally, they have returned greater equipped to deal with the challenges that policing in Bermuda presents. I am therefore extremely pleased for ACOP Weekes' attendance and what he will bring back to the service.
"The SCC course for 2021 commences in September and graduation for attendees will take place on the 13th December."
Read More About