Ignite – an entrepreneurial accelerator created specifically for local innovators — launched its pilot internship program for young adults this summer.
"The internship application was oversubscribed with only twenty spots for the top applicants being selected. These young adults have been selected to take part in an opportunity to educate themselves on what it takes to become an entrepreneur and to get hands-on experience," a spokesperson said.
"The program started, at the Ignite Hub, with a two-day boot camp where the interns virtually joined Ignite's core cohort of up-and-coming entrepreneurs to learn about the mindset and behaviors of a successful entrepreneur. After Boot Camp, the internship program hosted a series of workshops for 6 weeks while the interns also worked part-time with their hosts.
Colin Rego and other Ignite alumni addressing interns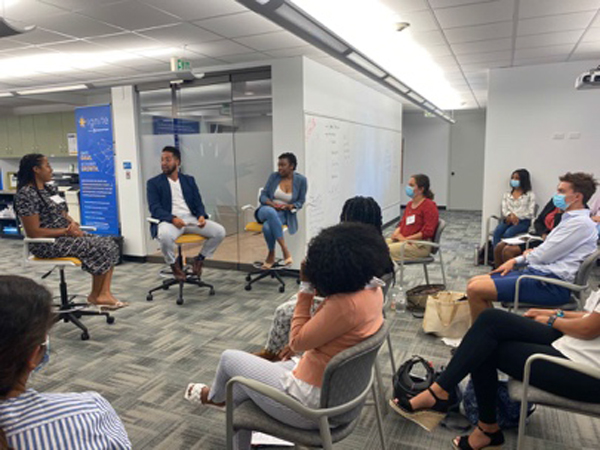 "The workshops, held twice a week, consisted of the interns getting to hear entrepreneurs and non-profit businesses of different fields speak about their journeys and businesses whilst being able to engage with them, asking questions and advice.
"One of the most memorable presentations was given by Mr. Michael Branco of Fireminds as he shared some of his struggles with the group, his building catching on fire being one. The interns also got the opportunity to listen and participate in judging an Ignite pitch competition which was another highlight of the program.
Colin Rego, an Ignite Alumni said, "Ignite is the most resourceful Institution in Bermuda. It enables a shift of mindsets and skillsets and opens many opportunities."
Each intern was placed with a host business or non-profit where they worked alongside an established entrepreneur on a specific project designed to help better their host organization. Projects varied from marketing and branding, program creation and implementation, developing pricing strategies/models, and more.
Sean Reel, the Executive Director of Ignite, commented on the progress of Ignite's first-ever summer internship program, "Bermuda can be proud of the young adults in the program. They showed openness, drive, and desire for not just a better life, but for a better future for Bermuda."
Interns listening to the workshop in session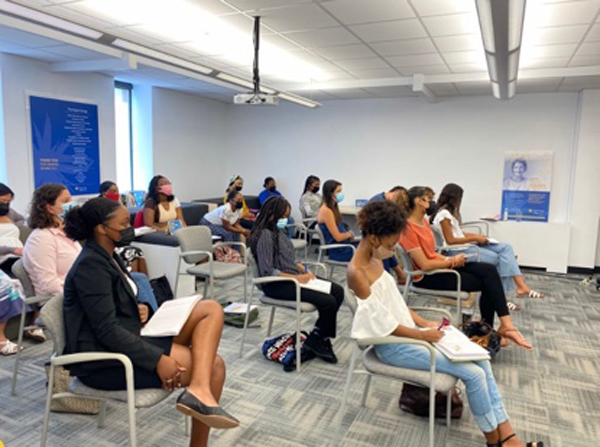 "Engagement was key in this internship as the interns interacted in huddles where they discussed their passions, personal victories, and what they hoped to learn; these huddles helped them to better connect," a spokesperson added.
"Ignite was especially focused on diversity and inclusion within this space so they encouraged them to own their differences and respect and appreciate one another to be able to create a bond and learn from their peers."
Alvin-ae Landy,an Ignite Intern, said: "Ignite was an amazing learning opportunity about entrepreneurship. The strategies I've learned will not only apply to my business but to my life as well. I am thankful for the experience as it has helped me grow and network with like-minded people. Overall, I look forward to watching my peers apply what we've learned and blossom."
The successful applicants on Ignite's first-ever Young Adult Entrepreneurial Internship Programme all bring enthusiasm and energy to learn. They and their host businesses are:
| | | |
| --- | --- | --- |
| Intern Name | Host Business | Host Name |
| Abby Brewer | Clean Energy Storage Solutions Bermuda Ltd. | Dwayne Trott |
| Al-Shae Landy | Two Four One | Laura Ann Bell |
| Alana Fischer | CAF Bermuda Art Therapy Services | Richelle Richards |
| Alvin-Ae Landy | KNC Media Group | Kim Caisey |
| Aminah Simmons | Royal Highness | Alicia Lister |
| Angel Seaman | Big Brothers Big Sisters of Bermuda | Patrina O'Connor Paynter |
| Chaella Bradshaw-Douglas | Island Property News/Inspired Ltd. | Jennifer Ward |
| Davita Githinji | Rewards | Toriano Simmons |
| Ellis Cooper | Eliza DoLittle | Clare Mello |
| G'zai Dyer | Wavecrest Ltd. | Jennifer Burland Adams |
| Hadleigh Tucker | The Harvest Market Bermuda | Tracy Astwood |
| Kanzi Emery | Solstice | Kelly Madeiros |
| Layla Kurt | Alexandra Mosher Studio Jewellery | Alexandra Mosher |
| Mya Furbert-Jacobs | Clear Coaching | Allison Lacoursiere |
| Sofhia Pagsanjan | Bermuda Red Cross | Ann Spencer Arscott |
| Tinasia Paynter | Helathcare Solutions Ltd. | Claire McDevitt |
| Tomei Talbot | Ignite Bermuda | Sean Reel |
| Xela Swan | Aina Curated | Akilah Swan |
| Yasmeen Codrington-Edmead | Bermuda Dental Studio | Anderica Gilbert |
| Zayne Sinclair | The AgraLiving Institute | Chris Faria |
As part of the program, each intern delivered a 5-minute presentation about their host business, the projects they worked on, and key learns from the program on Thursday, July 15th.
"The five finalists were selected: Aminah Simmons, Tinasia Paynter, Yasmeen Codrington- Edmead, Abby Brewer, and Ellis Cooper; they will present for a second time at our celebratory event on Thursday, July 22nd. An exciting outcome of this internship is that many of the interns feel better prepared to confidently take the next steps in their careers and studies. A few have been extended job offers as a result of their internship," a spokesperson said.
Interns interacting in a brainstorming huddle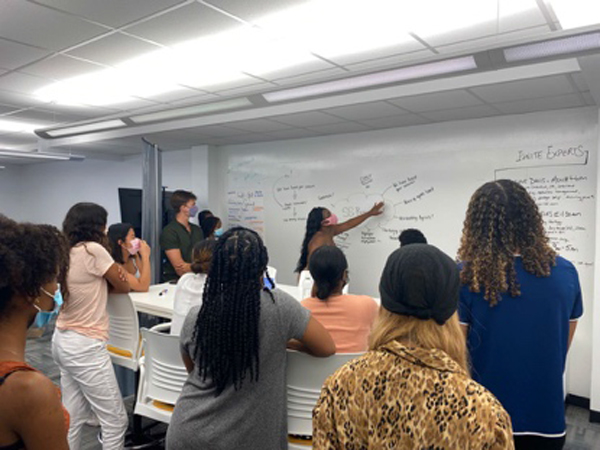 "Ignite Bermuda aims to seek entrepreneurs from across Bermuda with a variety of ideas encompassing all sectors, from start-ups to businesses looking to scale and grow in markets outside Bermuda. The opportunity to connect young adults with Bermudian entrepreneurs through this internship program would not be possible without the support of our key program sponsors, HSBC.
This press release was written by Tomei Talbot as part of her internship at Ignite, and she said, "This program has pushed me to new heights and made a remarkable impact on me. I have stepped out of my comfort zone and broadened my perspective of the world around me and what I am capable of.
"Ignite has tremendously changed my mindset and I am especially thankful for everyone who made this amazing experience possible. What I have learned from Ignite will stay with me for years to come and I am so grateful and honored to have been chosen for this wonderful learning opportunity."
Read More About