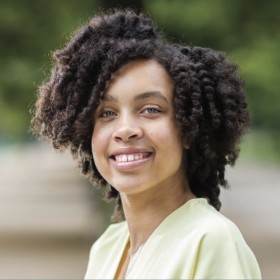 Kameron Young has just completed her virtual summer internship with NEDIAR, a small technology company based in Medellín, Colombia.
Founded 10 years ago, NEDIAR's primary focus is designing and manufacturing services of special tools and Ground Support Equipment [GSE] for the aeronautical industry.
"Kameron has been one of the most outstanding interns we have ever had at NEDIAR," said Juan Jaramillo, Project Manager.
"She has shown a lot of commitment, energy, and attitude. We are glad to have Kameron, and I hope she has learned as much as we have in these short eight weeks."
NEDIAR typically receives international interns who stay with the company for 6 to 8 weeks.
Mr. Jaramillo further explains, "It is a very enriching and learning process for both the intern and the company. The intern faces new challenges that pushes their technical skills and the members of our company have the possibility of interacting with people from abroad and from cultures very different from ours. Here, it is a challenge in terms of communication and teamwork with this person."
Additionally, NEDIAR has a business unit focused on creating virtual experiences with 4.0 technologies, such as Virtual Reality and Augmented Reality. The primary objective is to support training and education processes within organizations, not only in the aeronautical industry.
NEDIAR's products and services are present in Colombia, the United States, Ecuador, El Salvador, Costa Rica, and Peru. The tech company also plans to expand the NEDIAR brand globally and hopes to open a small business development office soon in Abu Dhabi, UAE, to start business operations in the Asia-Pacific region.
Reflecting on her experience, Ms Young shared, "Working with NEDIAR was my tech dream come true. I worked with a team to develop an augmented reality app, using Unity and Vuforia, that showcased a 3D model and included descriptions of its components.
"As I was new to Unity and Vuforia, I appreciate the team being patient with me as I learned the technology. I am proud to say that I completed this internship in Spanish and helped to create the app in both English and Spanish."
The 19-year-old Bermudian biomedical engineering student also shared that she wrote a guide in both Spanish and English to explain how she created the app as well as how to use it.
She recalls during her interview she was asked if she could "switch to Spanish" as the interviewer revealed that English was not his native tongue.
"I was not nervous at all," shared the young scientist. "It was very easy to transition between the languages. I must admit I am glad I studied a foreign language while in high school because it has opened many doors for me. I encourage every young Bermudian student to take his or her foreign language classes seriously."
The experience also allowed her to contribute to the team with new ideas. "While learning from the team, I am happy to say that I also introduced them to a new way of changing the language in the app. My time at NEDIAR has also inspired me to work towards getting certified as a Unity Programmer," she said.
"We hope that Kameron will be able to successfully complete her studies in Biomedical Engineering," said Juan Jaramillo, Project Manager. "We wish Kameron all the best for her future and hope that she can even become part of NEDIAR's staff in the future, like another of our international interns who finished his internship and was soon hired by our company."
As a then 16-year-old Bermuda High School student, Ms Young conducted a genetic study in 2018 entitled, 'How does the TAS2R38 gene affect a person's preference for sugar and sugar intake?'
The initiative which resulted in her working alongside her mentor Dr. Carika Weldon as they expanded her study to reach a wider group of Bermuda's population. She presented her results at the Bermuda Principles Foundation's 3rd Annual Conference in February 2019.
While her internship with NEDIAR has come to an end, the aspiring surgeon is grateful for the experience and hopes to join the team again in future projects.
She credits her grandfather, the late Kenyetta Young, for introducing her to computers at the tender age of three, saying: "He gave me a screwdriver when I was three. My love for science, coding and technology all started from there."
Ms Young currently resides in London where she attends Queen Mary University of London and plans to become a bilingual surgeon with a focus on robotics. She is also one of the 2021 RenaissanceRe Undergraduate Scholarship recipients.
Read More About
Category: All, News, technology