[Updated] The police are responding to an incident in the Court Street area this afternoon [Aug 2], with multiple police vehicles and officers on scene, and crime scene tape is visible. Unofficial information suggests that it may have been a shooting, and further confirmed details are limited at this time, however we will update as able.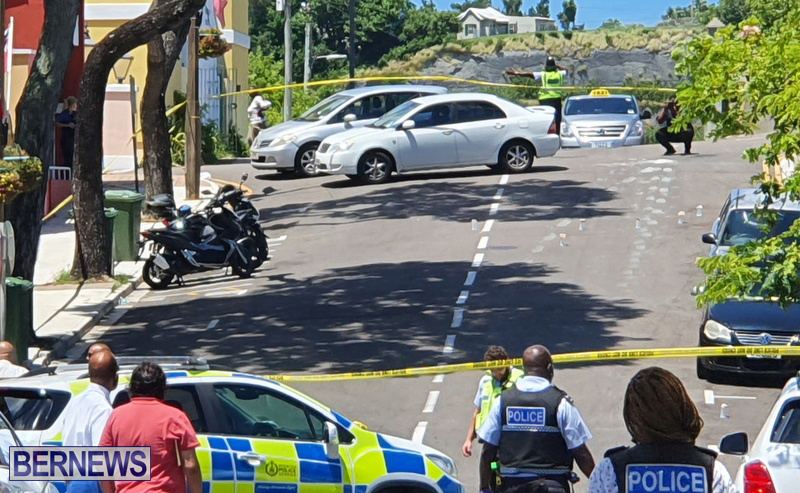 Update 3.19pm: The police confirmed that there was a shooting at around 1.45pm, and that two people were injured, and are being treated for their injuries at the hospital. The police said the shooting suspects were two persons in dark clothing on a motorcycle and the shooting victims are "believed to be 31 years old and 73 years old."
Anyone with information is asked to call 211, the main police number 295-0011, or the independent and confidential Crime Stoppers number on 800-8477.
This is the latest in a series of incidents over the past few days, following after altercations that happened on Front Street, Darrell's Wharf and John Smith's Bay — which resulted in multiple people being injured — as well as a shooting on Court Street on July 25th in which two people were injured.
Update 4.12pm: Chief Inspector Peter Stableford [Officer in Charge, Serious Crime Unit] said, "Good afternoon everyone. It's unfortunate again that eight days later, a second shooting here on Court Street. This one has happened at 1:45pm today [Monday, 2nd August].
"Two persons have been injured. They are being treated for their injuries at the hospital at the moment.
"The hospital is in lockdown. Again, this is the very early stages of this. We're looking at every option as to what the cause and motives are.
"I know everyone likes to speculate as to whether it's gang related. We just don't know at this time, but we're not ruling anything out.
"The only information I have at the moment is that it was two persons in dark clothing on a motorcycle; they've come along Tills Hill, shot at two males sat on the wall at the side of the road and driven off again.
"Anyone that has any information, again – I made this appeal last week – people just aren't coming forward. People see what happens, but they're not speaking with us. We need that assistance and the public's help to target these individuals and to bring these individuals to justice.
"Please help us to make Bermuda a safer place. If anyone has any dash cam footage, CCTV, ring doorbell footage in or around this area, please get in contact by calling police on 211 or the independent and confidential Crime Stoppers hotline 800-8477.
"Any information at all, even if you think it's insignificant, please get in touch."
A police spokesperson added: "The scene was cordoned off, processed and has since been released. The conditions of the two injured men – believed to be 31 years old and 73 years old respectively – remains unknown at this time. However, an update on this investigation, as well as their medical conditions, is anticipated in due course."
Update 7.41pm: A police spokesperson said, "The Bermuda Police Service [BPS], has been made aware that members of the public have been circulating images of the two victims in the shooting incident which took place today on Court Street.
"We urge that should you receive these images that you do not in any way share them and that you should instead delete them.
"Think of how you would feel were it your loved ones who were so brutally attacked and harmed. Would you like to see those images circulating on social media?
"We ask that you be guided by your conscience. Do the right thing and please delete those images."
Read More About