The annual Bermuda Sandcastle Competition will be held on Saturday, September 4 at Horseshoe Bay Beach, offering an array of prizes.
A spokesperson said, "Planning for the event has had some tense moments this year, but organizer Hannah Emmerson is excited to announce that they have been given the green light to hold the annual event on Saturday, September 4th on Horseshoe Bay Beach.
"The competition has taken precautions to ensure the event is socially distanced and safe for all participants.
"In order to make this a safe event, the competition has cut its numbers in half, ensuring the allotted 25 competitive teams are safely distanced 10 feet apart. In order to facilitate this, there are only two local categories: "Adult" and "Family". We're happy to announce that both local categories are full and registration is now closed.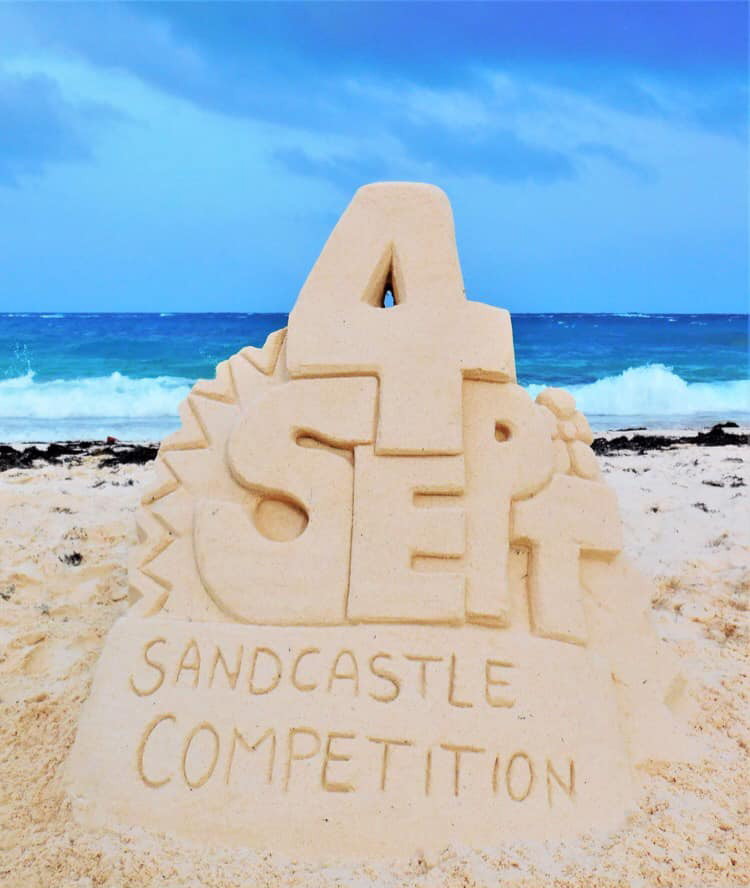 "However, there are five spaces still available for visitors to the island to enter under the "Tourist" category. If you have friends or family down visiting, please encourage them to join our special day. We are looking forward to seeing what our visitors can create out of the island's signature pink sand.
"Local contestants will be competing for cash prizes in each category:
1st – $500
2nd – $400
3rd – $300
"Tourist prizes, generously sponsored by the Hamilton Princess Hotel and Beach club, are as follows:
1st prize – Two night stay in a Signature Room at Hamilton Princess & Beach Club
2nd prize – 90 minute massage of your choice at Exhale Spa
3rd prize – Champagne brunch for two at Crown & Anchor
"The overall prize for Best on the Beach will be $1,000.
"The organizers hope to bring joy and community spirit to the island as a perfect highlight to the end of summer.
"A very special honorable mention prize is being offered this year. Bermuda Sandcastle Competition is excited to be collaborating with The Bermuda Championship, who have offered complimentary tickets to the Bermuda Championship PGA Tour at Port Royal Golf Course in October 2021.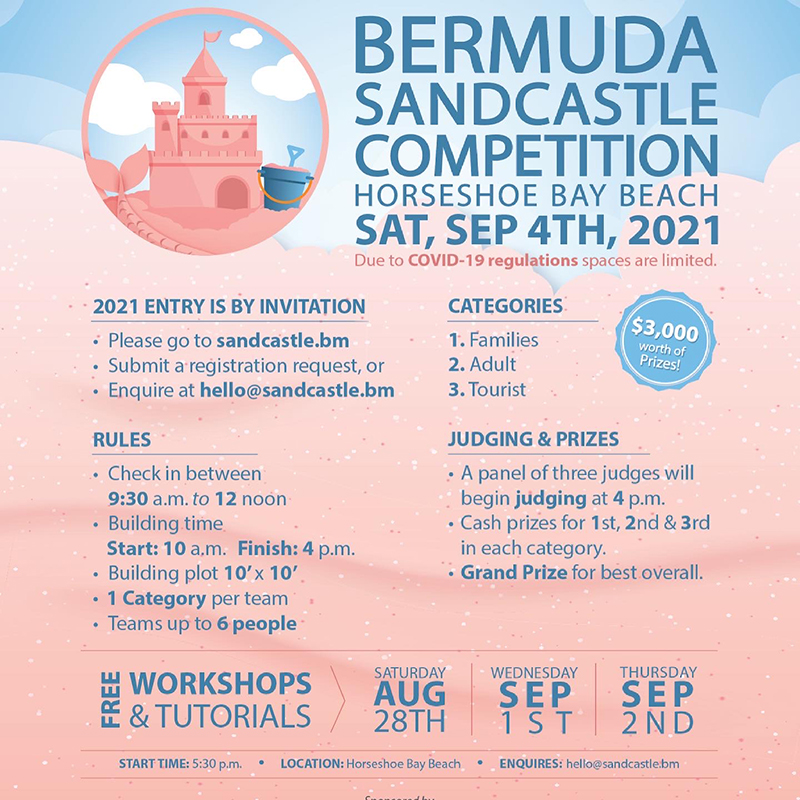 "Even though local sign up is full, there are still ways to join the fun. The competition is offering free workshops. These free workshops will take place at Horseshoe Bay Beach on the following evenings:
Saturday, August 28th – 5:30pm – 7:30pm
Wednesday, September 1st – 5:30pm – 7:30pm
Thursday, September 2nd – 5:30pm – 7:30pm
"In these tutorials, participants will learn how to create masterpieces in sand from past champions. The workshops are offered not only for entrants needing a refresher course, but also for anyone looking to try something new. No experience or artistic ability required.
"Anyone wanting to attend the workshops should send an email to hello@sandcastle.bm to reserve a spot. We will have buckets and tools set aside for each group. Additional tools can be found at our sponsor Gorham's. Check out there website at www.gorhams-ltd.com.
"For those unable to make the workshops, you can check out our free tutorial video here to see how it's done.
"Competitors must check in between 9:30am and noon on the day of the competition and building will commence at 10am. Each team will be assigned a building plot of 10 feet by 10 feet and will be supplied with a mound of sand to work with to give them a head start. All entrants will receive free beverages on the day thanks to a long standing partnership with John Barritt & Son.
"All sandcastle building tools must be downed by 4pm, at which time the judges will arrive on the beach to commence judging. The panel of judges includes Jamal Hart, CedarBridge academy; Shawn Lekki, Director of Food & Beverage at The Hamilton Princess Hotel, and Laura Sovacool from The Bermuda Championship.
"The Bermuda Sandcastle Competition is a non profit event and relies wholly on the generous sponsorship of the following companies: The Hamilton Princess & Beach Club, The Oil Group of Companies, Alexandra Mosher Studio Jewelry, Gorhams Ltd., Bermuda Championship, and beverages are provided by John Barritt & Son."
Tim Morrison, General Manager of the Hamilton Princess & Beach Club, said, "We are delighted to be able to support the Bermuda Sandcastle Competition once again. Each year the competition is a highlight of Bermuda's summer scene and it's a wonderful way for friends and families, locals and visitors to celebrate our beautiful beaches and this traditional pastime. We look forward to seeing the creative constructions that this year's event brings!"
Alexandra Mosher, Owner of Alexandra Mosher Studio Jewelry, said, "We believe in the mission and purpose of the Bermuda Sandcastle Competition and how it brings members of the community together through art. Hannah and Mikal have been working inventively and tirelessly to ensure that this year's event will go ahead safely, and we are very proud to be part sponsors. Good luck to all the teams. We can't wait to see what you create!"
The OIL Group of Companies spokesperson, Gail Miller, said, "The OIL Group of Companies are proud to continue our partnership and support of The Bermuda Sandcastle Competition. The annual competition is a great way of fostering community spirit and cultural togetherness while also encouraging healthy good natured rivalry between competitors.
"Creating a masterpiece in the pink sands of the beautiful Horseshoe Bay beach is a great way to bring the summer season to a close. We encourage everyone to grab your buckets, sculpting tools and sunscreen and join with the community for the annual family friendly event that is the Bermuda Sandcastle Competition 2021."
Danielle Baiunco, The Bermuda Championship, said,"We are delighted to support the 2021 Bermuda Sandcastle Competition. We wish the best of luck to the competitors and look forward to seeing the winners at the Bermuda Championship in October."
Hannah Emmerson, organizer of the Bermuda Sandcastle Competition, said, "We are so very grateful to our generous sponsors, without whom this event would not be possible. We hope that the public will join us on the beach for a safe and socially distanced event that the whole family can enjoy. We are so blessed to have some outstanding repeat teams lined up.
"Will team 'Amazon' hold onto their best on beach trophy or will this be the year team 'Monsters Inc' take it from them? I am so excited to see what our competitors create this year."
The spokesperson said, "For more information, updates and inspiration, please got to The Bermuda Sandcastle Competitions Facebook page or Instagram @bermudasandcastle or our website at sandcastle.bm. Any questions about the event can be sent to hello@sandcastle.bm."

Read More About
Category: All, Entertainment, News