The Bus Division of the Bermuda Industrial Union [BIU] is holding a press conference this morning [Sept 27], and the live video is below.
This comes as the bus service remains suspended, as it has been since September 17th. Last week the BIU sent a letter [PDF] to management stating, "Employers have an obligation to take all reasonable care in the circumstances to protect the health and safety of employees under the occupational safety and health legislation. "
Screenshot of part of the letter, which you can read in full here [PDF]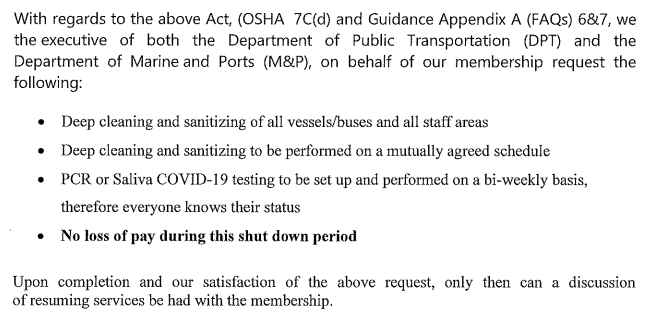 Last night the Government said they "implemented a contingency plan to provide public transportation services" and have "asked licensed minibuses to provide an alternative means of providing transportation."
Minister of Transport Lawrence Scott is also scheduled to hold a press conference today, which we also plan to stream, and that is scheduled for 4.00pm.
Update: The live broadcast has concluded and the 43-minute replay is below

Read More About