Bermudian athlete Brian Wellman — who has won numerous international medals and represented the island in multiple Olympic Games — has been officially inducted into the University of Arkansas Sports Hall of Honor.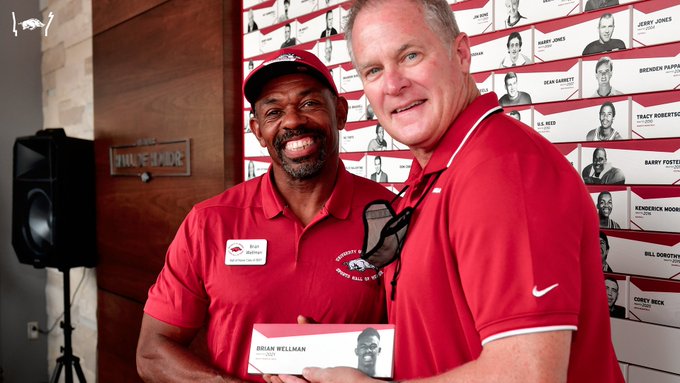 The initial announcement on the Arkansas Razorbacks website said, "Six former University of Arkansas student-athletes, including a former and current track and field Olympian, a member of the 1994 Razorback Basketball national championship team, two football standouts and a softball pioneer, have been selected as members of the 2021 class of the University of Arkansas Sports Hall of Honor."
There were six people inducted overall, and the two track and field athletes both have Bermuda ties as the other track and field inductee was American Olympic medalist Sandi Morris, who happens to be married to Bermudian Olympian Tyrone Smith, so there were actually two Bermudians present at the ceremony, as Mr Smith is pictured below with his wife as she receives the honour, photo via Ms Morris' social media,
Mr Wellman has worked with Mr Smith in the past, and in the 2012 Olympics Mr Smith became the first Bermudian track and field athlete to reach an Olympic final since the 1990s when Brian Wellman did.
Mr Wellman was present at the 2012 finals, and when the TV cameras showed him talking to Mr Smith at one point, the commentator recognised Mr Wellman, explained to viewers about his background in the sport and said "you can't get advice better than that."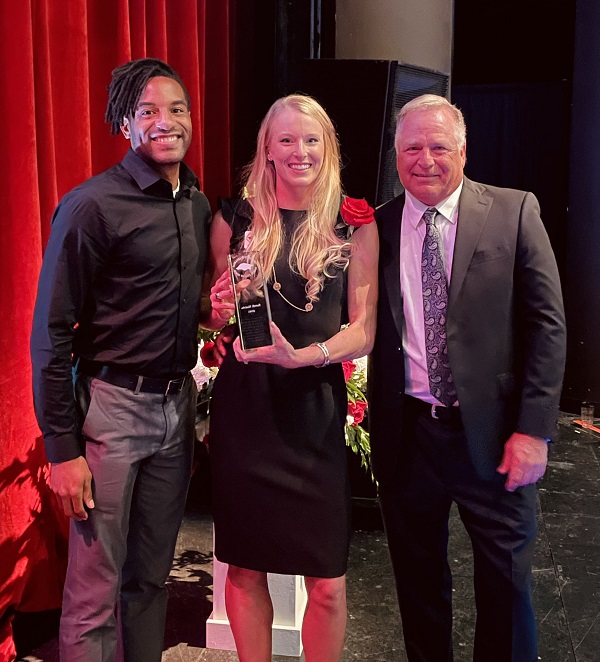 In describing Brian Wellman's numerous accomplishments, the school's website said, "Wellman won two NCAA triple jump titles and was a three-time All-American while adding a pair of conference titles. Representing Bermuda in international competition, Wellman competed in four Olympic Games [1988, 1992, 1996, 2000], placing fifth in Barcelona and sixth in Atlanta.
"Wellman established a national record of 58-1 ¾ [17.72], which currently ranks No. 11 on the all-time world list, when he claimed gold at the 1995 World Indoor Championships after earning bronze in 1993. Collected a silver medal at the 1995 World Outdoor Championships, having set a national record earlier in the outdoor season that year with a mark of 57-9 ¾ [17.62] in El Paso.
"With the Razorbacks, Wellman claimed NCAA Outdoor triple jump titles in 1991 and 1992, while earning a bronze medal at 1992 NCAA Indoor. Won 1991 SWC Outdoor and 1992 SEC Indoor triple jump. Best mark of 57-1 ¼w [17.41] from 1991 ranks eighth all-time on collegiate all-conditions list. Wellman also won the 1991 World University Games title.
"In addition to the World Championship medals Wellman earned, he placed sixth in 1991, eighth in 1993, fifth in 1997 and sixth in 2001 at World Outdoor Championships. In 2020, the long and triple jump runway at the National Sports Center in his native Bermuda was named the Brian Wellman Runway in his honor."
Read More About