Volunteers from Bermuda International Long Term Insurers and Reinsurers [BILTIR] carried out a clean-up operation on a section of the Bermuda Railway Trail on Sunday.
A spokesperson said, "As part of celebrations to mark BILTIR's 10th anniversary this year, the organisation has adopted a section of the Railway Trail from Palmetto Park to Store Hill in Devonshire.
"Keep Bermuda Beautiful [KBB] is working with the Bermuda Parks Department to implement the Adopt-A-Spot programme to encourage businesses to keep their adopted section of the Railway Trail in pristine condition so that the trails can be enjoyed by all.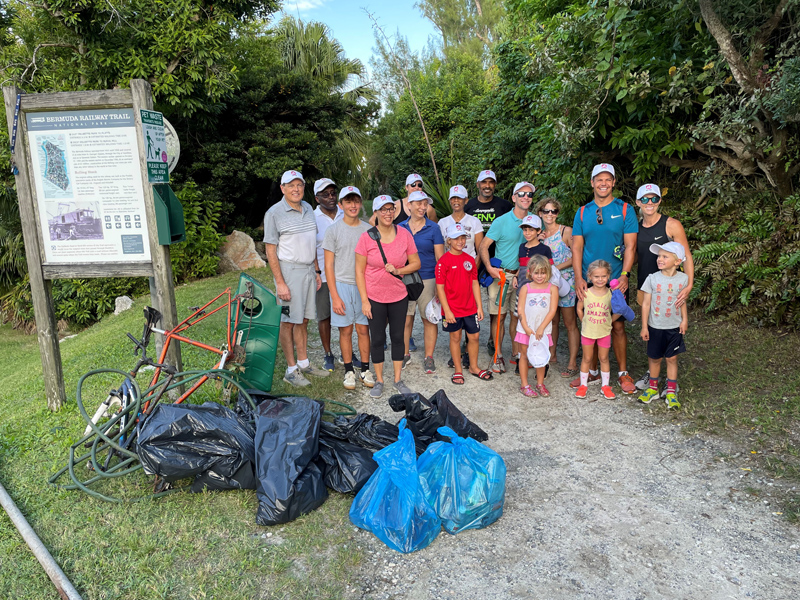 "Representatives from several BILTIR companies, including Global Atlantic, Wilton Re, EY, Sagicor Re, Sun Life and BILTIR staff, along with their family members participated in the clean-up efforts. Several bags of trash, two bicycles and a microwave were collected."
"The Railway Trail is a beautiful part of Bermuda's environment, and we are delighted to adopt this section of the trail and commit to keeping it clean," said BILTIR Chair Sylvia Oliveira.
"This was a fun outing for BILTIR members and their families, while at the same time helping to keep the Railway Trail in good condition for others to use. Several trail users even thanked us throughout the afternoon! BILTIR members consider it an honour to be able to give something back to the island. BILTIR will schedule regular clean-up days going forward for our section of the trail."
BILTIR represents 63 long-term insurance, reinsurance and servicing companies in Bermuda who provide life and annuity products and employ more than 600 people on the island. Over a 12-month period last year, BILTIR members supported more than 50 charitable initiatives with donations of more than $4 million.

Read More About
Category: All, Business, Environment