A cluster of antennas located on Trunk Island in Harrington Sound are helping BAMZ to track the movements of migratory birds.
A spokesperson said, "An inconspicuous cluster of antennas mounted atop an old utility pole on Trunk Island in Harrington Sound is gathering remarkable bird conservation data.
"It was erected in August 2019 when BAMZ joined the Motus Wildlife Tracking System – an international network of radio telemetry receiving stations that allows researchers to track the movements of migratory birds.
Motus antenna in Bahia Lomas Chile where the Knot was detected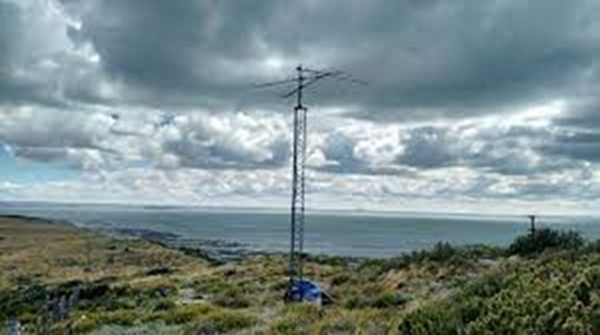 "In the vastness of the Mid-Atlantic Ocean, Trunk Island was selected as the tracking station location to prove the hypothesis that Bermuda is an important pathway for North American migratory birds taking an oceanic route or pushed off course in unfavourable winds. Bermuda's telemetry station will help fill the void in this vital part of the Motus network, shedding light on the impact that climate change, El Niño events and altered jet streams have on migration patterns.
"Earlier this year, Dr Greg Kearns from the Maryland National Capital Park and Planning Commission, who set up the antenna on Trunk Island, alerted BAMZ to an interesting development. Of the three birds detected during 2020, one was a Red Knot and two were Sandpipers. The Red Knot [Calidris canutus] originally tagged on 11 August 2020 in New Jersey, was identified flying over Bermuda on 18 August 2020."
Photo courtesy of www.audubon.org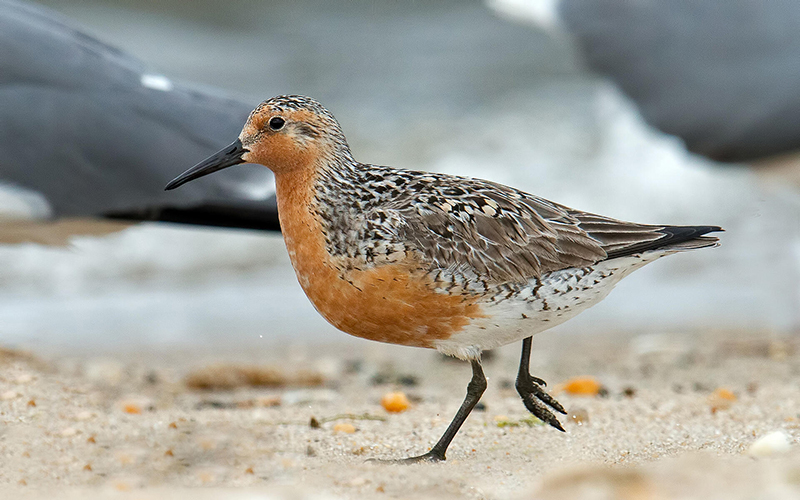 Patrick Talbot, Curator of the Aquarium and Zoo, said, "The Red Knot has suffered a sharp decline over the past two decades due to dwindling food supplies. This has prompted an international research and conservation effort to study the bird's staging ecology, migration timing, and routes from critical sites across eastern North America including New Jersey, Quebec, Manitoba, Ontario and Nunavut.
"These sites are vitally important for birds preparing for their long-distance southbound flights to Brazil, Argentina and Chile.
"After passing over Bermuda, the Knot was identified at two further tracking stations, on 30 August 2020 in French Guiana, South America and again on 12 November 2020 when it arrived in its wintering grounds in Bahia Lomas, Tierra Del Fuego, Chile, just short of Antarctica.
"Here it would have spent the winter before flying 9,000 miles back to the tundra of the Arctic Circle to nest during the short northern summer – a round trip of 18,000 miles."
Where the Red Knot was tagged in New Jersey 11/8/20 courtesy of www.motus.org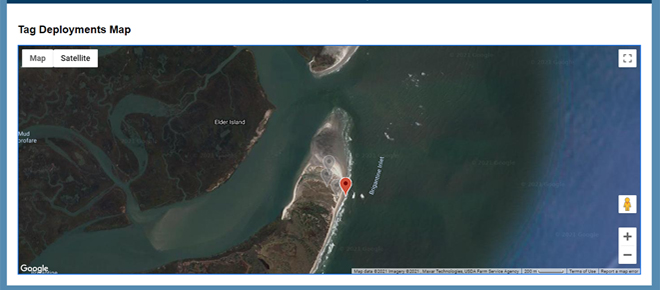 Dr Greg Kearns said, "Small tracking devices attached to the migratory birds transmit a signal to the receiving stations as they fly overhead. Broadcasting at a frequency of 166 MHz, each transmitter is uniquely coded so that individual birds can be identified. Trunk Island's station houses an automated mini-computer to detect birds 24/7 as they fly within range of approximately 10-15 miles of Bermuda."
Longtime aquarium volunteer Ron Porter, who has been assisting with the Red Knot Study, said, "Red Knots can live up to 20 years banking a total of 360,000 miles in their lifetime! This bird is probably on its way back to the Arctic by now with a stopover in Delaware Bay on the east coast to gorge itself on horseshoe crab eggs. Hopefully we'll catch up with this bird again as it journeys south in the fall."
Google map courtesy of Ron Porter showing the path taken by the Red Knot since tag deployment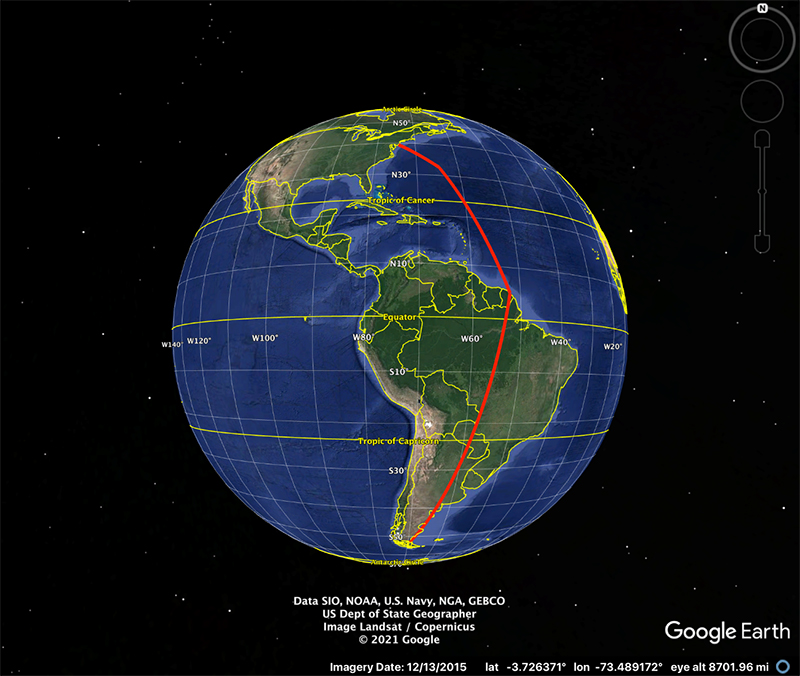 The spokesperson said, "The Motus system, which gets its name from the Latin word for 'movement,' has over 1,042 tracking stations worldwide collecting data for 386 research projects covering 241 species and almost 26,000 individual animals.
"The Trunk Island antenna array was installed by researchers from Patuxent River Park, part of Maryland-National Capital Park and Planning Commission in cooperation with the Bermuda Aquarium Museum and Zoo and the Bermuda Zoological Society. The Motus network is developed and administered by Bird Studies Canada.
"For additional information, visit motus.org."

Read More About
Category: All, Environment, News, technology