The British Film Institute [BFI] held its Senior Film Day recently, with a presentation introduced by David Somerset, the Institute's education programmer and director, covering the film work of Bermudian actor Earl Cameron, with the event including a study of Mr. Cameron's work, followed by a matinee of two films that he appeared in.
Born in Bermuda in 1917, Mr Cameron moved to Britain prior to WWII and after a career on London's West End stage made his film debut in 1950 — becoming one of the first black actors to star in a British movie —  and he continued on to have a successful career which spans a half-century.
By the mid-1950s Mr. Cameron was an established star in the UK and he worked steadily in movies, the theatre and in television. He co-starred with Sean Connery in the James Bond blockbuster Thunderball playing the head of the British Secret Service's Bahamas outpost, portrayed African dictator Edmond Zuwanie in the 2005 thriller The Interpreter alongside Nicole Kidman and Sean Penn, and had a featured role in the Leonardo DiCaprio science fiction epic Inception in 2010.
The day featured two sessions, with the morning event attended by Mr. Cameron's daughters Serena and Jane, as well as his granddaughter Louisa, while the actor himself attended the afternoon session with wife Barbara.
Fellow curator Dylan Cave, who has previously studied Mr. Cameron's work, followed up on the morning introduction by speaking at length about his work, with stills, film posters, slide show, and films shorts included, detailing the psychology behind Mr. Cameron's choice of roles and how he chose to portray those parts with deep thought put into the racial aspect.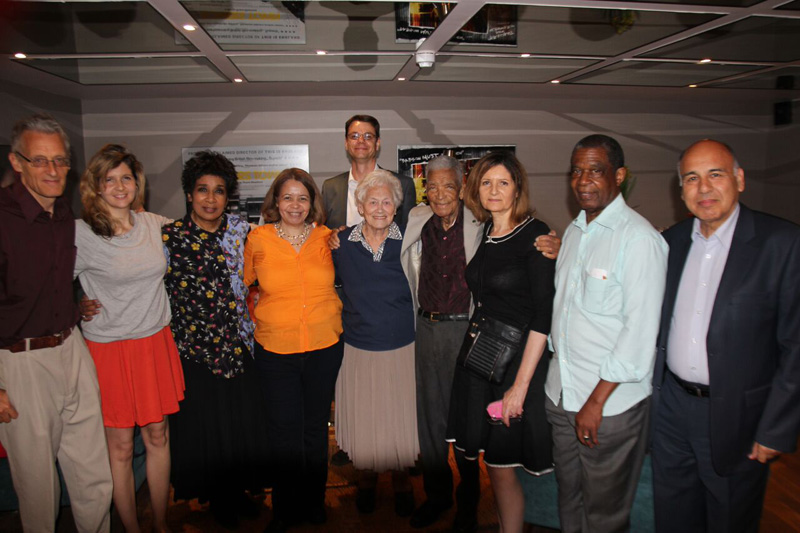 The conversation went on to cover dilemmas that the actor had to deal with within the story lines and ended with a show of photos with honourable accolades he has received recently.
Serena Cameron said, "The two films shown were chosen by Mr. Cave to portray stories based in London, picking up on the atmosphere and ambiance of life as it was and is now. The Heart Within, though it involved a bit of crime, was a very gentle film, like stepping into a past we had forgotten.
"The film brought laughter and tears at the quaintness and sentimentality of yesteryear, and a hushed feeling of wonderment at the simplicity of how things used to be permeated throughout the auditorium.
"Afterward, Dad was interviewed on stage by Mr. Cave to give us his thoughts on his work and this film, in which sadly his good friends and fellow actors were no longer on this earth to join us."
Alex Pascall with Mr. Cameron: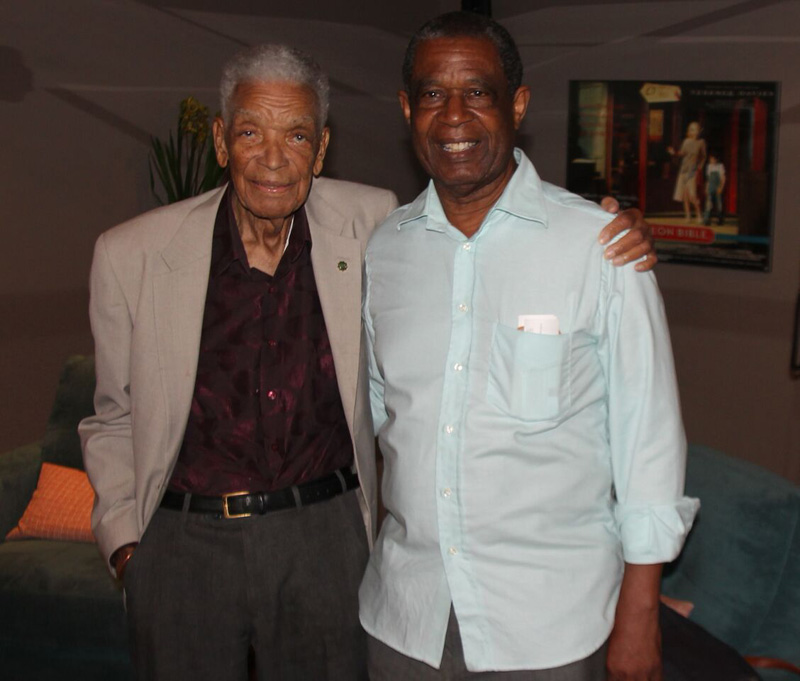 "I found it very amusing when he told us how the part he played in this film requested him to be extremely anxious and angry and the actor who played the sweet grandfather, who was in fact a professional theatre comedian by trade and brilliant at making up cheeky jokes, would make crack him up with laughter just as Dad was getting into his role.
"Dad would good humouredly get frustrated with him for making him laugh when he had a serious role to play.
"The questions and answers were very thoughtful and considerate. One question, asked by journalist, broadcaster, and historian Alex Pascall of Grenada, wanted to know about Dad's work with FESTAC, an African festival put on in Nigeria which the Western world had little interest in at the time.
"Mr. Pascall had previously done a presentation with Dad a few years ago in nearby Willesden.
"That was a fascinating three years of Dad's life in which he was asked to be a chairman due his Baha'i non-political beliefs. I remember that time as being a great time with all the fantastic characters that he met and the sweetness of the African mangoes that filled his suitcases."
Mr. Cameron with Dylan Cave on stage: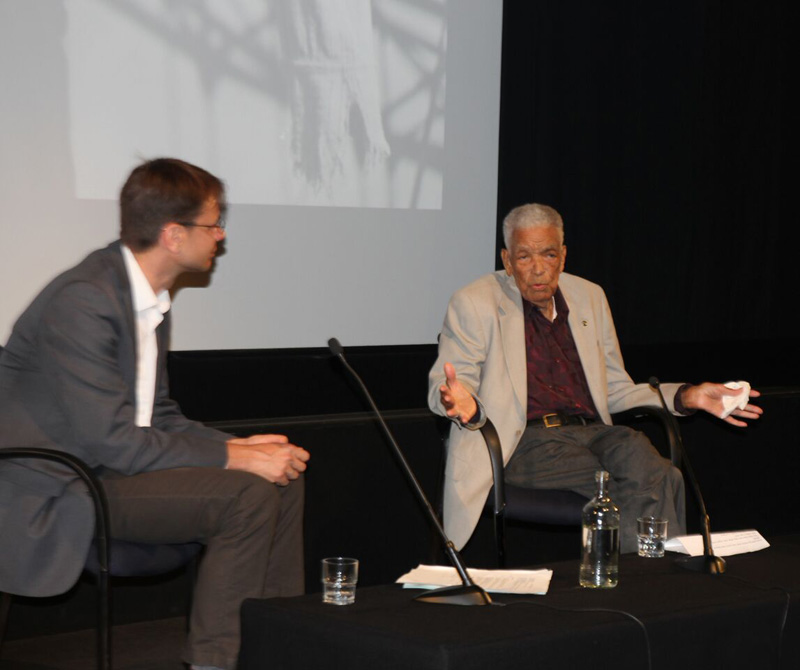 "The second film focused on a more gritty story line. Interestingly, Dad was asked by a member of the audience during the question period how he feels about today's films with portrayals of racism, and he responded that he doesn't manage to watch many films at cinemas or even at home because.
"He turned to everyone in the auditorium, profoundly apologising to the devout film goers that these days there's far too much sex, violence, drugs, and alcohol for him in films.
"Seeing Dad in those two films on that large screen as he used to be was unforgettable. He still has that magic and the camera loves him; I'm not used to seeing him on a big screen, and I was spellbound. This was truly a gift from the BFI to Dad and his family, close friends, and the gentle souls who filled that auditorium with us that day; truly precious moments of magic."
Read More About
Category: All, Entertainment, Films/Movies, News