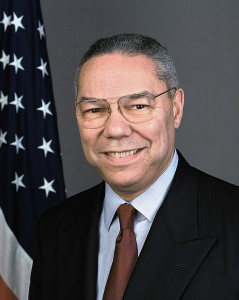 Opposition Leader Cole Simons has extended condolences following the passing of General Colin Powell, the first Black secretary of state in the United States.
Mr Simons said, "I am saddened to hear of the passing of another great man in history, General Colin L Powell. Gen Powell wasn't only an American statesman, but man whose voice resonated around the globe. He was a champion for democracy and humanity and an inspiration to both men and women in the Caribbean diaspora.
"A man who displayed calm resolve in everything he did, Gen Powell earned the respect of many through his principles, determination, resilience and his respect for humanity. His life journey has shown us that in order to be successful, it does not matter where you come from but more so what trajectory you choose for your life despite challenges which may arise.
"The One Bermuda Alliance extends its sincerest condolences to the family of Gen Powell, especially his wife Alma and his children, during this difficult time. Bermuda has truly lost a friend to the island."
A CNN story said, "Colin Powell, the first Black US secretary of state whose leadership in several Republican administrations helped shape American foreign policy in the last years of the 20th century and the early years of the 21st, has died from complications from Covid-19, his family said on Facebook. He was 84.
"General Colin L. Powell, former U.S. Secretary of State and Chairman of the Joint Chiefs of Staff, passed away this morning due to complications from Covid 19," the Powell family wrote on Facebook, noting he was fully vaccinated.
"A source familiar with the matter said Powell had multiple myeloma, a cancer of plasma cells that suppresses the body's immune response. Even if fully vaccinated against Covid-19, those who are immunocompromised are at greater risk from the virus.
"We have lost a remarkable and loving husband, father, grandfather and a great American," the family said.
Read More About