This week, Raleigh Bermuda is hosting their "I am Brave: Youth Against Violence" programme with high school students aged 14 – 17 years old.
A spokesperson said, "On Tuesday, October 26, 2021, Raleigh Brave students were in discussion with Mr. Jeff Baron speaking about violence reduction, social crime prevention and how to keep the community safe, but just three hours later and less than 500 meters away, just up the street from Raleigh headquarters, a mass shooting and murder occurred.
"As our community mourns and grieves, this violence hits the Raleigh family deeply as they also pay tribute to their Raleigh Alumni Brother Malcolm Outerbridge who lost his life 10 years ago this week."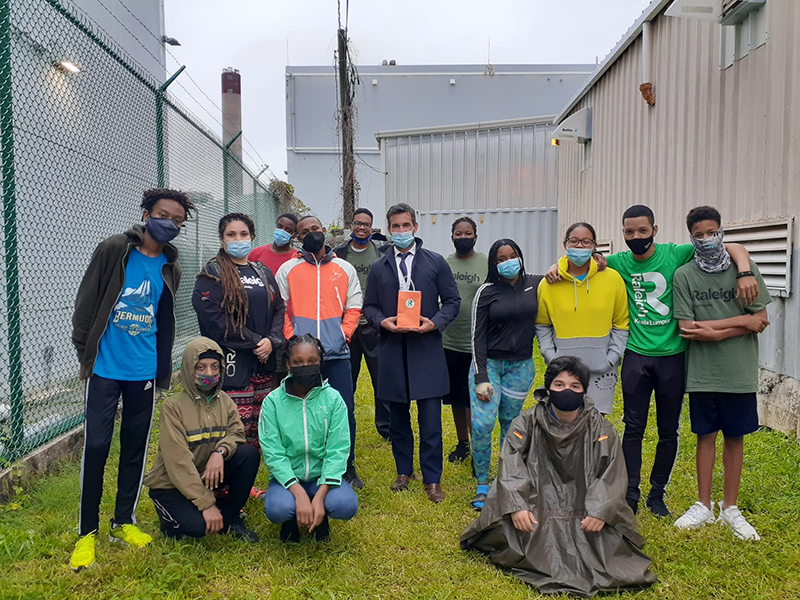 Raleigh Executive Director Dany Pen says, "Throughout this week, we've been having discussion with our students addressing violence in our community. Then the mass shooting happened on Tuesday night and when Wednesday morning came, our students arrived at camp feeling frustrated, sad, and numb.
"Our young people are searching for a safe space free from violence, abuse, and harm. This is the very reason why Raleigh has opened "Malcolm's Room", to provide that needed safe positive space. This act of violence needs to stop in our community and at Raleigh, we refuse to make excuses and pardons for this type of crime."
Our Raleigh Brave Students share the following sentiments, "We don't know much about what had happened the other day, but we do know that there has been a lot of crime recently and that needs to stop! It feels like almost every day we can hear at least three ambulances drive past our houses. We need to make Bermuda safer and reduce the crime rate.
"We never knew Malcolm, but he sounded like a chill-funny guy and today is when he tragically lost his life a few years ago, and two days ago Micah Davis and Ayinde Eve lost their lives as well. We would like to give our condolences to Malcolm's family, Micah's family and Ayinde's family and anyone who has lost any of their family members and friends to violence in Bermuda. Bermuda must do better; it needs to do better. No – it will do better!
"Raleigh Bermuda specifically targets young Bermudians who are 'at a crossroads' or 'underserved' and may face the 'day to day' risks of gang violence, drugs, alcohol, crime, and abuse in our community. Raleigh is the only organization on island that works continuous with young people ages 14 – 35 years old (including alumni) by providing them with the survival and life skills to become confident, productive members of our community and to successfully manage the transition to independence and adulthood.
"The "I Am Brave: Youth Against Violence" programmes teach high school students aged 14 – 17 years old on how to become active citizens by addressing violence in our community, learn about healthy versus toxic relationships, how to find solutions, hold conversations and develop effective advocacy.
"Raleigh is a non-profit organization and to continue operating and providing our programmes for our young people, we are appealing to the community to help. Please donate or make a contribution today by visiting PTIX. To contact Raleigh Bermuda, please email info@raleigh.bm."
Read More About
Category: All