The Bermuda Economic Development Corporation [BEDC] is accepting applications for the 14th annual Rocket Pitch competition until Sunday, October 24th.
A spokesperson said, "What does a budding entrepreneur do when they have a great idea but no capital to get their idea started? They enter the BEDC Rocket Pitch Competition occurring on Tuesday, 9th November. The Bermuda Economic Development Corporation is now accepting submissions until Sunday, 24th October.
"Over the past 13 years, the Rocket Pitch Competition has helped entrepreneurs launch or expand over 40 businesses."
Antonia Holder and Deshae Adams, past Rocket Pitch Winners, said, "It's the spirit that helped make Bermuda what it is today. We look forward to learning from BEDC and working with them again in the future."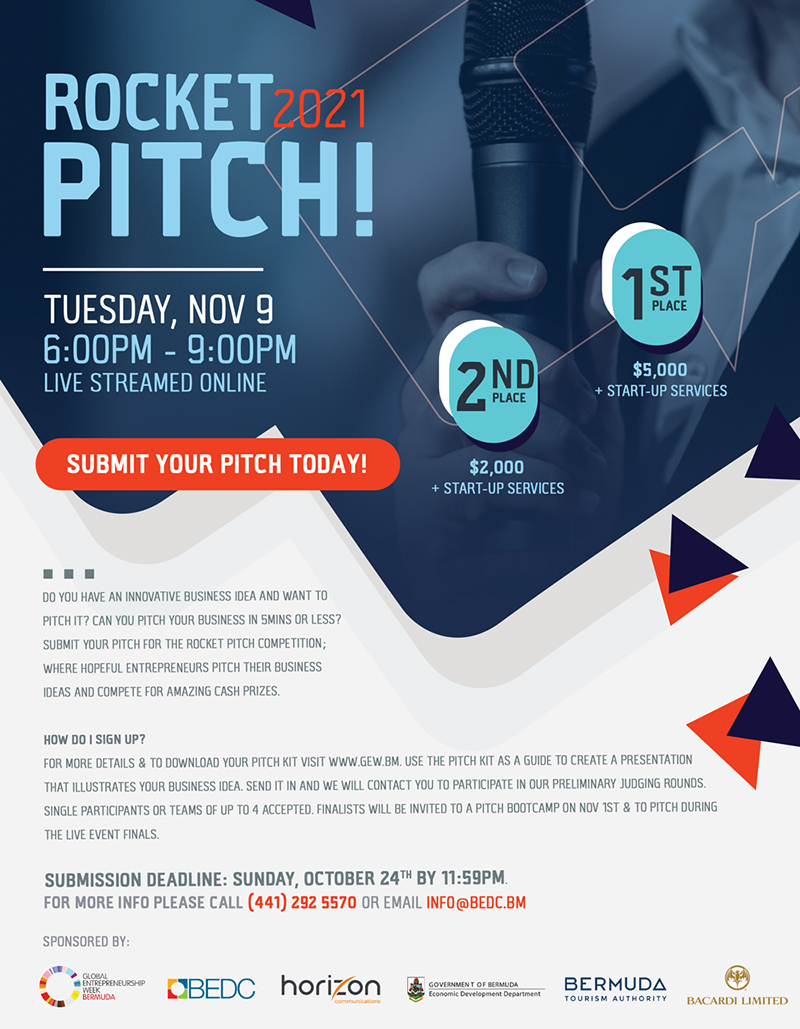 The spokesperson said, "This year's competition's major sponsors include the BEDC, The Bermuda Tourism Authority, the Economic Development Department, Horizon Communications, and Bacardi Ltd. They together have provided funding for entrepreneurs in seven business categories:
Pitch Town – businesses ideas that contribute to Bermuda's local economy;
Pitch Pink – business ideas that are related or contribute to the tourism industry;
Pitch Tech – business ideas that are related or contribute to the tech industry;
Pitch Green – business ideas that have a minimal negative impact on the global or local environment, community, society, or economy;
Youth Pitch – business ideas formulated by those 18yrs and younger;
Pitch Co-op – business ideas that follow a cooperative business model;
Pitch Food & Bev – business ideas that are related or contribute to the Food & Beverage Industry. Must be 18+ yrs. to enter.
"The seventh category, Pitch Food & Beverage, has graciously been sponsored by Bacardi Ltd."
Jamillah Lodge, Director of Communication & Development, BEDC, said, "The Food & Beverage Industry in Bermuda is amongst one of the hardest hit by the pandemic. We are honored to be able to partner with Bacardi, a local company, to give back in this way."
Douglas Mello, Bacardi International Limited Managing Director, said, "We are proud to continue to show our support to the hospitality industry by sponsoring this new category in the BEDC's annual Rocket Pitch Competition.
"Pitch F&B will be an opportunity for local entrepreneurs to share their innovative and fresh ideas with the panel of judges and bring to life dining and entertainment experiences that -make moments matter – for our customers. The hospitality industry in Bermuda has a bright future, and we hope this new category will inspire the next generation to push for their dreams."
The spokesperson said, "The framework of the Rocket Pitch presentation is simple: the presenter[s] has five minutes to tell a story to a panel of judges and then respond to questions.
"The main goal of a Rocket Pitch is to illustrate a business opportunity. A pitch needs to be clear and straightforward, and not overly technical. Those that enter the Competition and make it to the finals receive a cash award that ranges from $2,000 – $5,000.
"Entrepreneurs should visit www.gew.bm to download a pitch kit for their selected category. Amend the pitch kit to fit your business idea, and then submit it to info@bedc.bm before 24th October deadline.
"BEDC will host in-house preliminary judging rounds for each category to select the top two pitches. The finalists will participate in a Pitch Bootcamp on 1st November at the Ignite Innovation Hub. They will have a chance to refine their pitches and get assistance and feedback from pitch experts who will help develop their pitches for the big competition night.
"The top two pitches per category will also advance to pitch their ideas to a live panel of judges during the Rocket Pitch Finals on Tuesday, 9th November. The public will be able to view the Competition virtually from the comfort of their homes. The first and second place winners will receive $5,000 and $2,000, respectively, including startup services to develop their business idea."
Kelsea Williams, Communication & Development Officer at BEDC, said, "The Rocket Pitch Competition is an excellent opportunity for entrepreneurs. It is an opportunity to validate your business idea and win cash while you do it.
"This island-wide pitch competition is a chance for emerging entrepreneurs to submit a plan to launch an enterprise providing products or services to both local and global challenges of any type. The experience is both fun and rewarding, and I would encourage everyone to sign up."
The spokesperson said, "Entrants are encouraged to download their Pitch Kits at www.gew.bm to get started. The Pitch Kit is a guide that will help you create your pitch and ensure that you provide all of the necessary information.
"Please submit your completed Pitch Kit at www.gew.bm or email it to info@bedc.bm. The submission deadline is Sunday, 24th October, by 11:59 pm. For further details, email info@bedc.bm."
Read More About