The Bermuda Hospitals Board will again turn on its green light this month in support of mental health awareness.
"Green is the colour chosen internationally to denote mental health. This year the theme of mental health awareness is to make nature a part of your everyday life," a spokesperson said.
"For us in Bermuda, getting out in nature almost always involves getting out into greenery. Even if you take a leisurely walk along the beach you'll be faced with wonderful green trees and grasses.
"On Wednesday 1 December, Preston Swan, Acting Chief Operating Officer and Vice President of Clinical Operations, MWI, will flick the switch at sister hospital King Edward VII Memorial Hospital lighting the outside of that facility green."
A photo of KEMH's green light last year: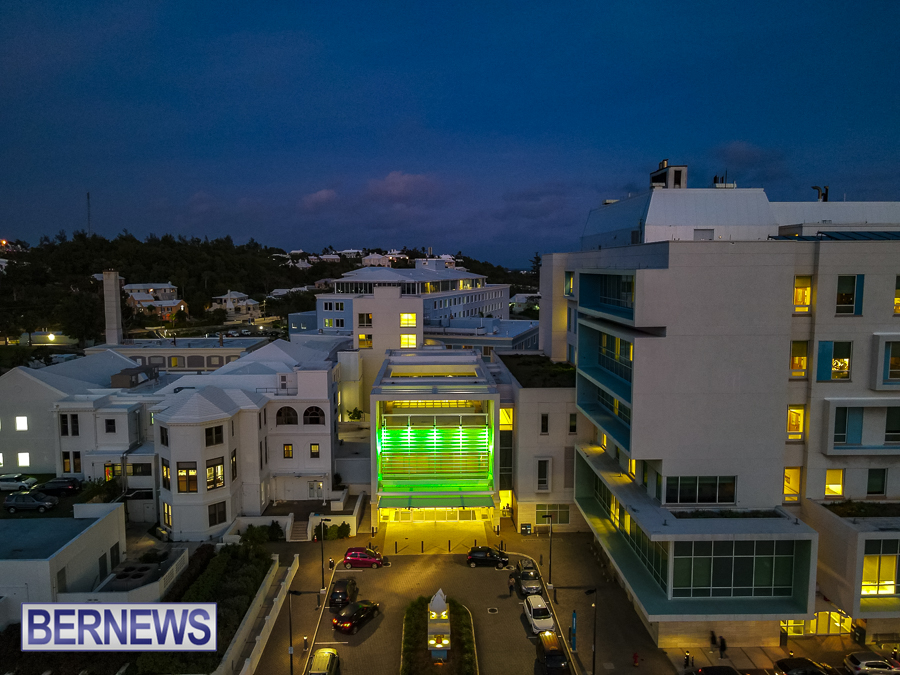 "Covid-19 has brought the importance of mental health to the fore," said Mr Swan. "All of us who live in Bermuda recognise the increased stress and anxiety many of us have endured. As a mental health professional, I would urge you to spend some time in nature.
"It is scientifically proven to have a calming effect on the mind. When you add relaxed deep breathing, you may actually feel an improvement in your stress level and blood pressure."
"As you pass by KEMH in the December night please enjoy the green light. Green is a calming colour. Take stock of your mental health and think positive thoughts," Mr Swan added.
"If you are feeling overwhelmed please reach out to a professional who can help – seeking support is not a sign of weakness," said BHB Acting Chief of Psychiatry Dr Anna Neilson-Williams. "You are not alone. We encourage you to contact MWI, your GP or one of the range of mental health professionals available within our community."
"If you need mental health assistance, please call the MWI Acute Community Health Service at 249-3432. For serious mental health crisis at any time of the day or night, call 239-1111."

Read More About