Michaela Antoinette will be holding an art exhibition entitled 'Infinity Collection' [Part 1] at The Bermuda Society of Arts, with the grand opening to take place on Friday, November 26th, running until December 15th.
A spokesperson said, "What a journey it has been for Bermudian mystic visionary artist and former Barrister and Attorney, Michaela Antoinette. Michaela's journey with pain began at birth. She was born with club feet and had to wear corrective shoes with a steel bar across the middle to straighten her crooked legs. She has the scars on her heels to this day.
"Marfan's Syndrome is a genetic connective tissue disorder which affects the major organs, bones and tissues of the body due to a missing protein. This disorder went undiagnosed for decades of her life."
Ms. Antoinette said, "Often, our greatest purpose is birthed through our struggles and pain. How can you become a vessel of light if you have not conquered your own darkness.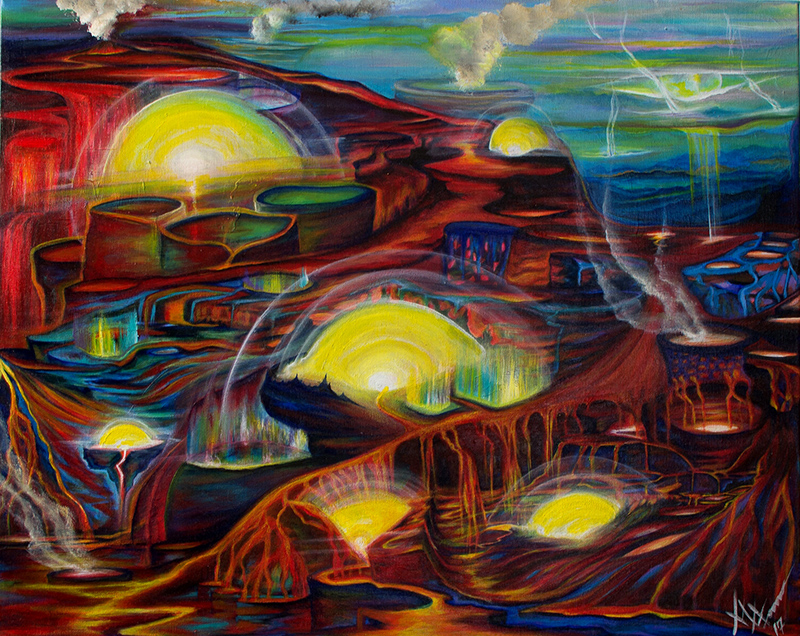 "In my 33rd year, I thought I had taken my last breath, but it was truly the first breath of another beautiful beginning…infinity."
The spokesperson said, "She continues to heal and now teaches others how to heal themselves through the heart and mind. This is a scientific process called biokenesis. She also provides art therapy, sound baths, light therapy and aromatherapy sessions for women."
Ms. Antoinette said, "I'm aware there are many women doctors, scientists, healers and holistic services in Bermuda and I'm interested in networking with all of you. Please feel free to reach out and connect with me. I look forward to creating a women's healing circle."
The spokesperson said, "A major component of Michaela's healing is through her creative art practices. As a self-taught visionary artist, she introduced a unique style of art to Bermuda during The Charman Prize 2019. She will enter an art piece again this year. She pairs her fine art paintings with augmented reality technology so the art comes to life right on the wall or any still image of the piece through a special app.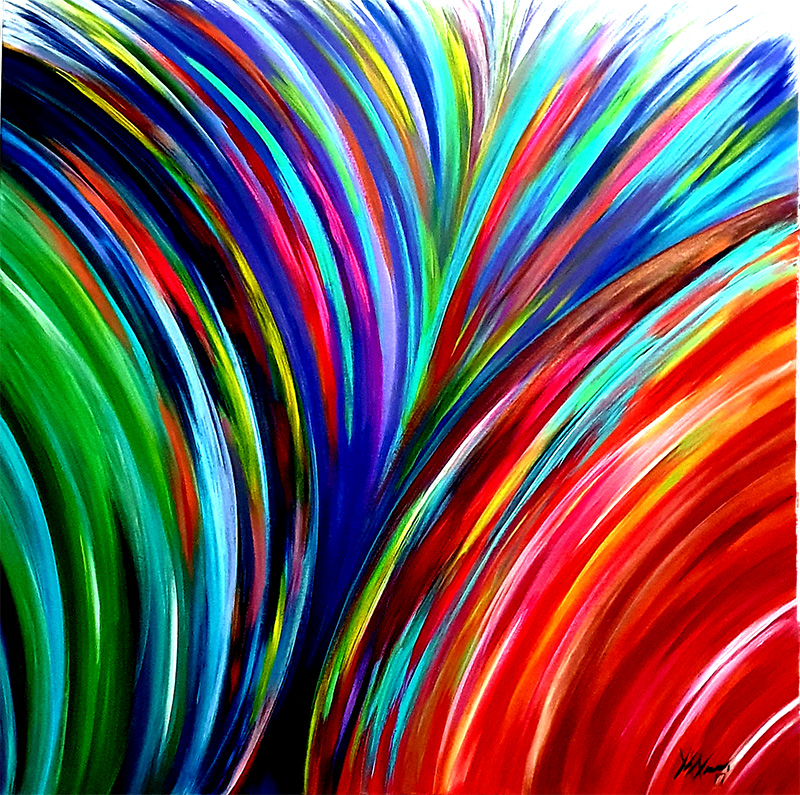 "There is also a hidden / invisible surprise in her artistic works once it is dark. Artists who inspire her include Salvador Dali, Hilma af Klint, Hildegard of Bingen, William Blake, David Spriggs and Daniel Popper."
Ms. Antoinette said, "These paintings are the beginning of a life long "Infinity Collection" series. My paintings are both outside of duality yet grounded within it. I create from a space where the normal boundaries are blurred…where the hidden, the invisible and the atypical are brought to life on canvas. These works are a journey through the mind, body and soul.
"I combine spirituality, religion, science, philosophy, symbology and whimsy in my works. This collection illustrates the mysteries that lie dormant within and all around us. It explores the essence of what connects us to the mind and breath of creation and to humanity as a whole.
"By using lines, shapes, symbology, vibrant flowing colors that bleed into each other with no beginning and no end, I paint my truths. I hope when you regard my work you feel a sense of wonder. I hope to connect with the community in a deeply moving yet fun and exciting way."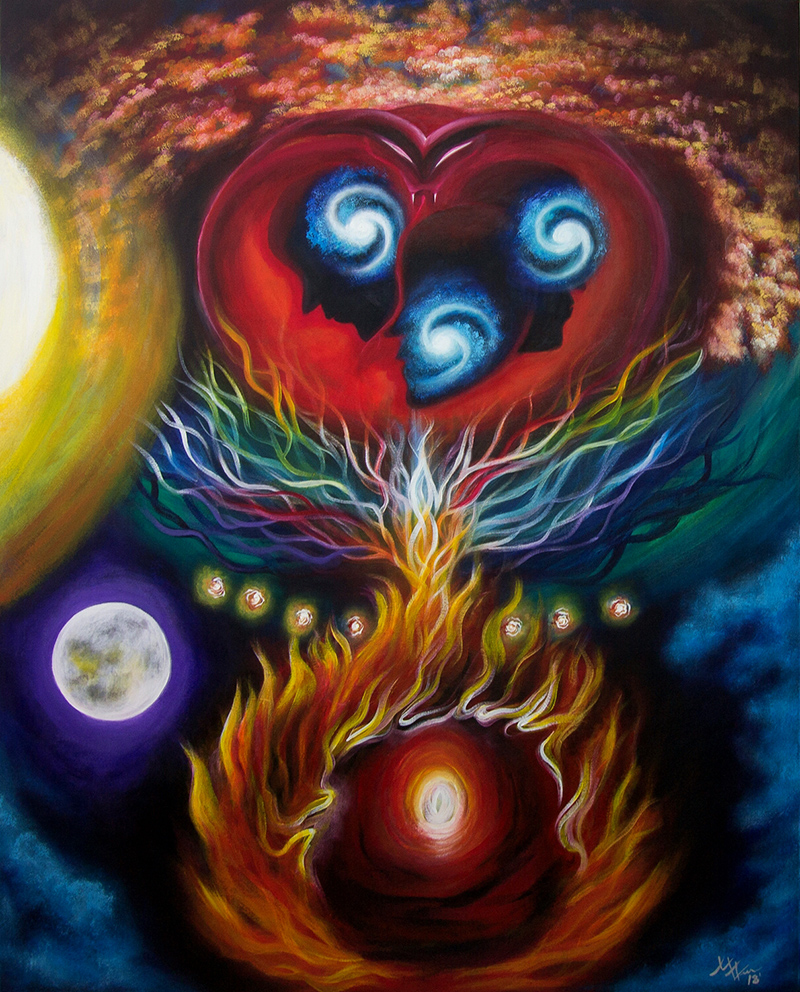 The spokesperson said, "Under the distinguished patronage of the Honorable Premier of Bermuda E. David Burt MP, the grand opening will be held on the 26th November 2021 5:00 pm -7:00 pm at The Bermuda Society of Arts. A complementary wine bar will be provided. The 12 piece collection, The Infinity Collection [part 1] will be for sale and exhibited from the 26th of November to the 15th of December at The Bermuda Society of Arts."
Nzinga Ming, Director of The BSOA, said, "It was a privilege to be invited into Michaela Antoinette's studio. Initially, I was drawn to the attention to detail and use of colour in her series. The observation soon became an emotional journey, similar to meditation. I felt drawn into the works. There's such depth of meaning and expression.
"One of many additional features included augmented reality which created an immersive sensory experience with the paintings further coming to life with sound and movement. Once in a dark space, the paintings can be seen in yet another aspect.
"This exhibition is the first of its kind in Bermuda and I am excited for the public to not only experience this collection first-hand, but also have the opportunity to become collectors of these extremely innovative and emotive works."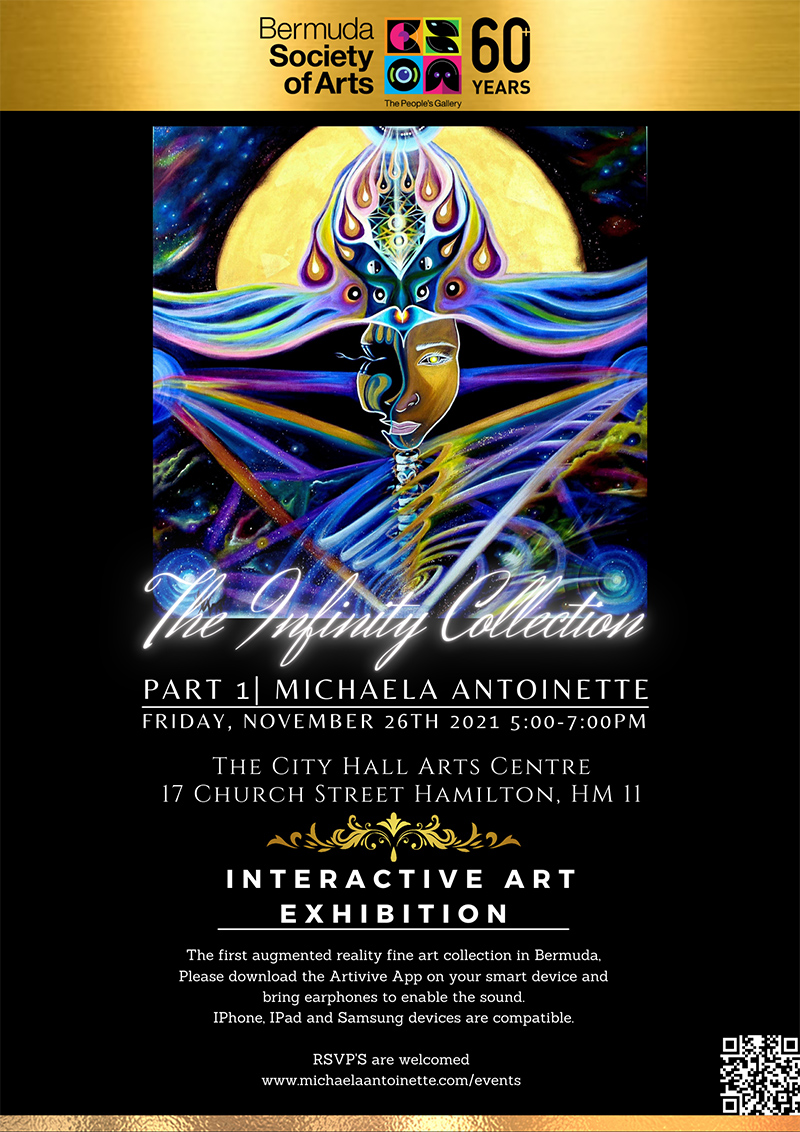 The spokesperson said, "If you wish to view the augmented reality you can bring your earphones and download the Artivive App available free on all smart devices. If you wish to test the augmented reality beforehand, open the Artivive App and aim your smart device at the digital invitation.
"Many thanks to sponsors and grants by The Bermuda Arts Council, Dr. Cindy Morris, Ms. Diana Morris, Miss Victoria Angelay, Mr. Casey Burgess, Mrs. Wendy Trott, Mr. and Mrs. Brown, and Mr. Korrin Lightbourne
"Please RSVP at www.michaelaantoinette.com/events.

Read More About
Category: All, Entertainment