[Updated] The Bermuda cricket team is taking part in their third match of ICC Men's T20 World Cup Americas Regional Qualifiers in Antigua, with the team currently playing Canada. The match is being streamed online here on the ICC website, you have to register to watch, however it only takes one minute to register and the stream is free. We will update with the match report once it concludes.
Screenshot from the online broadcast: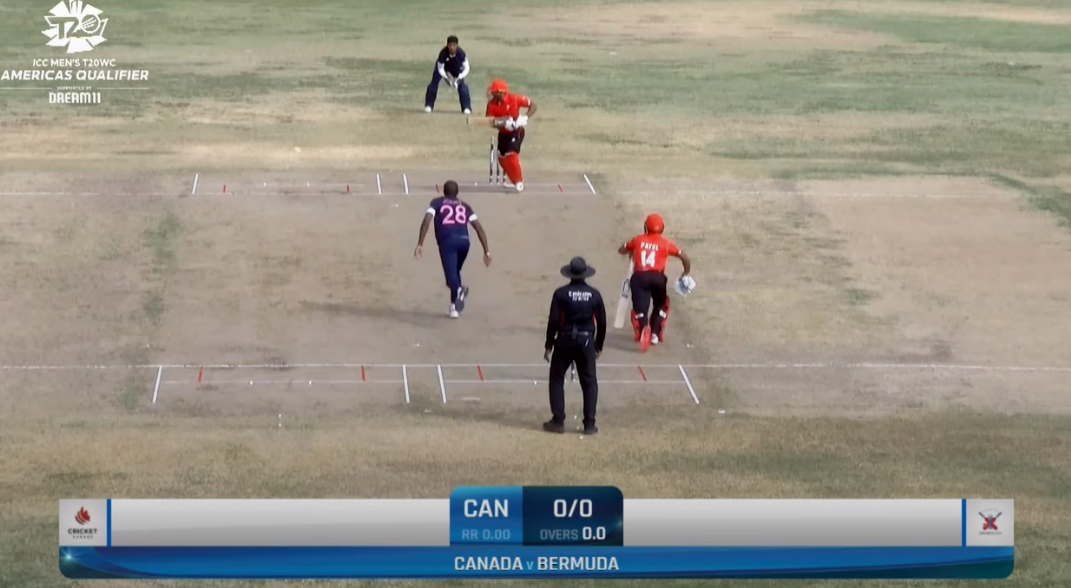 Update 1.57pm: Bermuda won the toss and sent Canada to bat. Canada scored 189/5 in their allotted 20 overs, Hamza Tariq was the top scorer with 63 not out, while Delray Rawlins was the pick of the Bermuda bowlers with figures of 4-0-33-2.
Canada Inning
..01 [03] Hiral Patel c Delray Rawlins b Kamau Leverock
..52 [31] Rayyankhan Pathan Run Out
..23 [27] Navneet Dhaliwal b Allan Douglas II
..02 [03] Ravinderpal Singh b Delray Rawlins
..06 [12] Saad Zafar LBW Delray Rawlins
..63 [28] Hamza Tariq Not Out
..28 [14] Harsh Thaker Not Out
..14 Extras [9w-5lb]
189 Total for 5 wickets after 20 overs
Fall of Wickets: 1-6 [Patel], 2-60 [Dhaliwal], 3-64 [Singh], 4-96 [Pathan], 5-98 [Zafar]
Bermuda Bowlers
4.0-0-31-0 Malachi Jones
4.0-0-42-1 Kamau Leverock
4.0-0-33-2 Delray Rawlins
3.0-0-35-0 Zeko Burgess
1.0-0-10-0 Rodney Trott
4.0-0-33-1 Allan Douglas II

Read More About