Bermuda's soldiers turned out today to honour the island's war dead, despite Covid-19 precautions that forced a smaller service than usual.
Governor Rena Lalgie and Premier David Burt led dignitaries who laid the traditional poppy wreaths at the Cenotaph on Hamilton's Front Street, which was guarded by a catafalque party from the Royal Bermuda Regiment.
The RBR's Band and Corps of Drums played seated in the grounds of Cabinet Office rather than on the march.
Colonel Chip Waters, 71, a Bermudian retired US Army officer and son Charles, a former US Army captain, who saw active service in Afghanistan.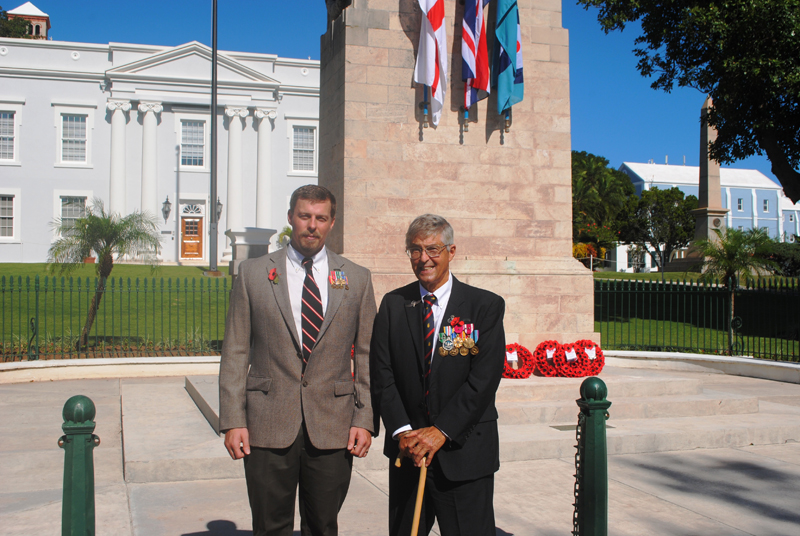 Lance Corporal Kevin Darrell, one of the four soldiers who stood guard, said it was tough to stay alert in the sun in full uniform and carrying a heavy rifle."
Lance Corporal Darrell said, "It's very hard to stand still for so long with no shade. You have to drink a lot of water before you do it. We have to stay hydrated.
"It's for our people – we have to honour our dead. What they did was a lot harder than what we had to do."
Albert Fox, a former Sergeant-at-Arms in the House of Assembly, was among a crowd of about 300 who watched the parade from the harbour side of Front Street.
The RBR catafalque party at the Remembrance Day commemoration at the Cenotaph in Hamilton. Lance Corporal Carl Simmons-Aubuoy, 26, from Southampton, Lance Corporal Kevin Darrell, 35, from Southampton, Pte Co-shae Bertrum, 31, from Sandys and Lance Corporal Ryan Hayling, 33, from St George's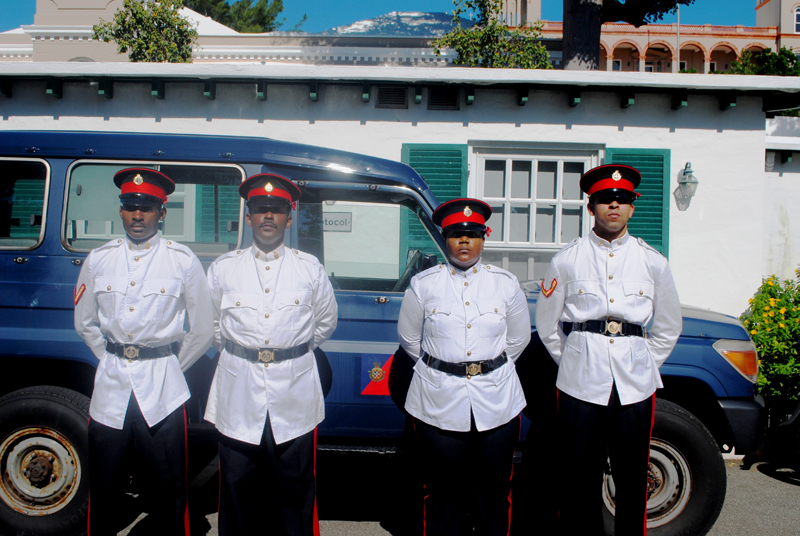 Mr Fox said, "The service was beautiful. It's a pity the veterans weren't here to march – there aren't many of them left. But I understand the situation. The Regiment was superb and it was fitting tribute."
Colonel Chip Waters, 71, a Bermudian former US Army soldier, attended the ceremony with son Charles, 34, a former Captain in the US Army and a decorated veteran of the war in Afghanistan."
Col Waters said, "It's a very important day. It's vital that people realise that they might not be interested in war, but war is interested in them.
"The sacrifice of previous generations should not be forgotten and they should also remember that they may be called on to make the same sacrifice in the future.
Captain Alvin Harvey, the RBR Adjutant, escorts war veteran Isobel Flood, who served in the Royal Canadian Air Force's women's division in World War Two, after she joined other VIPs for a Cenotaph wreath-laying ceremony. They are followed by Acting Commissioner of Police Darrin Simons and RBR CO Lieutenant Colonel Ben Beasley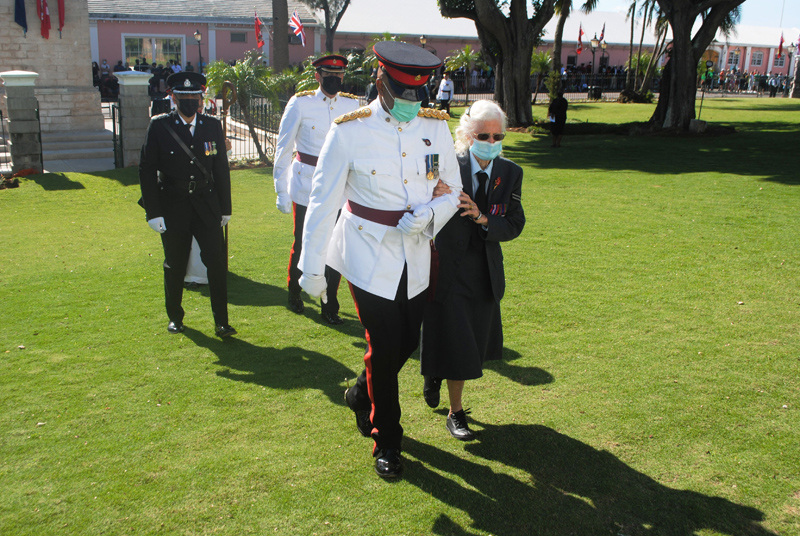 "The Regiment did a very good job. They were really good. It would have been nice to see them march, but I understand why that wasn't possible.
"Having that link where we remember what happened in the past and try to avoid mistakes in the future is very important. Services like these keep things fresh in people's memories. If we didn't have these, it would be all be lost."
Lieutenant Colonel Ben Beasley, the RBR's Commanding Officer, who also laid a wreath at the Cenotaph, said, "We want to show as much appreciation as we can for those who served before us.
"As Commanding Officer, it's an honour to be able to lay a wreath on behalf of the service in recognition of all the servicemen and women who have gone before us, particularly those who never came home again.
"It's also for those spouses and children who said goodbye to loved ones, never realizing they would never see them again.
"The RBR looked forward to being able to resume the normal large-scale parade to mark the occasion. It's the most important parade we conduct, irrespective of how many soldiers we are able to have on parade. But I am sure every serviceman and woman in Bermuda today paid their respects, whether they were in uniform or not."
Major Tom Wood, the RBR's Executive Officer, earlier represented the service at the commemoration of the sinking of the HMS Jervis Bay, a Bermuda-based armed merchant cruiser sunk by German heavy cruiser the Admiral Scheer as it fought to protect a World War Two convoy."

Read More About