Madelyn Moore has been named the Western Athletic Conference Women's Swimmer of the Week, marking the third time this season the Bermudian swimmer has won the award.
The school's announcement said, "Senior Madelyn Moore has her eyes on making waves at the FINA World Championships [25m] in Dubai next month. Before she heads on the international stage, Moore picked up two individual wins at the Mid-Season Invite at Dixie State and shattered four school records, earning the WAC Swimmer of the Week Award the conference announced Tuesday.
"With Moore's help and stellar swims up and down the Northern Colorado roster, UNC finished second in the three-day meet.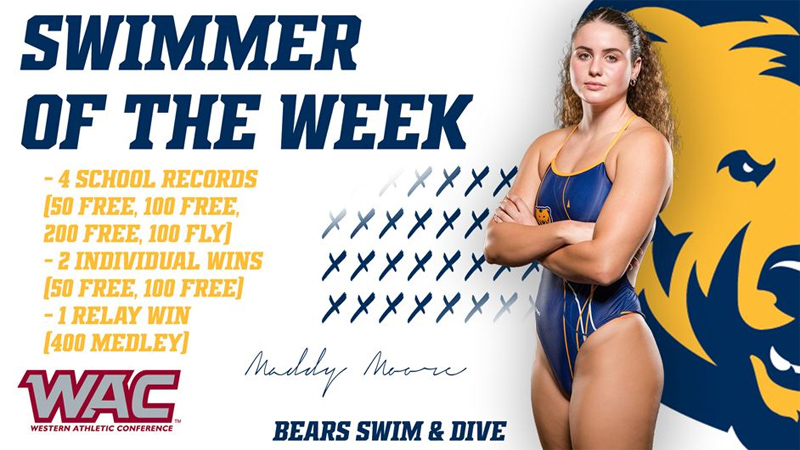 "The Sandys, Bermuda native began her week anchoring the 200 free relay, showing the rest of the schools what was to come. UNC would go on to win the 400 medley relay with a time of 3:41.86.
"In the opening leg of the 800 free relay, Moore broke the first four school records with a 1:49.72. She'd go on to reset the 50 free [22.20], 100 free [49.17] and 100 fly [54.15] records throughout the week as well.
"Her 50 free and 100 free times each broke the NCAA 'B' cut and as it sits, would give Moore the first invitation to the NCAA Championships in Northern Colorado program history.
"It's this third time this season Moore has been named conference Swimmer of the Week. She previously won for a seven-win performance at the Intermountain Shootout and again following a dominant performance at home against WAC opponent Idaho.
"The Bears will be back in the pool on January 7, facing both Air Force and Utah Tech in a tri-meet."

Read More About