Caitlyn Bobb put on an outstanding performance at the 2022 America East Championships, winning multiple gold medals, breaking multiple records, and earning three awards.
She competes for the University of Maryland Baltimore County [UMBC], and the school's report noted that she earned gold medals in the 200m and 400m and "broke her own school record in the 400m with a time of 53.50 after winning the 200m."
The Bermudian athlete also took part in the 4x400m relay, where they smashed the conference record with their gold medal run of 3:44.39, with Bobb playing a key role in the relay win.
Extract showing the end of the 400m where Bobb overtakes two runners to help her team win:
The school noted that she earned three awards, saying, "Bobb was named Most Outstanding Female Track Performer, Most Outstanding Rookie, and won the Coaches' Award for most points scored."
The Bermuda National Athletics Association confirmed that the runner also broke Bermuda records, saying, "Caitlyn Bobb tore up the track at the American East Conference Championships, breaking the UMBC Athletics and Bermuda National Indoor Record in the 400m running 53.50," and they also said her time in the 200m broke Debbie Jones-Hunter's longstanding National Indoor Record.
Bobb pictured with two of her awards after her excellent showing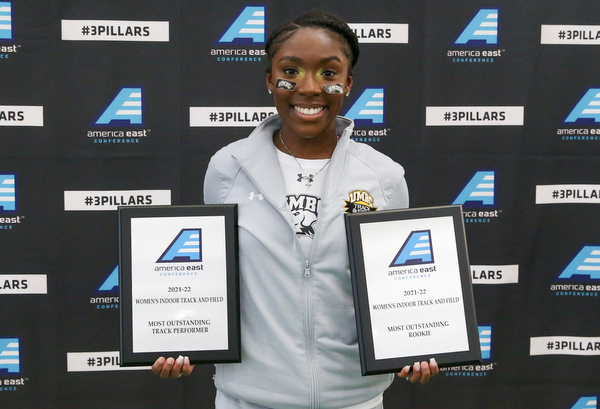 Read More About