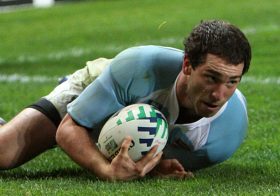 Former Argentina rugby player Federico Martin Aramburu — who played in multiple Bermuda World Rugby Classics — was fatally shot in France this weekend.
The BBC reported, "Former Argentina international Federico Martin Aramburu was reportedly shot dead in France early on Saturday.
"The 42-year-old, who was capped 22 times, played at the 2007 World Cup in France and scored a try against the hosts to help Argentina finish third. According to L'Equipe, Aramburu was killed in a drive-by shooting in Paris.
"The French newspaper said he had been involved in an early-morning argument in a bar with a group of people who later returned in a car and shot him. A murder investigation has been opened by the Paris prosecutor's office. Police are reported to be looking for three suspects.
"A tribute was paid to Aramburu before France's Six Nations finale against England at Stade de France, with his image shown on the stadium's big screen."
Mr Aramburu played in five Bermuda World Rugby Classic events from 2015 to 2019, and served as captain in 2019 when Argentina won the event.
The Bermuda World Rugby Classic extended their condolences, saying it was "terribly sad news for all in the Classic family" as he was "a lovely player and a wonderful person and a great part of the World Rugby Classic."
Read More About