[Column written by Dr. Freddie Evans]
Despite Bermuda having a lot to celebrate after the 49th Carifta Games held in Kingston, Jamaica. One of the first questions I was asked upon my return is "Why can't we compete with Jamaica?" After the Covid cancellation of Carifta for the last two years, the Bermuda National Athletic Association [BNAA] and Bermuda athletes, like all athletes in the region, had to deal with the absence of competition as the new normal. In resurrecting the program, BNAA was able to select a small, young team with a few veteran athletes in the under 20 age group to form the Bermuda 2022 Carifta team.
During a post-mortem, Bermuda's Carifta coaching staff Head Coach, Devon Bean, Assistant Coach Jerome Richards, Asst. Coach Terry-Lynn Paynter and the Team Manager, Janine Scott reflected on the leadership of the team captain Sancho Smith, Za'Kayza Parsons, and the rest of the Under 20 team. Bermuda's U20 athletes are genuinely role models, athletically and academically but they are also nurturing leaders and did all that was possible to ensure the U17s also felt included and encouraged. That was so important when this was the first Carifta experience for every member of the U17 team.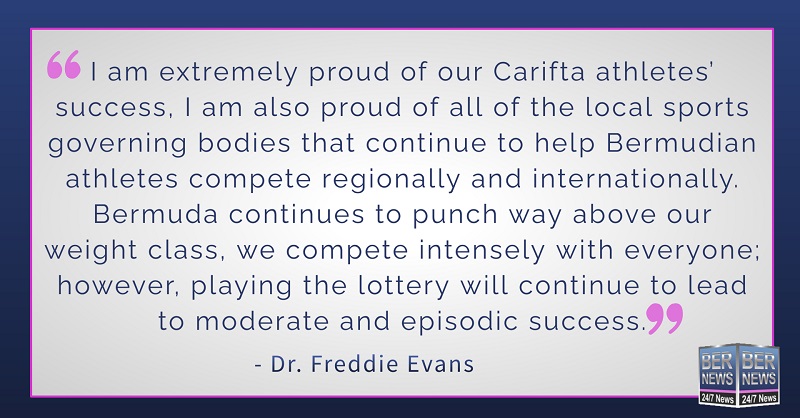 The leadership of the U20s was needed immediately. As one can easily imagine, the U17s were awed, if not star struck, as they made their way past the statues of Merlene Ottey, Shelly-Ann Frasier-Pryce, Don Quarry, and the legendary Husain Bolt. With eyes wide, mouths dry, and their hearts beating loudly in their chest, the U17s were the first to take the track in the National Stadium in Kingston.
There was also an intimidation factor, as most of the team had watched Jamaican champs [school sports competition] shown live on a regional sports television channel, which also took place at the National Stadium one week before Carifta in front of 20,000 spectators.
Saturday morning's session started rough for team Bermuda. J'Naz Richards lined up for the 100m first. J'Naz was the smallest person on the track, running into a 2.0 headwind, and although she did run well – 13.26 – she felt that she could have competed better.
Zenji Washington, the second competitor for Bermuda, was distraught, if not heartbroken, as she was disqualified from competing in the 100m after she was charged with a false start. Regrettably, Zenji jumped out of the blocks when a security officer slammed a metal gate shut in the stadium, near the starting line. We sought redress from the starters team, however, they said that they did not hear the gate slam, a sound that could be heard throughout the stadium.
Both girls sought solace from their parents, who were in attendance, and their coaches, but I was told by the coaches it was Za'Kayza, Caitlyn Bobb, Ketura Bulford Trott, and Sanaa Rae Morris who helped to settle the U17s and helped them to prepare to do their best in their next events, which they both did as members of the U17 4 x 100m team.
The U20s were next on the track with Za'Kayza Parson's running a 12.26 and Ketura Bulford Trott running 12.28, times that were expected as both of these collegiate athletes had limited opportunities to compete this year because of injury and weather complications. Theywill continue to progress throughout the rest of their season.
Denver Tucker made his debut in the U17 young men's division, earning his way into the finals. Denver placed seventh in a time of 11.06. Miles Outerbridge, another young newbie making his Carifta debut, produced a time of 11.62.
Madisyn Bobb and Elise Dickinson made their debut in 200m, running into a strong headwind and 26.53 and 26.56 respectively. Both ladies rebounded from their average performance as U17 4 x 400m team members. Caitlyn Bobb, the 2021 Bermuda Junior athlete of the year, also ran in the 200m in the U20s division and placed fifth with a time of 24.79, and like her collegiate teammates Ketura and Za'Kayza, she will continue to improve as her season progress.
Denver Tucker and Miles Outerbridge returned to the track for the 200m competing in heats one and three and producing times of 23.16 and 23.97 respectively.
S'Nya Cumbermatch took to the track in the U17 400m, placing sixth in a time of 1:02.41. Caitlyn Bobb returned for the U20 400m and battled her way onto the podium for Bermuda's first medal of the 49th Carifta Games, in a time of 53:95.
The youngest member of the Bermuda team, and one of the youngest competitors in the games, Jaeda Grant competed in the 800m. Another beneficiary of the U20 support earned her way into the finals, placing sixth in a time of 2.20.50. Shayla Cann U20 competed in her first Carifta games and raced to a fifth place finish in a time of 2.21.58.
In the U20 males 800m, Nirobi Smith-Mills the 2019 U17 gold medalist, took to the track in the preliminaries and won his heat, in a time of 1.55.11, while his teammate, Sancho Smith produced a personal best of 1.56.22 to accompany Nirobi into the finals. In an incredibly fast final for this age level, Nirobi got boxed in by his Jamaican competitors but fought around it to produce a fourth place finish in a time of 1.52.20; while Sancho finished sixth, improving his personal best to 1.55.36.
The 1500m featured U17s first timer Fenella Wightman, who ran an exciting gutsy performance, delivered a personal best time of 4:59.98, while teammate Jaeda Grant produce a sixth place finish in a time of 4:57.14. Simeon Hayward, another first timer in Carifta, ran a personal best of 4:20.
Za'Kayza Parson set a season's best distance in the long jump with a 5.43, placing sixth; while Kesay Bell competed in the shot, setting her performance mark at 10.03.
Bermuda's first multi-event competitor in Carifta in over 30 years, Jauza James competed in eight events during two days. Jauza's efforts were remarkable because not only was this his first Carifta, but it was also the first time that he competed in an octathlon. Jauza scored personal best in the 400m, 1500m, HJ, shot, 100m, and the javelin. In his exuberance, Jauza fouled three times in the long jump, scoring zero points. If he had managed a legal jump of his average practice distance, Jauza could have been in medal contention. All in all a remarkable performance by this young, dynamic athlete.
Relays were a source of heartbreak and redemption for Bermuda's women. The 4 x 100m relay teams were agonizingly close to earning medals. In the U17 division of 4 x 100m relay, Madisyn Bobb, Elise Dickinson, J'Naz Richards, and Zenji Washington raced valiantly, placing 4th in a time of 49.50. The U20 women's team, Caitlyn Bobb, Ketura Bulford- Trott, Sanaa Rae Morris, and Za'Kayza Parson placed 4th, while setting a new National Junior Record in a time 46.13, missing the podium by 1/100th of a second!
Redemption came in the 4 x 400 relays. The U20 women's team of Sanaa Rae Morris, Ketura Bulford-Trott, Shayla Cann, and Caitlyn Bobb powered their way onto the podium with a 3rd place finish and another National Junior Record in a time of 3:48.69. Not to be outdone, the U17s took to the track with a medal clearly on their collective agendas. Madisyn Bobb led off holding her own with the strong field keeping the team in medal contention, she handed off to S'Nya Cumbermatch who moved the team in 3rd position during her leg and handed off to Jaeda Grant a middle-distance runner who had not raced in the 400m this year. Jaeda not only maintained the team's 3rd place in the race, but she dropped a new gear as she sprinted down the 100m meter stretch to hand off to Elise Dickinson who was not satisfied with bronze and powered the team into 2nd place and the silver medal in a time 4:03.23.
It is obvious that Bermuda athletes not only competed with the Jamaicans, but they also competed outstandingly well!
But the question remains, "Why can't we compete with the Jamaicans" is a reoccurring question from a wide circle of people. My initial reaction would be to bristle at the questioner with a retort such as "we have 60,000 people and Jamaica has nearly 3 million, we punch way above our weight class and we do it successfully". I know that answer is factual; but it does not help to answer a follow-up statement that I heard from people, which was "well we use to!"
Until this trip, I probably would have withdrawn from answering that question because I did have a response that would speak to the reasons why Jamaica has become a world power in athletics specifically and competitive on the international stage in other sports.
During the 49th edition of Carifta, I was introduced to the Hon. Olivia Grange, CD, MP, Minister of Culture, Gender, Entertainment & Sport. In meeting Minister Grange, I thanked her for her country stepping in to host Carifta, and ensuring that the region could return to competition at the Carifta Games. I also congratulated the Honorable Minister on her country's success in athletics.
Minister Grange stopped me in mid-sentence, explaining that we [Jamaica] are reaping the dividends of our investments. "We believe that investing in sports, entertainment, and youth benefits our goals of improving national health, strengthens our patriotism and love of country, improves our young people's academic performance, and helps to decrease anti-social behaviors". She went on to say, "of course this investment is not a panacea, but the benefits are undeniable".
The Minister's conversation was extremelypoignant and powerful as we were in the National Stadium, at the foot of the Blue Mountains, where thousands of green, gold, and black flags were waiving, the heartbeat rhythms of reggae music were blaring and Jamaican athletes were collecting medals in an abundance.
All of this, the environment, the national pride, the camaraderie, and the athletic success were dividends of Jamaicans' investment in youth, culture, entertainment, and sport. Investors put financial plans, and property, in place and nurture their investments with patience to achieve profits or in this case success.
Conversely, our youth, culture, entertainment, and sports investment are analogous to playing the lottery; lottery players drop a couple of dollars and hope for a win. Lottery playing is not a strategy for long-term success. Bermuda has celebrated world-class success in arenas, despite the minimal investment, sort of like hitting the lottery. But like lottery winners that world-class success is not sustainable.
I am extremely proud of our Carifta athletes' success, I am also proud of all of the local sports governing bodies that continue to help Bermudian athletes compete regionally and internationally. Bermuda continues to punch way above our weight class, we compete intensely with everyone; however, playing the lottery will continue to lead to moderate and episodic success. If we are ever going to improve the collective health of the country, minimize anti-social and violent behavior, improve academic performances, establish and improve national pride and compete with Jamaica we are going to have to follow the Jamaican formula…invest, invest in school sports, invest in national sports, invest in entertainment and culture and invest in our youth.
- President of the Bermuda National Athletic Association Dr. Freddie Evans

Read More About