The Bermuda Tourism Authority has compiled a "Top 10 Things to Know About SailGP" about the upcoming event, which is set to get underway later this month.
A spokesperson said, "Bermuda Tourism Authority [BTA], race organizers, and sailing enthusiasts around the world are counting down the days to witness the Bermuda Sail Grand Prix presented by Hamilton Princess kick-off Season 3 May 14-15, 2022 in Bermuda's beautiful Great Sound.
"Spectators, on land and sea, will prepare themselves to watch Australia begin their title defense in the iconic waters of the Great Sound after having been crowned SailGP Champions at the Season 2 Grand Final in San Francisco, but it will be fierce competition to kick off Season 3 with newcomers Canada and Switzerland joining the starting line-up. With only a few days left to witness one of the greatest spectacles on-water, organizers are encouraging fans to purchase tickets to avoid disappointment. To help get both locals and visitors ready for the exhilarating Championship start, the Bermuda Tourism Authority has compiled a "Top 10 Things to Know About SailGP".
"We are thrilled to welcome guests from around the world back to Bermuda," said BTA CEO, Charles Jeffers, II. "The island is filled to capacity and abuzz with excitement. The fun kicks off Wednesday night at SailGP Street Fest and continues onshore, out on the water, and straight through the award ceremony and entertainment at Cross Island. We hope everyone joins the fun and experiences this unforgettable event."
Here's a guide to everything you need to know in preparation for the week ahead: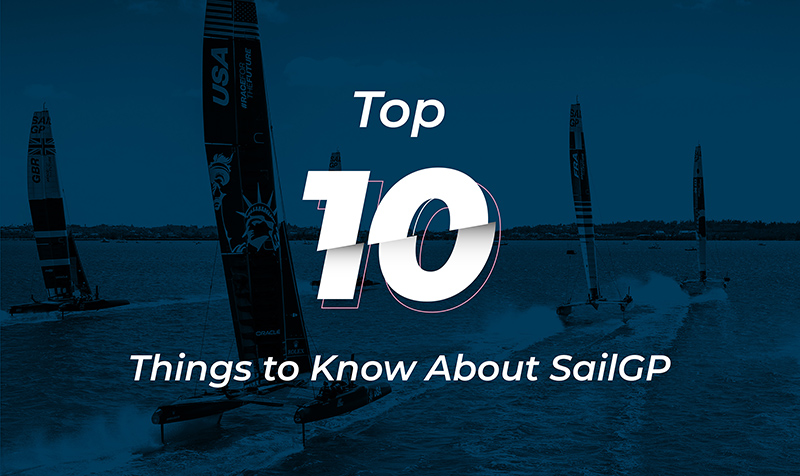 "1. What is SailGP?
SailGP is one of the world's fastest growing racing properties with ten international teams racing foiling F50 catamarans, capable of speeds in excess of 100kph. The league welcomes two new teams – Canada and Switzerland – as it kicks off Season 3 in Bermuda's beautiful Great Sound May 14-15, 2022.
"2. Why is SailGP good for Bermuda?
Hundreds of visitors from around the world are arriving in Bermuda this week to take part in this thrilling international competition that will be broadcast around the world. Hotel and vacation rental occupancy rates haven't been this high in years as Bermuda welcomes this world-class sporting event to its shores, and the beautiful Great Sound.
"3. What is SailGP's mission?
SailGP is racing for a better future, and championing a world powered by nature. They are using the power of sport to change the world and accelerate the transition to clean energy.
"4. Inspiring the next generation
SailGP Inspire, the league's community, education and outreach initiative, has partnered with Bermuda's Endeavor program to engage diverse youth from across Bermuda in hands-on learning and career development opportunities that inspire experiential learning, foster career exploration, and sustain the future generation of sailors and maritime professionals.
"5. Go behind-the-scenes.
Get an exclusive tour of the SailGP Team Bases at Cross Island and see SailGP's elite athletes and the cutting-edge, wing-sailed boats up close as well as the 'pit lane garages' where athletes and shore teams prepare the high tech F50 race boats. Tickets are available here: SailGP Tickets
"6. Let the Party begin!
Join Bermuda Tourism Authority and the City of Hamilton on Wednesday, May 11 for SailGP Street Fest, an alfresco dining event that will take over a Front Street block, bounded by Burnaby and Parliament Street, and will feature entertainment, vendors, community sailing clubs, boat displays, and a salute to Bermuda's maritime heritage.
"7. Where can I see the race and how do I buy tickets?
"Cross Island provides a spectacular viewpoint to immerse yourself in the adrenaline-fueled action as the foiling catamarans – capable of speeds of nearly 60 mph – race right before your eyes within the natural amphitheater of Bermuda's iconic Great Sound. There are waterfront and on-water fan experiences, as well as a Bring Your Own boat opportunity to get close to the action. Learn more here: SailGP Tickets
"8. How can I watch from home?
"If you're not in Bermuda you can watch from the comfort of your home on CBS Sports, May 14 & 15 starting at 1pm [EDT], or live stream on the SailGP App, Facebook, and YouTube channels. In Bermuda, you can catch the races live on ZFB TV 7 on May 14 & 15 at 2pm [ADT] with live pre-race coverage starting at 12:30pm [ADT] each day. Watch the road to SailGP with Bermuda Broadcasting's pre-event show, SailGP Special Edition, on Wednesday and Thursday May 11 & 12 at 8pm [ADT] on ZFB TV7.
"9. Getting around/parking
The island is filled with visitors, so plan your day accordingly. If you're looking to drive, and we encourage you to travel in an environmentally friendly way, parking will be available. Here's what you can expect upon arrival:
Event Parking
"Available on a first come first served basis at the transportation hub of Cochrane Road Look out for the SailGP Event Parking Signs.
Fan Shuttles
"Shuttles will run from 11am – 2:30pm from the ferry terminal in Dockyard to the event village at Cross Island and will return to the ferry stop from the shuttle collection point on Cockburn Rd from 3:30pm until 6:30pm. Shuttles are on a first come first served basis.
Security Checks
"In order to keep everybody safe at the event, security checks will be carried out on all fans entering the village.
Bag Policy
"All bags will be subject to a search. Bags over 30 x 30cm in size will not be permitted into the event. Please note there is no storage facility for any bags or items that are not permitted.
"10. Show the world what Bermudian hospitality is all about!
With hundreds of visitors arriving from around the world, with occupancy rates higher than they have been in years, let's show the world the beauty and warmth that Bermuda offers all year round. And don't miss this opportunity to experience one of the most spectacular sporting events in the world, right here in Bermuda waters."

Read More About