Ignite Bermuda has launched its second Young Adult Entrepreneurial Internship programme thanks to the support of HSBC Group and HSBC Bank Bermuda.
A spokesperson said, "The 8-week internship programme aims to support local young adults' passions for entrepreneurship through workshops with industry experts and project-based internships within some of Bermuda's top startups, all Ignite alumni. After identifying a gap in local internship opportunities, this programme was created for aspiring young entrepreneurs to gain real-world entrepreneurial experience and knowledge prior to launching their own businesses."
Co-project Managers Alicia Lister [standing far left] and Georgia Rego [standing far right] with part of the 2022 Young Adult Internship cohort. [Top row, left to right] Naomi Fubler, Zillah Welch, Ashley Fubler, Erin Cardoso, [Bottom row, left to right] Kaleo Place, Sé-Lah Ray, Kiera Simons, Najee' Pitt-Clarke, Jordin Edness, Tomiko Douglas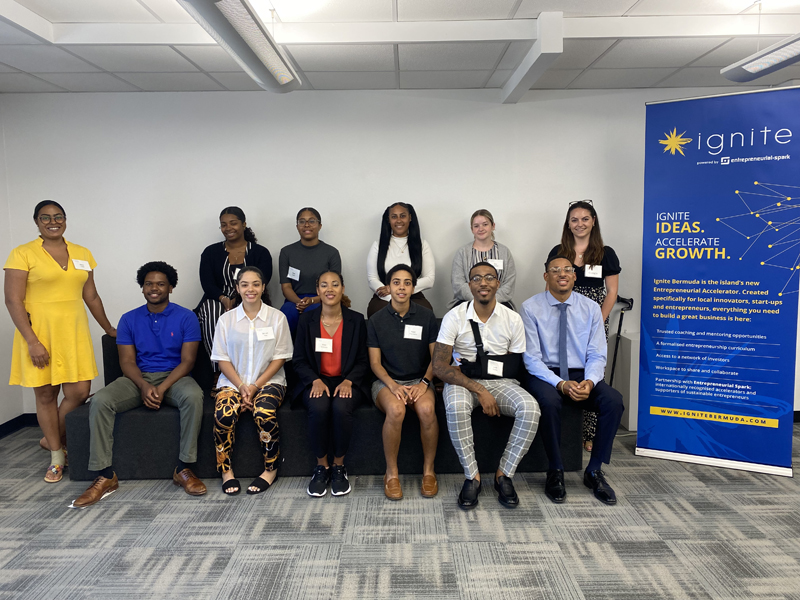 Holly Mazar-Fox, a host for the 2022 programme added, "This programme is a wonderful opportunity for young entrepreneurs to gain first-hand experience of what it takes to run a business from all facets while discovering what it takes to run a successful company."
The programme which is set to run until July 21, 2022, began on May 31, 2022 with a full-day orientation in the Ignite Hub alongside the Ignite Team and some of its alumni. Interns engaged in workshops covering Entrepreneurial Mindset & Behaviours, Value Proposition, and Pitching & Persuading.
Ms. Mazar- Fox added, "I am excited to work closely with my intern, sharing the ins and outs of my art consultancy business — from sourcing artwork to non-fungible tokens to Free Ports, showcasing how powerful these markets can be for anyone with a passion for the arts. It is also important to empower young adults; to encourage their ideas and input, that in turn will directly impact our industries."
Intern workshop with guest panelists Raisá Tuzo – 1616 Premium Cocktails, Tanya Bule – HSBC, Alexandra Mosher – Alexandra Mosher Studio Jewellery and Tallent Clark – Rugged Rentals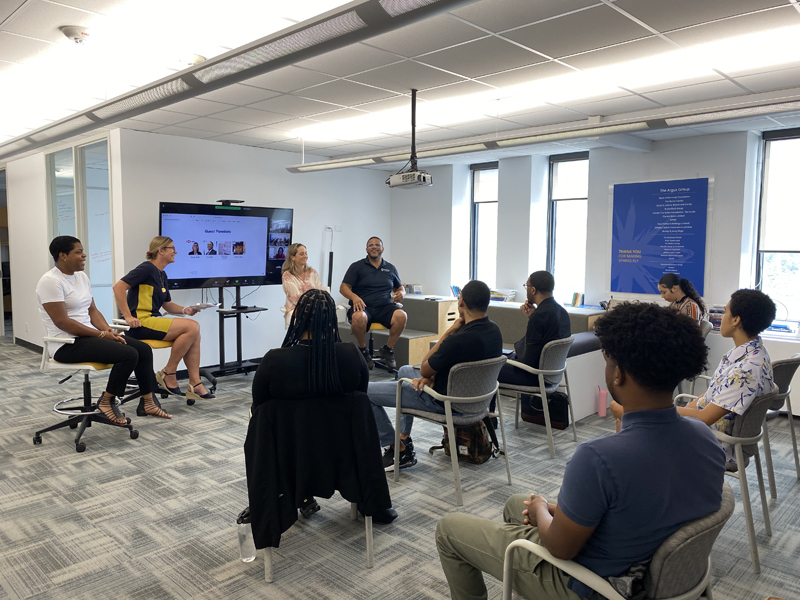 Erin Cardoso, 2022 intern mentioned, "Before starting the Ignite programme I was nervous and didn't know what to expect. Upon starting the programme I have learned so much in just a few days and have been able to hear from like-minded individuals with different points of view and ideas."
Another 2022 intern, Jordin Edness added, "The Ignite Young Adult Internship has already exposed me to another level of understanding needed to scale a successful business in Bermuda."
Over the remainder of the programme, interns will participate in workshops on topics such as customer discovery, marketing, health & wellness, Bermuda economic overview, public speaking, entrepreneurial journey, and more. Upon completion of their internships, interns will have the opportunity to present on their business-education to date, progress within their local startups, and how they anticipate applying this knowledge moving forward.
Young adult intern Ashley Fubler, working alongside host entrepreneur Emilie Faulkner-Meek, founder of Rise Marketing in the Ignite Hub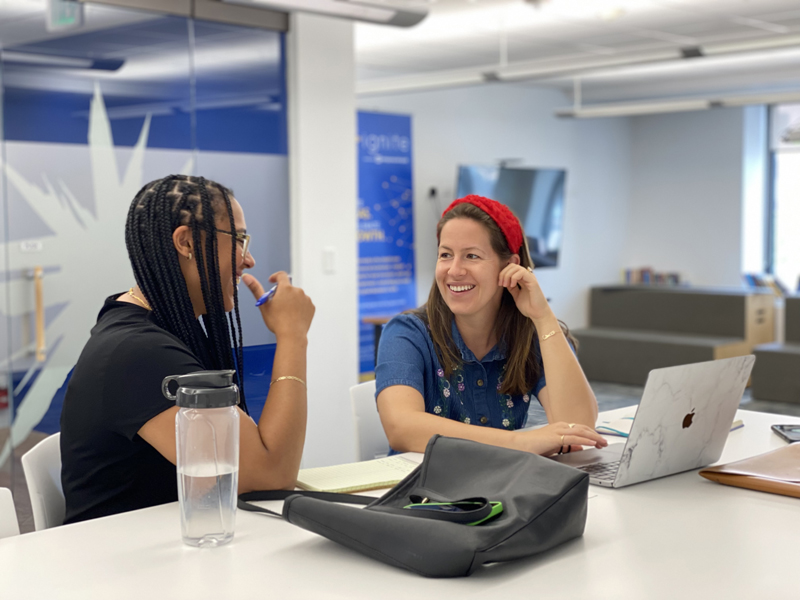 Ignite Bermuda said they are "grateful for the support from HSBC Group and HSBC Bank Bermuda, for both their financial contribution and their continued commitment in supporting Bermuda's young adults through their insightful staff involvement during our workshop events."
Tanya Bule, HSBC Bermuda's Head of Wealth Personal Banking and Executive Sponsor overseeing the partnership added, "We are now in our second year commitment in supporting the Young Adult Internship Programme and continue to be impressed by the caliber and drive of Bermuda's young adult entrepreneurs.
"Honing these important skills required for the future success of the interns is a key part of HSBC's community investment initiatives. This programme helps build the confidence and business acumen one needs in order to sustain and/or scale-up a successful small business, whilst fostering economic development in a cross-section of industries across our island. We look forward to, once again, meeting and supporting this year's cohort towards realising their entrepreneurial dreams."
Young Adult Intern and Host Mentor Business/Organization
Ashley Fubler – Emilie Faulkner-Meek, Rise Marketing
Erin Cardoso – Jodi Virgil, Organized Solutions
Jada St. Clair – Kristin White, St. George's Stakeholders & Long Story Short
Jordin Edness – David Cahill, Bermuda Charge
Kaleo Place – Toriano Simmons, Rewards
Kiera Simmons – Patrina O'Connor Paynter, Big Brothers Big Sisters Bermuda
Najee' Pitt-Clarke – Craig Smith, Greenhouse Bermuda
Naomi Fubler – Kristen Scott Ndiaye, Noémie by the Well
Sé-Lah Ray – Reva Minors, Loquat Roots
Tiara Fisher – Claire McDevitt, Healthcare Solutions
Tomiko Douglas – Alex Marshall, Hot Fiyah Entertainment Ltd and Whip Rideshare
Zillah Welch – Holly Mazar-Fox, Mazar-Fox Art Consulting
Read More About