[Written by Stephen Wright]
Dage Minors says he feels the entire island will be rooting for him when he races in his 1,500 metres heat at the Commonwealth Games in Birmingham on Thursday.
Minors captured the hearts of a nation when he thrilled a packed crowd at the Flora Duffy Stadium by finishing third in a world-class field in his event at the USATF Games in April.
It catapulted him into the public eye, with the support he has since received on the island, where he still works as a paraeducator at Sandys Middle School, leaving him humbled.
"Although my time [3min 46.82sec] wasn't that good because of the weather and the meet being early in the year, the field was stacked, and it showed the public that I don't just mess about with running," Minors told Bernews.
Dage Minors at the Games Opening Ceremony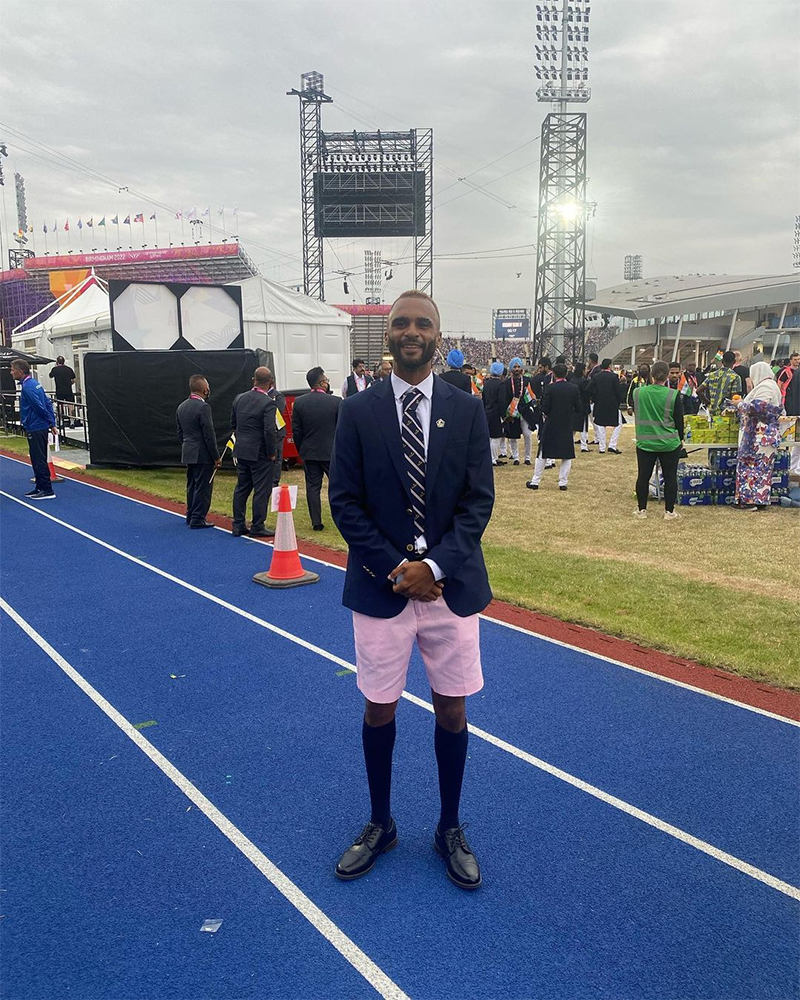 "I think some people saw me running about the island and thought I did it just to stay in shape! I can feel people rooting for me now."
Despite juggling work commitments with training, Minors believes he has proven it is still possible to compete at a high level while living in Bermuda.
However, he insists he would not recommend it to any aspiring Bermudian athletes.
"[Training in Bermuda] definitely comes with its challenges," Minors said. "Since July 2020, I've been based at home and I have improved my running times.
"People said you can't compete at a high level and train full-time in Bermuda. Well, I've shown that it's possible."
After recovering from a bout of Covid, Minors hit another high-water mark at the Portland Track Festival in Oregon in June, setting a new national record in the 1,500 in 3:42.87.
He ran even quicker at the recent British Milers Club Trafford Grand Prix, finishing seventh in 3:41.24, and is eyeing a place in the 1,500 Commonwealth final on Saturday.
"If [round one of the 1,500] is fast, hopefully, I can run a personal best and set another national record," said Minors, who came eleventh in the 1,500 at the Pan American Games in Lima in 2019.
"If not, hopefully, I can race well and find myself in the final two days later."
Minors is determined to soak up every moment of the Games, whether on the track, inside the athletes' village or within Birmingham itself.
He certainly enjoyed the occasion at the opening ceremony at the Alexander Stadium last Thursday, where he carried Bermuda's flag along with squash player Emma Keane.
"It was such an honour to be selected to lead the island out," he said.
"Entering the stadium, my mind was going all over the place. I said to myself, 'Don't become a meme. Don't trip or drop the flag!'
Bermuda enters opening ceremony at Commonwealth Games held on July 28
"I'm looking to take in the whole experience, watch some other sports, walk around Birmingham, and not just be cooped up in my room."
Still only 26 years old, Minors is the most experienced member of the athletics contingent in Birmingham, including Caitlyn Bobb, Tiara DeRosa, Sakari Famous and Jah-Nhai Perinchief.
"I went to a few Cariftas with Jah-Nhai, Sakari and Tiarra," Minors added. "Caitlyn is young and has a great support team. It feels like we've gone full circle. It's good to see everyone has stuck with it."

Read More About