[Written by Stephen Wright]
Dage Minors remained philosophical after finishing ninth in his 1,500 metres heat at the Commonwealth Games in Birmingham.
Minors pointed out that his time of 3min 46.67sec would have been fast enough to qualify for the final at the previous Games on the Gold Coast, Australia, four years ago.
Results of both heats, Minors actually ran faster than others who qualified via another heat: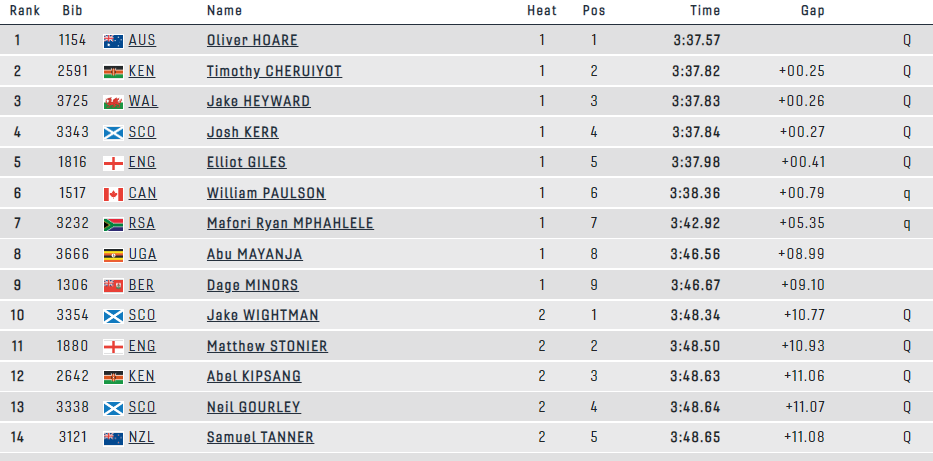 The 26-year-old said he felt strong during the first kilometre of the race but admits he struggled to respond when the frontrunners broke away.
"Right now, it's tough to say, I should have done this, I should have done that because my emotions are high," Minors told Bernews.
"I didn't run terribly. I don't want anyone to think I'm upset with my performance. I'm disappointed but not upset.
"My time was decent. At the Gold Coast Games, that time would have got through to the final."
Unlucky! Dage Minors ran fast enough to advance, but
was in fast heat with Olympic medalists. He was 9th in heat but *faster* than everyone else in other heat. Way system works he will not qualify for next round even though he ran faster than 5 other qualifiers. Times attached pic.twitter.com/V9SpEnNaxI

— BernewsSports (@BernewsSports) August 4, 2022
Minors has enjoyed a superb season so far, setting a personal best of 3:41.24 at the recent British Miles Club Trafford Grand Prix in Manchester and said he is proud of his progress.
"Even if I'm not feeling good, I can run last season's personal best. That says a lot," he added.
Video of the heat Minors raced in:
"Hopefully, I can keep coming to these Games. I'm 26 and feel as though I have many years left."
The top seven finishers in Minors' heat of 12 runners advanced to the final, which takes place at the Alexander Stadium on Saturday.
Dage Minors Interview
Australian Oliver Hoare won the heat Minors was in clocking a time of 3:37.57, while Scotland's Jake Wightman won the other heat in a time of 3.48.34, which was actually around two seconds slower than Minors time.
For our ongoing daily updates of the 2022 Commonwealth Games click here, and for all our coverage of the Commonwealth Games over the years click here.

Read More About