[Written by Stephen Wright]
Rhys Swift will be the youngest of Bermuda's four-man team competing at the Commonwealth Fencing Championships in London.
The 14-year-old, who competes in the Cadet Men's Sabre and Junior Men's Sabre classes, will represent the island alongside Don Treanor, the team captain, Federico Candiolo and Ben Jewett.
Swift, a Warwick Academy student, has been attending fencing classes at St Paul's Church Hall in Paget for the past four years.
The Championships will be his second international competition, having competed at the Arnold Fencing Classic at the Ohio Expo Centre in Columbus, Ohio, in March.
Don Treanor, Rhys Swift and Ben Jewett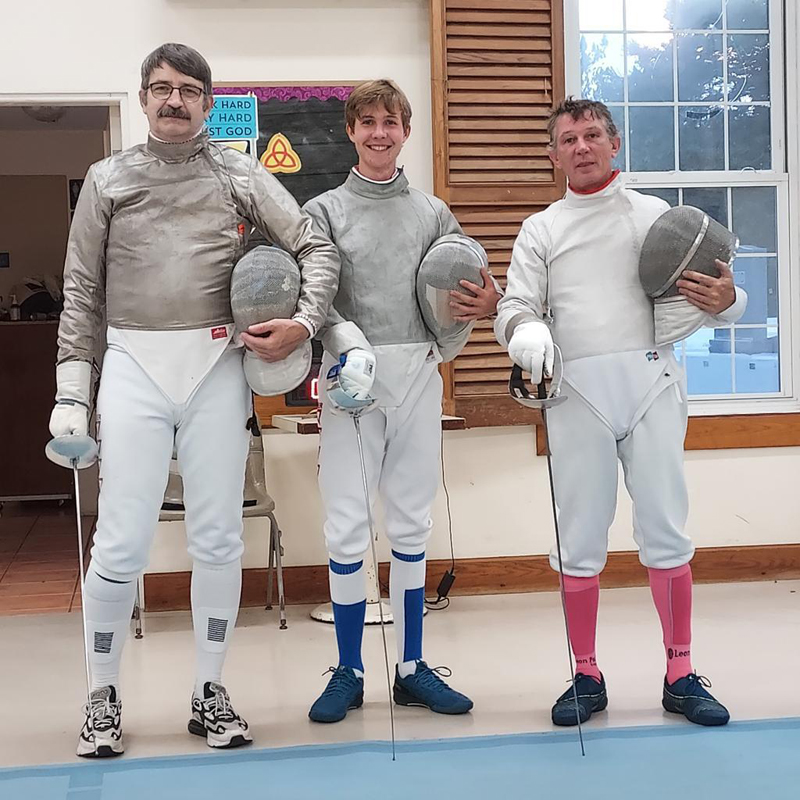 "I've been training twice a week, working on my strengths and weaknesses, trying to give myself a fighting chance against my opponents," Swift told Bernews.
"I'm really not expecting to get a medal. The amount of time I put in compared to the amount the English fencers put in is a big difference.
"I'll be impressed if I can get to the direct elimination rounds."
Swift, who reached the direct eliminations rounds at the Arnold Classic, said fencing appeals to him more than conventional sports such as football.
"I've never been into football or anything, but with fencing, it's a very quick sport," said Swift, who begins his competition at the University of East London SportsDock on Saturday. "You have to be able to do these actions pretty fast.
"When the referee says go, often they will have to stop the clock again after five seconds because there's been contact and someone has scored a point."
Treanor, who competes in the Veteran Men's Epee, Foil and Sabre classes, said Swift showed impressive form at the Arnolds.
"Rhys did really well in Ohio, especially for his first tournament," said American Treanor, who has been fencing for more than 25 years. "He did better than some of the more experienced guys."
Treanor said he would love for more people to take up fencing and help grow the sport in Bermuda.
"We're hoping to make people aware that opportunities like this exist and keep the club going," Treanor added. "You have to attract more people."
For more details about fencing in Bermuda e-mail Don Treanor dktreanor@yahoo.com.

Read More About